8 Best 240 Hz Monitor In 2023 [Tested & Compared]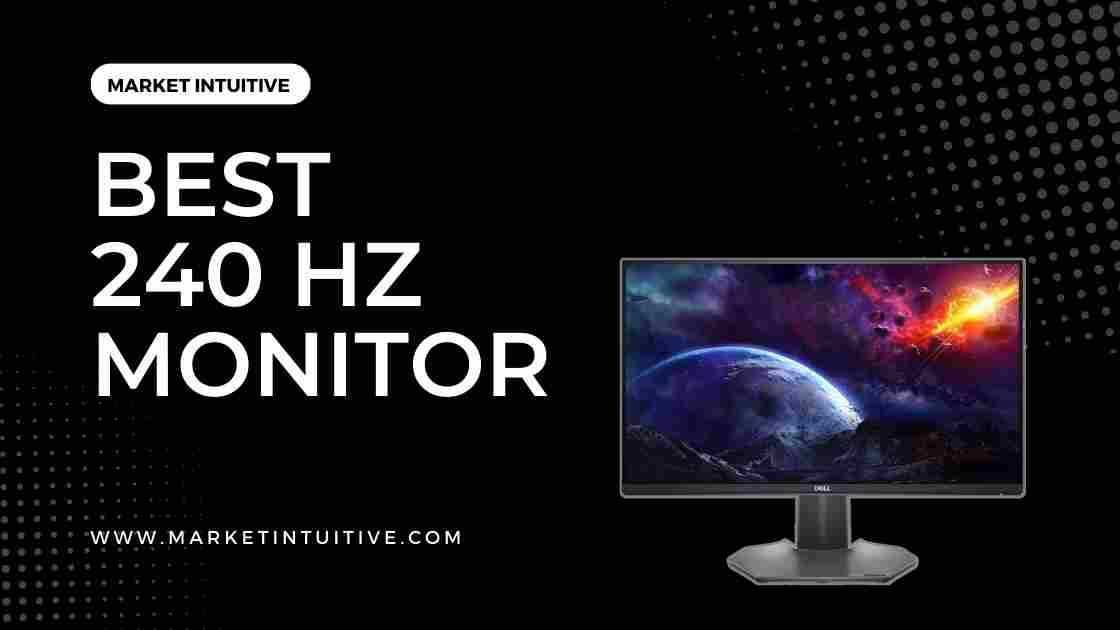 If you're a competitive gamer and want every possible advantage over your opponents, getting a new 240 Hz monitor might be a good idea. While an insanely fast refresh rate isn't as beneficial for casual PC gamers, esports players might benefit. It may be the gap between winning and losing.
Seeing every little indication of your opponent's next move is now possible thanks to the esports-grade speed of a 240 Hz monitor.
I've analyzed eight of the most excellent 240 Hz monitors currently available to help you decide on the right one for your purposes and budget.
How I Selected the Best 240 Hz Monitor
Having worked in the technology field, I'm well versed in displays and hardware. That knowledge allows me to separate the wheat from the chaff and pick the most suitable monitor for different types of users.
I undertook extensive testing and research to select the best 240 Hz monitor. When examining the specs—screen size, resolution, brightness, and other things that make monitors look good on paper—I discovered that they didn't translate as great an experience.
In addition to testing the different contenders for myself, I looked at their supporting features to further narrow my search. After reviewing four key factors—quality, reliability, and support reputation of the brand, as well as professional reviews and user feedback—I decided on the best choices.
Things to Consider Before Buying a 240 Hz Monitor
There are winners and losers among 240 Hz monitors since the same refresh rate isn't guaranteed. These are the most crucial things to look for before purchasing a new display.
HDR and Brightness
Some modern monitors employ high dynamic range, or HDR, display technology, which allows particular screen areas to be either brighter or darker than others. To use HDR properly, you must have a very bright screen.
The DisplayHDR certification from VESA indicates which monitors have met specific criteria and aren't just using the term for marketing purposes. The steps HDR400, HDR600, and HDR1000 refer to the highest brightness the panel can provide (measured in nits). For HDR, a minimum of 10-bit color depth is required.
An HDR400 monitor process and display HDR content, but you may not be able to see the differences between the screen's brightest and darkest corners. These specifications are essential because many monitors market HDR support as a critical feature.
You want a VESA DisplayHDR 1000 rating or higher to get a display that offers a high dynamic range comparable to contemporary TVs. Most monitors with this rating are challenging to come by, and most of them are pretty pricey. On screens smaller than 32 inches, I advise aiming for a VESA DisplayHDR 600 rating or higher so you can take advantage of HDR in games.
Panel Type
There are three kinds of screen panels typically found on monitors: Twisted Nematic (TN), In-Plane Switching (IPS), or Vertical Alignment (VA). They each have distinct benefits and drawbacks. It is how they compare:
Twisted Nematic panel: A TN panel is the quickest of the three main types, allowing for minor ghosting and input lag. Because of their reliably fast speeds and image quality, they are often used in esports displays. This performance comes at the cost of color depth and viewing angles, resulting in a noticeably duller picture than IPS or VA displays.
In-Plane Switching panel: IPS panels are the most color-rich and accurate of the three sorts and provide the greatest visual angles. Content creators and gamers who want to share their displays will benefit the most from this technology. Historically, IPS displays have had slower response times and higher ghosting rates, but improvements over recent years have reduced those concerns. Because IPS displays function, they are also likely to glow around the edges, negatively impacting black levels.
Vertical Alignment panel: VA panels are more comparable to TN panels than IPS panels in speed but usually slower than them. They provide better colors and viewing angles than TN, but certainly not as much as IPS. Even though VA panels have higher contrasts than TN panels, IPS panels are better in this regard. As a result, VA panels are better at producing more black colors.
It's still significant to comprehend the critical distinctions between panel types, but technological advancements have narrowed the gaps between IPS and VA panels. TN panels are the best option for overall responsiveness, but all three can function very well.
IPS and VA panels are usually the best options for most people, as they offer better colors and viewing angles than TN panels. Before purchasing a monitor, read reviews to ensure that it operates as quickly as the manufacturer promises.
Screen Size and Resolution
When selecting a monitor, most people consider resolution and screen size first. Regarding competitive gamers, 240 Hz monitor is becoming more and more common. I've seen them on 27- and 32-inch screens in recent years.
Even if you have enough space, make sure you take the time to think about the monitor size you are used to before purchasing an ultrawide monitor. If you have spent years playing on a smaller panel, you will notice the difference when moving to a 32-inch monitor. You might jump from a 27-inch monitor to a 32-inch monitor.
It's terrible to pick one or the other first, then decide on the screen size and resolution. Remember that the pixel density of a resolution will decrease as you stretch it over larger screen size, resulting in less sharpness.
A 24-inch Full HD display provides excellent value, but a 1440p (QHD) screen would be a better choice for a larger collection. If you want a 240 Hz monitor, you may find that beyond 1080p, your options will be limited and costly.
Need of 240 Hz Monitor
Before purchasing a 240 Hz monitor, you must first ask yourself whether such a high refresh rate is necessary. A monitor's refresh rate describes the number of times it redraws an image on the screen every second.
A 240 Hz monitor allows your PC to produce animation at up to 240 frames per second. It results in a smoother and more detailed animation, which can undoubtedly give players an edge in competitive situations. It also requires a lot of resources from your PC.
Competitive games like League of Legends or Counter-Strike: Global Offensive require a new, mid- to high-end gaming PC to run at that speed or close to it. More graphically intense games cannot operate on a standard PC at 240 frames per second. Your additional frames will be useless if you play many immersive single-player games. You should choose a less speedy gadget if your computer or game does not permit you to use a 240 Hz monitor.
Additional Features
Besides the fundamental functions listed above, take a moment to examine the extra features on a monitor that may enhance your gaming experience. Screen tearing is eliminated when variable refresh rate support (Freesync for AMD, G-Sync for Nvidia) is on a gaming monitor, resulting in smoother games.
Some monitors, such as the Gigabyte Aorus FI25F, provide special features such as active environmental noise canceling for your microphone. The BenQ ZOWIE XL2546K provides a controller for on-the-fly gaming functions. The ASUS Tuf Gaming VG259QM's 240Hz panel is overclocked to 280Hz.
It's tough to compete in the gaming monitor industry. Manufacturers frequently attempt to outdo one another by providing additional features. Be sure to compare different monitors and see what extra functions interest you. At the same time, I've never seen anything compensate for excellent performance, so don't let a fun concept distract you from a monitor's essential characteristics.
Comparison of Best 240 Hz Monitor
| | | | | | | |
| --- | --- | --- | --- | --- | --- | --- |
| IMAGE | MODEL | SCREEN SIZE | DISPLAY RESOLUTION(MAXIMUM) | OTHERFEATURES | COST | RATING |
| | Dell Alienware AW2721D | 27 inches | 2560 x 1440 Pixels | QHD resolution, 1.07 Billion color support | CHECK PRICE | 4.6 / 5 |
| | ASUS Tuf Gaming VG259QM | 24.5 inches | 1920 x 1080 Pixels | Height, Swivel, Tilt & Pivot Adjustment, High Dynamic Range (HDR) technology with a professional color gamut | CHECK PRICE | 4.7 / 5 |
| | SAMSUNG Odyssey G7 Series | 31.5 inches | 2560 x 1440 Pixels | Full HD, WQHD resolution, NVIDIA G-SYNC, and FreeSync Premium Pro support | CHECK PRICE | 4.5 / 5 |
| | AOC C27G2Z | 27 inches | 1920 x 1080 Pixels | Height-adjustable stand and wall mountable, Rapid 0.5ms response time | CHECK PRICE | 4.7 / 5 |
| | ASUS ROG Strix XG258Q | 24 inches | 2560 x 1440 Pixels | Tilt, pivot, swivel, and height adjustments, Flexible connectivity options | CHECK PRICE | 4.6 / 5 |
| | ViewSonic XG2530 | 25 inches | 1920 x 1080 Pixels | Full HD 1080p resolution, AMD FreeSync Premium technology | CHECK PRICE | 4.5 / 5 |
| | Acer XF250Q | 24.5 inches | 1920 x 1080 Pixels | Compatible with Mad FreeSync and G-Sync, Zero frames design | CHECK PRICE | 4.6 / 5 |
| | BenQ Zowie XL2546K | 24.5 inches | 1920×1080 Pixels | Height, Pivot, Swivel, Tilt Adjustment, S-switch remote control allows 4-way scrolling | CHECK PRICE | 4.7 / 5 |
Let us explore each of the listed 240 Hz monitors.
Top 240 Hz Monitor You Can Buy Right Now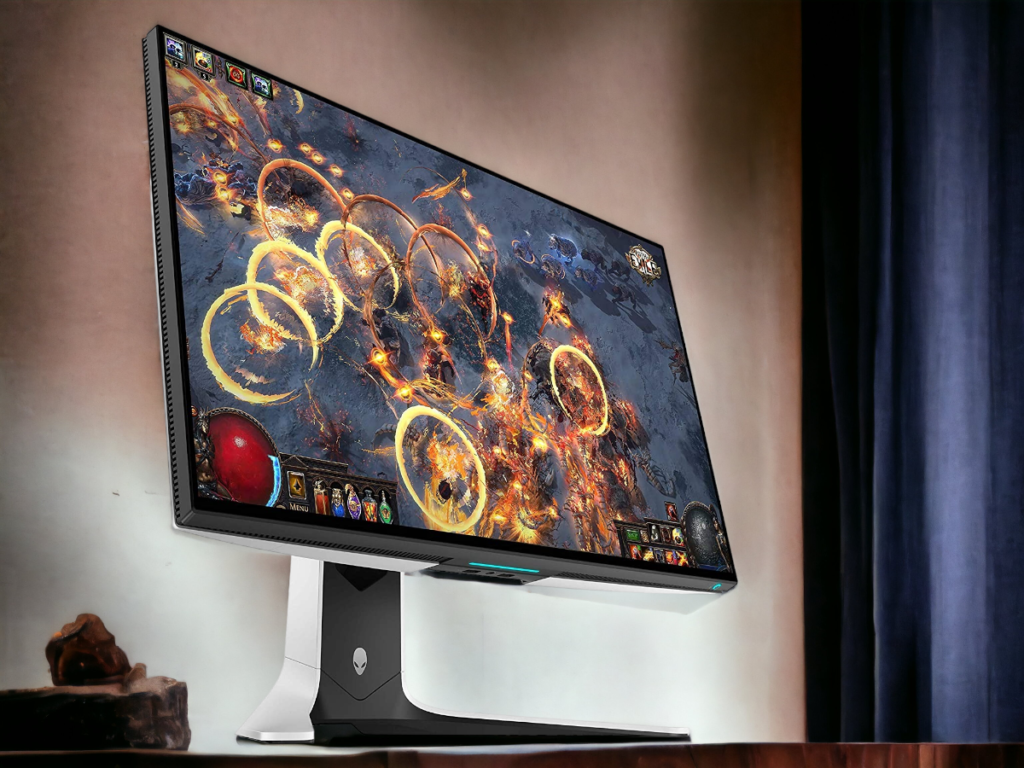 Excellent gaming monitor
SPECIFICATIONS
27 inches screen size
2560 x 1440 Pixels display resolution(maximum)
QHD resolution
1.07 Billion color support
Fast IPS Nano Color technology
4-sided InfinityEdge display
High dynamic range
Flicker-free
TODAY'S BEST DEALS
Positive
Very smooth picture motion
Amazing colors
Great viewing angles
Blazing fast pixel response time
Great quality panel and stand
Stunning physical design
VESA DisplayHDR 600 certified incredibly crisp and smooth, with a clarity
Low latency
High Build Quality
Easy to set up
Negatives
Doesn't have ULMB or anti-motion blur strobing technology
Somewhat costly
The AW2721D from Alienware is a high-performance 27-inch monitor that employs a 1440p IPS panel to deliver fast, crisp, artifact-free visuals. This monitor has been Nvidia's G-Sync Ultimate certified. It has undergone more than 300 verification tests to ensure that it delivers a high-quality, artifact-free gaming experience.
Many IPS monitors experience ghosting due to slower response times, but the AW2721D does not. According to DisplayNinja experts (who discovered that disabling overdrive eliminated inverse ghosting on the monitor while keeping input lag at 2ms), leaving the monitor in Fast mode is the solution to this problem. For even the most skilled players, the difference is unnoticeable.
Some users complained about backlight bleed and IPS glow, which cause the dark areas of the screen to glow due to backlight. It's a minor problem, and most users report seeing glowing impressions.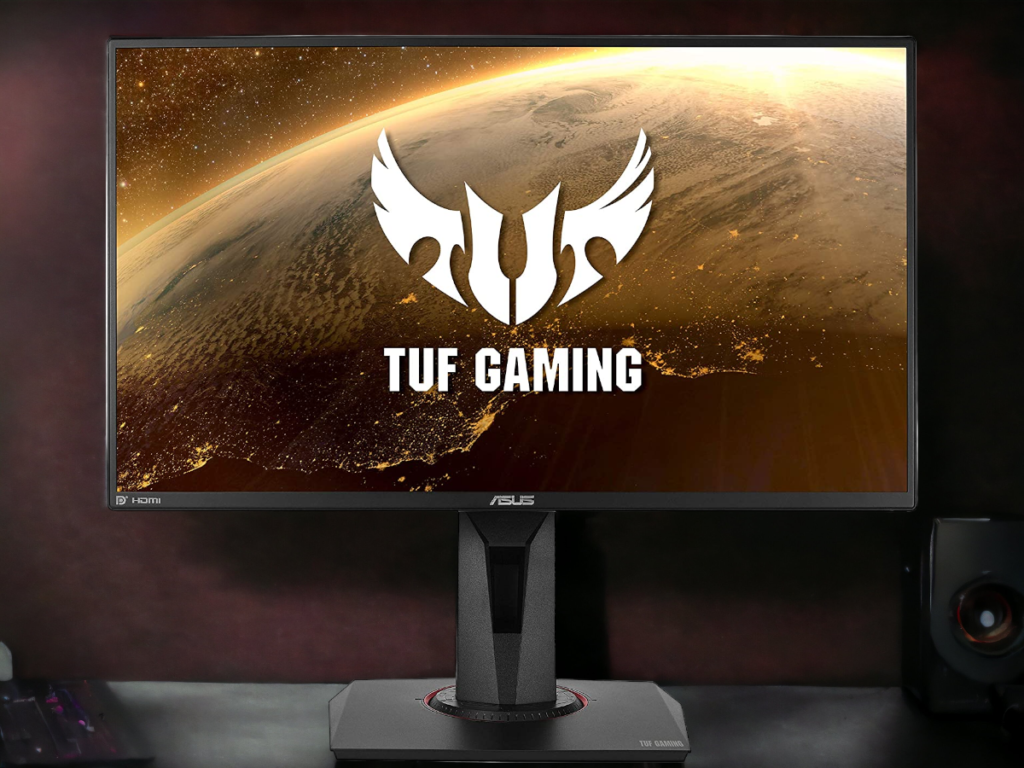 Perfect for professional gamers and immersive gameplay
SPECIFICATIONS
24.5 inches screen size
1920 x 1080 Pixels display resolution(maximum)
Height, Swivel, Tilt & Pivot Adjustment
High Dynamic Range (HDR) technology with a professional color gamut
Fast IPS technology enables a 1ms response time
Blue Light Filter feature
Flicker-free
TODAY'S BEST DEALS
Positive
Nice monitor for competitive gaming
Best Motion Tracking monitor
Rock solid high-refresh display
Response time/input lag are low
Good quality, sturdy stand
Worth the money
Negatives
Pixel doesn't last longer
The ASUS Tuf Gaming VG259QM is a great value for the money, delivering excellent performance for its price. The IPS panel is bright and primarily color accurate out of the box, but what makes it stand out is its ability to overclock to 280Hz.
Don't be frightened about overclocking; you only need to pick out the "max refresh rate" in the OSD, which will become another refresh rate option in Windows. With it enabled, you won't need to compromise smoothness for speed, even if you're going all the way to 280 Hz.
The VG259QM has a peak brightness of 400 nits and is DisplayHDR 400 certified, meaning it does not have local dimming or support for more than eight bits of color. Its versatile stand, which can be positioned in portrait mode, makes it easy to absorb.
Unless you enjoy gaming in the dark, you'll notice that blacks on this monitor look more washed out than those on competing VA monitors, which suffer from a low contrast ratio and IPS glow. This monitor is no different in this regard. 99% sRGB color space coverage is a slight drawback for an otherwise excellent display.
SAMSUNG Odyssey G7 Series
Excellent all-around monitor at this price point
SPECIFICATIONS
31.5 inches screen size
2560 x 1440 Pixels display resolution(maximum)
Full HD, WQHD resolution
NVIDIA G-SYNC and FreeSync Premium Pro support
Pixel perfect picture quality with every frame
Stunning visual design
High Dynamic Range
1ms response time
TODAY'S BEST DEALS
Positive
VA panel is done very well by Samsung
The resolution makes it fit for gaming
The curve creates cinematic experiences
Amazing quality and response time
Color was excellent out of the box
Negatives
1000R Curve may be too deep for some people
The Samsung Odyssey G7 provides more value than any other 240 Hz monitor. It has more features than any different monitor I could locate for this price, and it has several hidden capabilities that will surprise even the most jaded players.
The G7 is excellent for more than just esports and isn't simply quick; it's also immersive. It has a QLED panel, which improves the image's brightness and color for a more vibrant appearance. The G7's outstanding 600 nits of peak brightness for increased HDR performance are also made possible by those quantum dots.
It also has one of the deepest 1000R curves you can find on display, taking up more of your field of view and enticing you deeper into your preferred games. (However, I advise testing the G7 or another curved display before purchase. Curved displays aren't for everyone.)
Although there are other monitors with a long list of excellent features, the G7 stands out for value because it costs only $599.99. That's not cheap, but the Alienware AW2721D, its closest rival, costs $100 more.
The G7 employs an SVA panel or a VA with enhanced viewing angles, but the Alienware has an IPS screen, which is the primary distinction between the two displays.
And that's fortunate because there could be some problems. A firmware upgrade fixed screen flickering problems that early customers had noticed. Others experienced trapped pixels that necessitated a complete repair.
Even though the likelihood of these problems is relatively low, it's still a good idea to buy from a store that offers a simple replacement policy in case something goes wrong. Like most people, you'll think this monitor is a great option.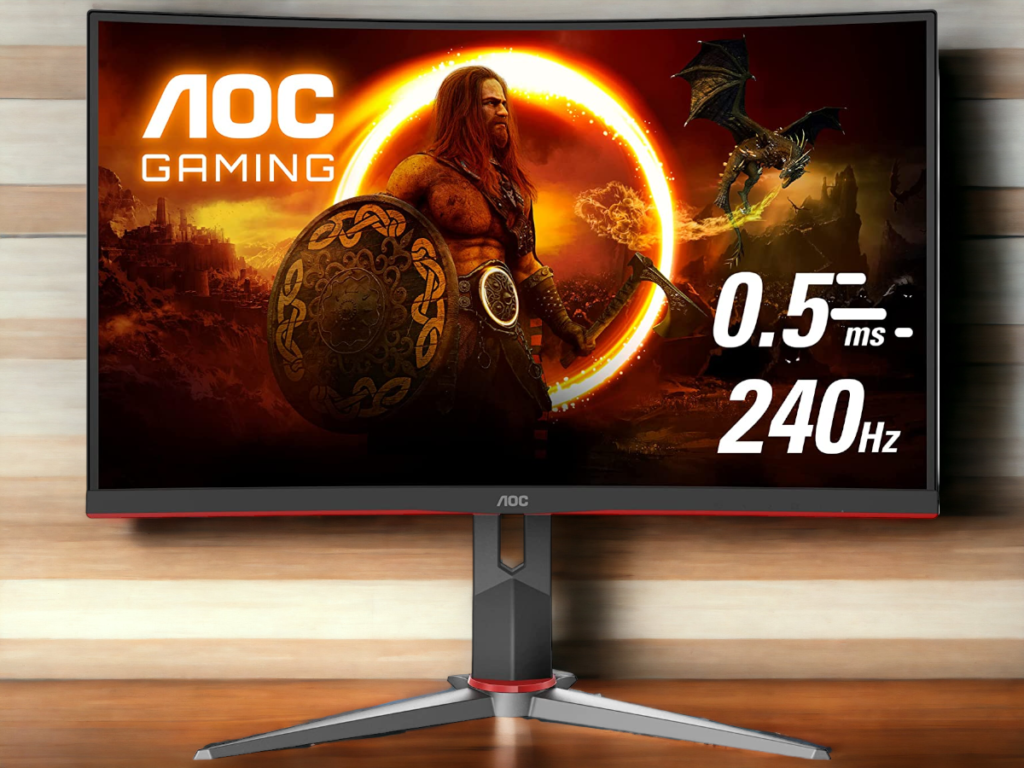 Budget-friendly monitor
SPECIFICATIONS
27 inches screen size
1920 x 1080 Pixels display resolution(maximum)
Height-adjustable stand and wall mountable
Rapid 0.5ms response time
3-Sided frameless design
Blue Light filter feature
AOC Low Input lag
1500R curved monitor
Anti-Glare Coating
Flicker-free
TODAY'S BEST DEALS
Positive
Beautiful, quality display for home office
Great value for the price
Amazing resolution
Perfect screen
Great for console gaming
Good brightness
Great picture quality
Spacious, curved screen
Affordable 
The AOC C27G2Z is an incredibly affordable option for gamers on a tight budget. It provides a lot for its relatively modest price, including a sizable 27-inch screen with a medium 1500R curvature.
Although it has a 240Hz refresh rate, which outperforms slower displays in motion clarity, it is also a strong option for single-player games and content creators due to its superb color coverage and deep contrast.
Because the pricing is so low, some features had to be given up to get the excellent core specs. With a brightness of 250 nits and 8-bit color, C27G2Z falls short of every other monitor on this list in this instance. Hence HDR capability is not present.
AOC claims that this display has a 0.5ms response time, but tests by Display Ninja and Monitor Nerds revealed that at a 240 Hz monitor, the response time is more like 3ms. It's still fast enough that most gamers couldn't tell the difference, but it's still a crucial point.
It's difficult to believe how many monitors you get for the price, despite these limitations. A 27-inch, curved, 240Hz, sub-5ms input delay, sub-$250 monitor with a fashionable design? No matter how much you look at it, that is a lot.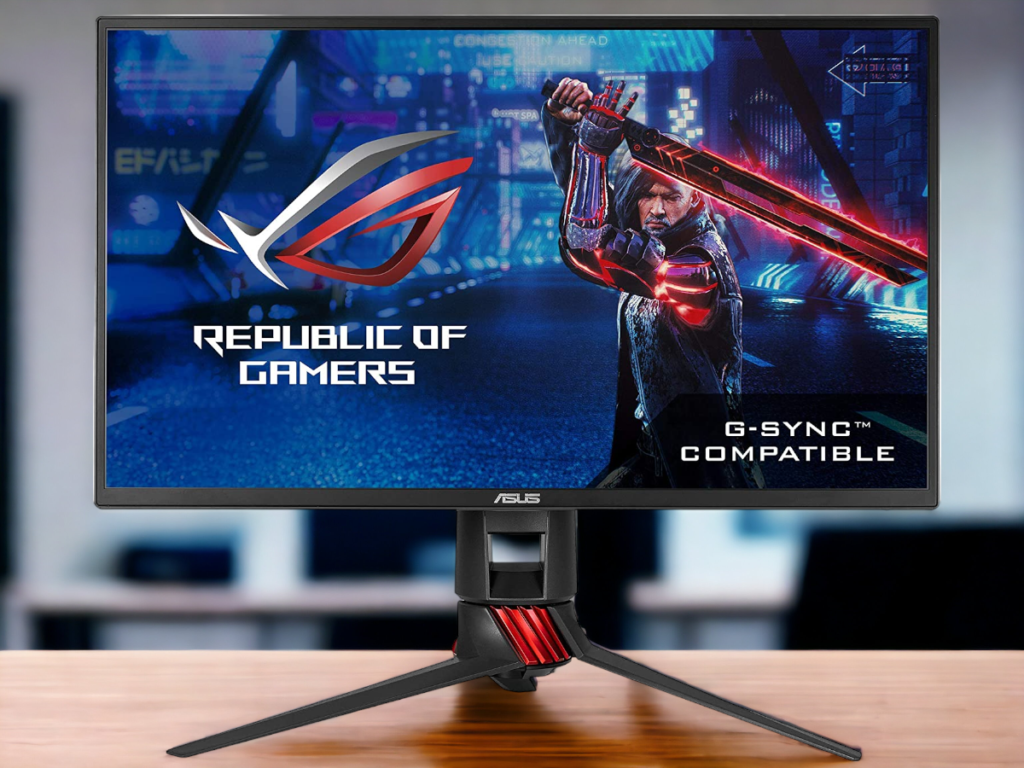 Great monitor for competitive gaming
SPECIFICATIONS
24 inches screen size
2560 x 1440 Pixels display resolution(maximum)
Tilt, pivot, swivel, and height adjustments
Flexible connectivity options
1ms response time
Adaptive Sync feature
Flicker-free
3 years warranty
TODAY'S BEST DEALS
Positive
Great Graphics quality
Good viewing angles
Best for competitive gameplay
G-Sync Certification
Worth the money
The ASUS ROG Strix XG258Q is one of the best options if you are searching for a gaming monitor with fast response time & a blazing-fast refresh rate. The Asus Aura RGB Lighting, Extreme Motion Blur Technology, and Adaptive-Sync Freesync are all included, as expected, from a ROG Swift monitor. Its outstanding performance earns it a spot on my top 240 Hz monitor list.
With its scorching performance, the ROG Swift PG258Q gaming monitor establishes a new benchmark. The rapid refresh rate of 240Hz and the prolonged response time of just 1m/s are challenging to match. Its low-motion blur technology and blue light filter make it ideal for extended gaming sessions.
This Asus ROG Strix monitor ranks among the finest in terms of performance. Motion blur is eliminated by the 1 m/s response time and the 240Hz refresh rate, producing clean pictures. Full HD 19201080 TN panel screen with a maximum contrast ratio of 1000:1 is available on the Strix XG258q.
The Asus Ultra-low Blue Light filters are also present. G-Sync and Freesync can reduce screen tearing and produce little motion blur when the proper drivers are used. The AOC Agon AG271FZ2 is an excellent option if you require something with an even quicker response time.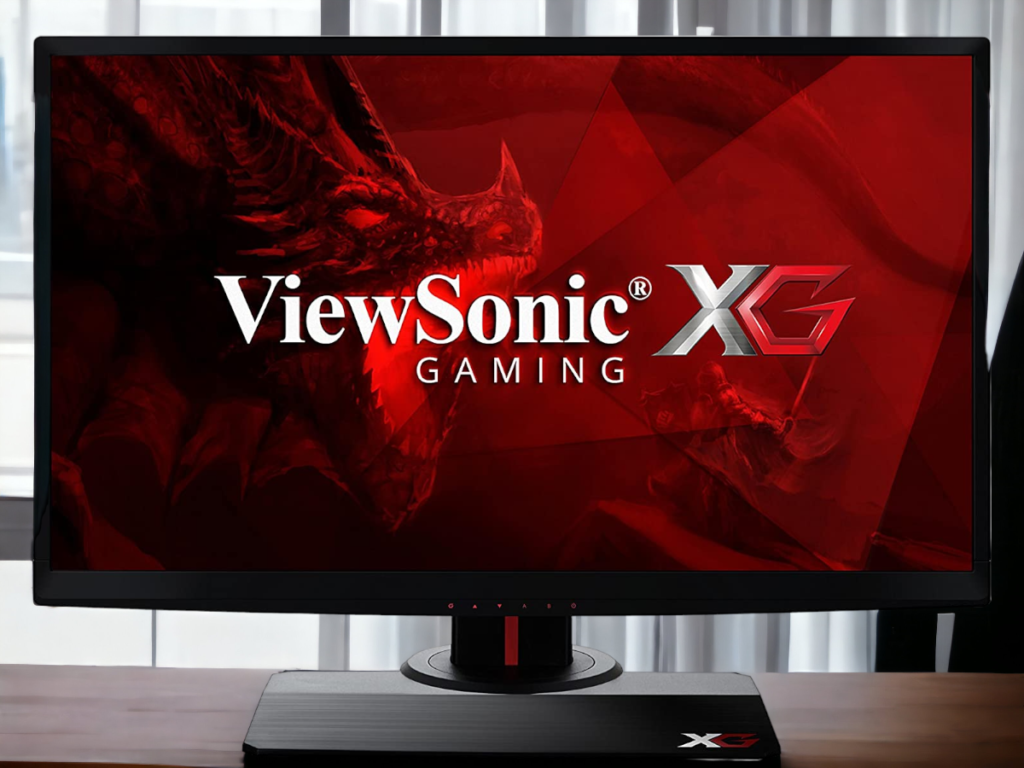 Excellent monitor for 4K gaming and movies
SPECIFICATIONS
25 inches screen size
1920 x 1080 Pixels display resolution(maximum)
Full HD 1080p resolution
AMD FreeSync Premium technology
Fully adjustable ergonomic stand
Ultra-fast 1ms response time
USB connectivity
TODAY'S BEST DEALS
Positive
Great gaming monitor for single PC use
Pretty decent number of OSD features
Freesync on both HDMI & DisplayPort
Big, friendly, and bright display
Built for gaming enthusiasts
Crisp and sharp colors
Amazing picture quality
Clear graphics
Supports PIP mode
Great value for the price
Negatives
OSD lacks any significant controls over the sound
The ViewSonic XG2530 is, in my opinion, the most incredible value option for gamers looking to buy a FreeSync-compatible 240Hz monitor. The XG2560 from ViewSonic is a G-Sync 240Hz monitor, but it isn't as excellent a choice as the BenQ ZOWIE XL2540 because it doesn't quite have the same price-to-performance ratio that the XG2530 has.
However, the XG2530 is the second-cheapest FreeSync 240 Hz monitor on this list, costing just under $340. The XG2530 features an ergonomic stand, a 1-ms reaction time, and a 3-year warranty.
And while the Acer XF250Q is considerably less expensive and also FreeSync compatible, it doesn't offer the same picture quality level as the XG2530. The Acer XF250Q listed below might be a better option if you're trying to save money because the difference isn't that great.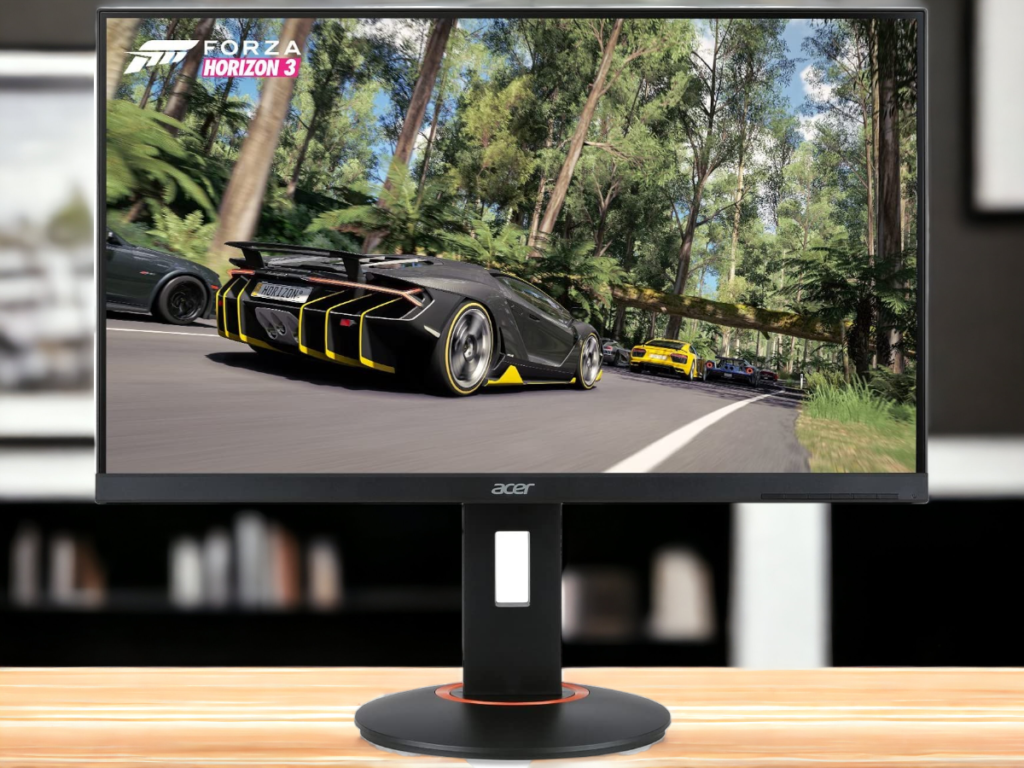 Certified 240 Hz monitor worth the money
SPECIFICATIONS
24.5 inches screen size
1920 x 1080 Pixels display resolution(maximum)
Compatible with Mad FreeSync and G-Sync
Zero frames design
1ms response time
Frameless feature
TODAY'S BEST DEALS
Positive
Fantastic for Gaming
Good performance
Great Dual setup
Adjustable stand
Very bright monitor
Perfect for FPS
100% SRGB
Affordable
Negatives
Image quality needs improvements
On this list, the Acer XF250Q might be your best bet. And the reason for it is that all of the selections on this list are identical in the primary monitor specifications that generally distinguish one panel from another. Therefore, the only significant distinctions between them are first, whether they are FreeSync or G-Sync displays, and second, price.
In addition, the Acer XF250Q is undoubtedly the most affordable option on this list. You can purchase the XF250Q for less than $250. Although it is a FreeSync monitor, it also supports G-Sync. Therefore, you can use either an AMD or an NVIDIA graphics card with it.
Additionally, it has a 25-inch screen with a TN panel, a 1-millisecond response time, and a 1080P resolution. In the end, the XF250Q is not only one of the most affordable 240Hz displays on the market right now but also one of the most affordable G-Sync monitors overall.
Of course, Acer had to make some sacrifices to reduce the price of the XF250Q so drastically, so it doesn't quite offer the same level of visual quality as some of the alternatives mentioned. Even yet, the image quality isn't terrible, and the XF250Q costs about $100 less than the next-cheapest alternative, making it difficult to ignore.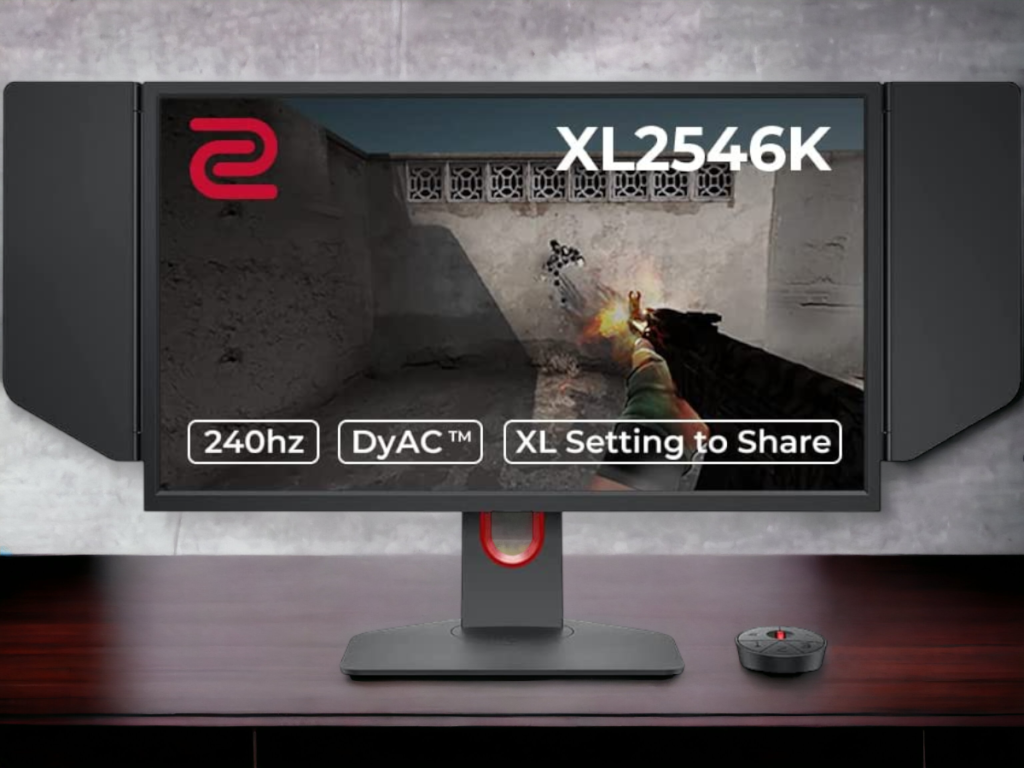 One of the best 240 Hz monitor
SPECIFICATIONS
24.5 inches screen size
1920×1080 Pixels display resolution(maximum)
Height, Pivot, Swivel, Tilt Adjustment
S-switch remote control allows 4-way scrolling
Color Vibrance and Black eQualizer technology
Dynamic Accuracy plus technology
The redesigned base takes up less space
Increased height adjustment range
Free tilt design offers flexibility
TODAY'S BEST DEALS
Positive
Best gaming monitor on the market
Good fast-paced monitor
Very fast response time
Good viewing angles
Crystal clear display
Smooth gameplay
Best affordable option
Negatives
Bezel is thick, and the gaming panel is receded
The BenQ Zowie XL2546K was made with competition in mind. It removes all the extraneous details to concentrate on speed clarity entirely and gives you the competitive edge. Even without turning on overdrive, a TN panel display is rapid, and ghosting is absent.
Although this monitor enables the import and export of picture profiles, you may easily download custom settings for specific games to make the most of its capabilities. That does come with the typical TN constraints of reduced contrast and color depth.
Players should have an advantage with just a 240Hz TN panel, but the XL2546K goes much further. To keep you visible during jerky motions like shooting a gun, Zowie's DyAc+ technology decreases motion blur. Other gaming monitors offer motion blur reduction, but DyAc+ stands out since it does it without lowering your brightness. It offers no room for compromise.
A further competitive edge is a controller that can switch picture profiles instantly. By combining this with the Black Equalizer feature of the display, you can now see into the shadows and identify attackers.
You can set your peripherals comfortably, even if you want them farther away, thanks to a smaller-than-average stand and flaps on both sides that block distractions and prevent rivals from peering at your screen.
Significant trade-offs exist because the XL2546K doesn't support HDR and has a high peak brightness, but there's no denying its competitive design. The ESL Pro League employs these screens during professional esports competitions for a reason.
FAQs on Best 240 Hz Monitor
1. Is a 240Hz monitor good?
Excellent motion performance. A 240Hz refresh rate, G-Sync Ultimate, and a high-quality IPS display deliver clear animation in the most demanding games. Once you've seen this monitor in action, it will be difficult for you to go back to 144Hz. Additionally, it is a stylish, expensive monitor.
2. Is 240 Hz monitor overkill?
As mentioned above, using a 240 Hz display is excessive if you only plan to use it for simple typing, spreadsheets, and similar chores. To be honest, even a 144 Hz monitor is extreme for these duties.
3. Is 144Hz same as 240Hz?
In essence, 240Hz makes frantic gaming exceedingly fluid and smooth. Remember, though, that the change from 144Hz to 240Hz is not nearly as audible as the change from 60Hz to 144Hz.
4. How much FPS can a 240 Hz monitor get?
A 240 Hz monitor can handle up to 240 frames per second, and a 120Hz panel can display up to 120 fps because it refreshes twice as quickly as a 60Hz display. Most games will no longer tear as a result of this.
5. What Hz can the human eye see?
Although your eyes cannot see above 60 Hz, it is required for the monitor to display more than that for your brain. It is done to build the image even if the signal is lost in between transmissions.
6. Are 240Hz monitors worth it?
Since you can see everything happening on the screen more quickly, you can respond more swiftly. Higher refresh rates also help to lessen motion blur and provide the fluid gameplay you see in high-end games.
7. Is there any 4K 240Hz monitor?
The G85NB, the first 240Hz 4K gaming monitor in the market, comes in a 32-inch size and offers incredibly realistic visuals, quick response times, and top-tier performance.
8. What is the best cheap 240 Hz monitor?
The Gigabyte M27Q-X contains numerous essential features that some of the more costly versions lack, despite being the most affordable 1440p 240 Hz monitor. For a more accurate depiction of sRGB content, you can use the display's sRGB emulation option to reduce the native sRGB gamut from 140 percent to 100 percent.
9. Is there a 480Hz monitor?
This new 480Hz model is a 1080p screen that is getting closer to perfection in producing crisper animations, even though each model can be modified with up to 4K displays. Additionally, it will help eliminate stuttering gameplay, which may be more significant for Dell's target population with these computers.
10. How much does a 240Hz monitor cost?
The cost of a 240Hz display varies significantly depending on the manufacturer, features, and resolution. The cheapest 240 Hz monitor is typically under $200 as of this writing. The highest-priced 240Hz monitors cost over $1,700. A quality 240Hz monitor doesn't have to cost a fortune, but you should budget $350–500 with tax and delivery are taken into account.
11. Is 240Hz good for a gaming monitor?
It is possible! A select subset of players will benefit from a refresh rate of 240Hz, far higher than usual. Reduced motion blur and input lag are the two main advantages of gaming on a 240Hz panel.
Both are advantages for competitive games, such as MOBAs and first-person shooters. I commonly refer to monitors with refresh rates between 240Hz and 360Hz as "esports monitors."
You probably don't need a 240 Hz monitor if you game on an older PC or don't like esports. Many single-player games, especially those with stunning visuals, won't operate at such a high frame rate on most PCs.
Even in games that can handle it, going from 144Hz to 240Hz doesn't produce the same noticeable difference as going from 60Hz to 144Hz. You might notice a change in your reaction time when playing games with rapid action.
Related Topics:
Summary
Upgrading to a 240 Hz monitor can offer you the competitive edge you seek if you're the kind of gamer who demands every advantage. When every pixel counts, their enhanced motion clarity and decreased input lag can offer significant benefits.
Making the jump won't make sense for everyone, but if it does, it can be the competitive edge you need to win the leaderboard.