8 Inch Subwoofer Buying Guide – Everything You Need To Know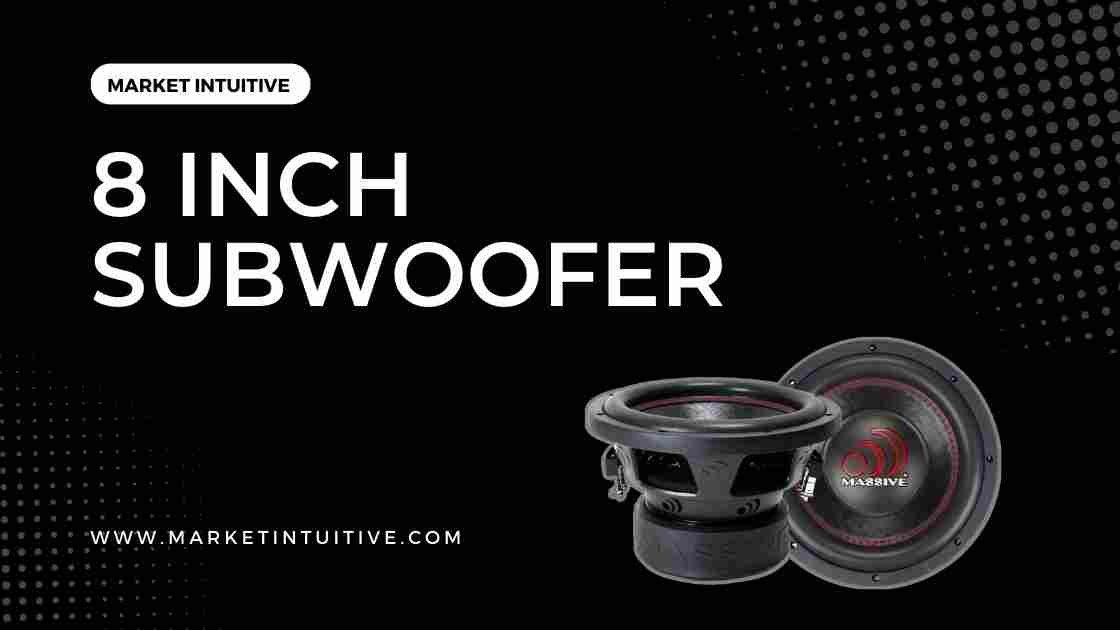 If you want to update your car's sound system but don't have much room, a powerful 8 inch subwoofer is the answer. Although they are not as massive or powerful as larger 15- to 18-inch subwoofers, they function well in smaller cars, such as hatchbacks.
They can be incorporated into confined locations like the area directly beneath the seat, the center console, or the compartment used to store the spare tire. Additionally, 8-inch subwoofers can create precise bass thanks to their compact size and relatively lightweight profile. If kept in enclosures that are appropriate for their size, they may even be able to make loud noises.
Your taste and money will choose the best 8 inch subwoofer for you. Once you know these, it will be simple to locate the ideal subwoofer for your requirements.
There are a lot of 8 inch subs available, but I've only kept seven of them after merciless elimination. I rank these 12 subs based on their bass output, aesthetics, and ease of installation.
So, if you're searching for a high-quality 8 inch subwoofer, look at the choices in my buying guide below.
Benefits of 8 Inch Subwoofer
Here are the benefits of 8 inch subwoofer:
Protects factory speakers: The factory speakers in your car, which aren't made to withstand a lot of vibration, may get damaged if you prefer a lot of basses. Since OEM speakers are sometimes composed of cardboard and plastic, they could rip or crack.
Saves car battery: Smaller subwoofers often consume less power than larger subwoofers, which means they won't drain your car's battery as quickly while still producing excellent sound.
Powers five-channel amplifier: A five-channel amplifier can function well with small subwoofers. A specialized monoblock amp and a separate amplifier for the speakers are often needed for more full subs.
Boost audio system's bass: The best 8-inch subwoofer will significantly improve your music over the stock car speakers. In any setting, an 8-inch sub will sound more powerful and impactful.
Types of 8 Inch Subwoofer
Here are the types of 8 inch subwoofer:
Vehicle-Specific Subwoofer
Vehicle-specific subwoofers are hidden in places like the door of your car, truck, or SUV. It is one method to use if you don't have much room or want to place the subwoofer in a hidden location.
They usually come pre-mounted in an enclosure and match your car's interior. In contrast to larger subwoofers, they don't produce a loud, booming bass sound.
Powered Subwoofer
Although these subwoofers' bass frequencies and overall sound quality are adequate, their compact enclosure prohibits them from producing powerful, deep, and hard-hitting bass tones. Their size and simplicity of installation are advantageous, especially in small spaces. A powered subwoofer can fit in smaller locations because the enclosure houses the amplifier.
Enclosed Subwoofer
Enclosed subwoofers are less common than other options, but they're a terrific choice if you want a quick fix for improving your audio system. An enclosed subwoofer is pre-mounted in the enclosure created expressly for it. You must buy an amplifier separately if you want to use enclosed subwoofers.
Component Subwoofer
A component subwoofer is designed for audiophiles who wish to personalize their sound system and has multiple elements. You can decide what kind of amplifier, enclosure, and other components you want to use.
Although this subwoofer is designed specifically for you, it requires some technical know-how. A non-component subwoofer provides an all-in-one enclosure. The target market for this subwoofer is those who don't want to worry about installation.
Factors to Consider Before Buying an 8 Inch Subwoofer
Here's the factors to consider before purchasing an 8 inch subwoofer:
Power
The amount of power each subwoofer can handle is indicated by its wattage rating. This grade is for peak performance. It should be mentioned.
Long-term use of a subwoofer at its maximum rating will cause it to overheat and stop working. To determine how much power the sub can reliably handle, look at the root mean square (RMS).
Enclosure Type
The sound quality of the subwoofer is impacted by this feature, making it crucial. The sub's enclosure affects performance as well.
For instance, the greatest 8 inch subwoofer for a sealed box will provide the deepest bass, whereas a ported enclosure and bandpass enclosure will enable louder volume levels.
Size
The best subwoofer ranges from 8 to 15 inches for cars, trucks, and other motorized vehicles. Larger subwoofers typically produce greater bass, although that isn't always the case.
Performance is also influenced by several other elements, such as power handling, enclosure type, and sensitivity rating. In most cases, an 8-inch subwoofer outperforms a factory model, especially if configured for peak performance.
Sensitivity Rating
The sensitivity value and the power rating should be considered when assessing a subwoofer's power. A subwoofer with a lesser sensitivity can deliver the same sound volume using less power than a subwoofer with higher sensitivity.
Frequency Range
The frequency range that a subwoofer can handle is its only restriction. The lower frequencies produced by a subwoofer with a smaller lower limit will be more profound. Select a sub with the lowest frequency limit if you want intense bass. The average lower frequency range for an 8-inch high-power subwoofer is 20–30 hertz.
Single vs. Dual Voice Coils
If you want to enhance your audio system quickly and easily, single voice coils can be helpful. You have freedom when installing additional sound outputs thanks to dual voice coils. Consider twin voice coils if you enjoy tweaking your audio to get the optimum sound.
Comparison of Best 8 inch subwoofer
| | | | | |
| --- | --- | --- | --- | --- |
| IMAGE | MODEL | FEATURES | COST | RATING |
| | Rockford Fosgate P3SD2-8 | Shallow Mount, Car Mount, 150 Watts RMS power, 300 Watts Max power handling | CHECK PRICE | 4.6 / 5 |
| | Rockville RW8CA | RCA connectivity, 150 Watts RMS power, 600 Watts Peak power | CHECK PRICE | 4.4 / 5 |
| | Kenwood KSC-PSW8 | 150 watts RMS power, 35-150 Hz frequency response, 81 dB sensitivity | CHECK PRICE | 4.3 / 5 |
| | Pyle Car Subwoofer Audio Speaker | Dual 4 Ohm impedance, Great for music players, 3.7" mounting depth | CHECK PRICE | 4.0 / 5 |
| | Pioneer TS-SWX2002 | Floor standing mount, Carpeted, non-slip, and scratch-resistant enclosure surface, Tight bass from a shallow compact design | CHECK PRICE | 4.2 / 5 |
| | JBL BassPro SL Subwoofer Enclosure System | Under Seat Mount, 250 watts Peak power, 125 watts RMS power | CHECK PRICE | 4.5 / 5 |
| | Planet Audio AC8D 8″ Car Subwoofer | 39 Hz Resonant frequency, Foam is very flexible, Made from Polypropylene | CHECK PRICE | 4.2 / 5 |
| | Alpine Electronics PWE-S8 | 120W Amplifier, 120W RMS power, Fit for truck | CHECK PRICE | 4.5 / 5 |
| | Skar Audio SVR-8 D2 | 700 Watts Peak Power, 350 Watts RMS Power, 83.7 dB sensitivity | CHECK PRICE | 4.6 / 5 |
| | Massive Audio GTX84 | Poly cotton spider, Woven round tinsel leads, Dual impedance | CHECK PRICE | 5 / 5 |
| | Kicker 43CWR84 CompC 8 | Stacked magnet structure for power control, 300 watts RMS power, 600 watts peak power | CHECK PRICE | 4.5 / 5 |
| | BOSS Audio Systems CXX8 | Resilient and durable material, Made from polypropylene, 49 Hz resonant frequency | CHECK PRICE | 4.3 / 5 |
Let us explore each of the listed 8 inch subwoofers.
Top 8 Inch Subwoofer You Can Buy Right Now
Good punch for a tight enclosure
SPECIFICATIONS
Deliver big bass in a tight space
Features anodized aluminum cones and dust caps
Slim 2-Ohm DVC (dual voice coil) subwoofer
Shallow Mount, Car Mount
150 Watts RMS power
300 Watts Max power handling
Custom 10-AWG nickel plated push terminals
Optimized for both sealed and vented enclosures
Full 1-year warranty
TODAY'S BEST DEALS
Positive
Great response for a small enclosure
Extremely pleased with the sound and quality
Great replacement speaker for 4Runner
The bass is clean, tight, and punchy without distortions
Great bass for the size
Awesome customer service
Easy to install
Negatives
Didn't match the factory screw patterns, so you need to drill a few holes
This subwoofer is just excellent. It produces the ideal bass in addition to having an outstanding build quality and appearing premium. It is misleading. It is rated at 150 Watts RMS for an 8″ sub. You can also jiggle your mirrors; I'll talk about this further in a moment.
Because of the unusual design and the big magnet inside, the break-in time may last up to three weeks. Wow, the difference is night and day once the break-in is finished.
Have you heard of windows being rattled by an 8″ sub? This Rockford Fosgate can do it because it's a punch series product. Your mirrors will tremble if you land it precisely in the sweet spot of the vehicle.
Rock, hip-hop, or any genre of music will sound far better than it does on the standard system.
In addition to being strong, Rockford Fosgate is clear, accurate, and distortion-free, and it has small form that makes it ideal for under-seat installation. This 8-inch subwoofer is the easiest to install.
Excellent for stock audio in a compact space
SPECIFICATIONS
RCA connectivity
150 Watts RMS power
600 Watts Peak power
Low-Level RCA Input
20Hz – 150Hz frequency response
50Hz – 150Hz Low pass filter
TODAY'S BEST DEALS
Positive
Easy to add thumping bass in a small space
Super quality subwoofer
Solid and powerful sound
Great value for the money
Easy to install
Durable
Affordable
Negatives
Blue light might be distracting during the night
Kenwood KSC is an 8 inch subwoofer with a 150 Watt RMS rating. Don't judge it solely on its size since you can miss out on something extraordinary. The bass power it generates is impressive.
An 8 inch subwoofer can still overdeliver even though it cannot compete with larger ones. It applies to the Rockville subwoofer in question. It sounds well in addition to having a good appearance and saving space. It has a concert-like atmosphere. The best part is that it is quiet outside but loud enough within.
The best part is that it's a cheap method to add bass to your car. You won't believe your eyes if you check the price because it's a deal.
Back to the bass, this subwoofer may be an excellent back massager, depending on where you place it. You will appreciate this sub for many years because every piece of music sounds flawlessly clear.
You won't get a headache if you listen to it for longer because the bass is just right.
There are no penalties or trespassing issues because the Rockville subwoofer is nice and boomy inside, and nothing is seeping outside.
Great subwoofer for adding a full sound to jeep
SPECIFICATIONS
RCA connectivity
Class D amplifier
150 watts RMS power
35-150 Hz frequency response
81 dB sensitivity
TODAY'S BEST DEALS
Positive
Great little compact subwoofer
Good base for a mature sound stage
Good under-seat powered subwoofer
Excellent remote to control the frequency
Nice punchy bass
Easy to install
Worth the money
Negatives
Some metal brackets to mount the sub to the floor
The Kenwood comes in handy if you don't have room for a subwoofer. It delivers powerful bass while having an incredibly slim profile. It is only an 8″ sub and has a 150 Watt RMS rating.
Usually, factory settings don't sound all that wonderful. In this situation, Kenwood assumes the initiative. It completes the system.
If you go with reasonable expectations, you'll be pleasantly surprised, and once it's installed, your commute will be a lot of fun.
You will experience an excellent-sounding ride by purchasing this Kenwood.
You may use the remote to change the bass for each song.
Pyle Car Subwoofer Audio Speaker
A sturdy subwoofer for car or home
SPECIFICATIONS
Entirely made of specially treated foam surround
Built with 40 oz. magnet
Dual 4 Ohm impedance
Great for music players
3.7" mounting depth
TODAY'S BEST DEALS
Positive
Clean sound at all levels of volume
Sturdy Construction and heavy magnets
Great little budget subwoofer
Easy to install
Affordable
The Pyle Car Subwoofer Audio Speaker can produce 800 watts of peak output and 400 watts of RMS power. It contains a 1.5-inch, four-layer voice coil made to withstand corrosion for a longer lifespan, a dual 4-ohm impedance, and 89 dB of sensitivity.
The 3.7-inch mounting depth fits most cars, recreational vehicles, and boats, and the surround is foam-treated for durability.
This subwoofer is fantastic if you're on a tight budget and have limited space in your car. It won't blow the top off your car, but with the proper enclosure, it sounds good. Additionally, if your amplifier is a 2-ohm device, you can attain 2 ohms thanks to the dual voice coil.
Although the subwoofer is reasonably priced and delivers good bass notes, it cannot withstand powerful low blows. Additionally, it struggles to handle loud volumes. You'll hear some distortion if you turn up the volume too much.
Perfect subwoofer for jeep wrangler
SPECIFICATIONS
Tight bass from a shallow compact design
Carpeted, non-slip, and scratch-resistant enclosure surface
Floor standing mount
TODAY'S BEST DEALS
Positive
Cool speaker
Good base for the size
Great performance
Excellent sound
Compact design
Negatives
Don't expect much bass out of this setup
The 8-inch vehicle subwoofer from Pioneer can handle a lot of power. It controls 150 watts on average and a thunderous 600 watts at its max. It is further complemented by one of the broadest frequency ranges for bass on the market, between 20 and 200Hz, and a powerful 86dB volume sensitivity.
No matter where the sub is placed, these excellent characteristics work together to provide loud, clean music that travels a long way. The subwoofer has a fiberboard bass reflex enclosure with a carpeted surface. It has a resin cone with mica injections that are made to pump some serious air. Being only 5.5 inches deep, it is a handy piece of equipment.
JBL BassPro SL Subwoofer Enclosure System
Great mid-range subwoofer
SPECIFICATIONS
Efficient Class D amplifier
Optional wired bass remote controller
Under Seat Mount
250 watts Peak power
125 watts RMS power
TODAY'S BEST DEALS
Positive
Crossover level control and bass boost for a great listening experience
Perfect size and bass for a family-size car
You don't need a separate amp
Great sound and quality
Very rich and deep bass
Slim design
Affordable
The JBL BassPro SL Subwoofer Enclosure System is a good option if you'd prefer to buy a subwoofer that's already enclosed. This little subwoofer's low-profile ABS plastic housing is designed to fit under practically any automobile seat. The speaker has a 250-watt maximum power rating and a 125-watt RMS output.
It has a high-efficiency Class D amplifier that takes the place of the system's ventilation and cooling fans. The amplifier has controls for a bass boost and a variable crossover frequency.
The speaker has an Audio Sense Auto-On feature that activates the subwoofer when it detects an audio input, providing mild starts when it turns on to avoid startling you.
It's not good for bringing out the powerful, deep bass tones. Additionally, the speaker could sound distorted while playing audio at high volumes.
Planet Audio AC8D 8″ Car Subwoofer
Powerful subwoofer with great sound
SPECIFICATIONS
Voice Coils can withstand high temperatures
Stamped basket provides a strong platform
39 Hz Resonant frequency
Foam is very flexible
Made from Polypropylene
Car Mount
TODAY'S BEST DEALS
Positive
Perfect for rock and metal genres
Great replacement drivers
Good for beginners
Amazing sound and power
Best bang for your buck
Affordable
The AC8D from Planet Audio features crisp bass and high-performance twin 4-ohm voice coils. Enjoy the sharpness of potent low-frequency effects while relaxing. All for a little portion of the typical price! They perform best together, producing 2,400 watts of power at an 84 dB sensitivity and a 35 Hz resonant frequency.
Thanks to the poly-injected material and movable trim rings, it is among the more fashionable styles I've examined. It is also my choice for the top affordable subwoofer. A single speaker is available for less than $40.
Alpine Electronics PWE-S8
Great subwoofer for small cabins
SPECIFICATIONS
32Hz-150Hz Frequency response
RCA connectivity
120W Amplifier
120W RMS power
Fit for truck
TODAY'S BEST DEALS
Positive
Great output and solid performer
Superb sound and quality
Very tight, controlled bass
Bang for your buck
Easy to install
Compact
Negatives
Not enough brackets for mounting
Alpine is skilled in producing high-quality goods that perform admirably. This 8″ subwoofer is potent and has a 120 Watt RMS power rating.
The construction is of the highest caliber. It is made of a durable material so that it may withstand some damage (off-roading and such).
With this sub, you may experience powerful, clear bass without giving up any room. With this subwoofer, you can get a lot of boom in a little package.
The built-in amp is the best feature because it prevents you from combining different amps and perhaps damaging the sub. It is as simple to use as plug-and-play.
Everything is included with this Alpine subwoofer. There is absolutely no guesswork involved because the amp is provided.
Great little subwoofer
SPECIFICATIONS
2″ 4-Layer high-temperature copper voice coil
High Roll Foam Surround
Competition Grade Pressed Paper Cone
30 Hz – 350 Hz frequency response range
High Flux Ferrite Motor
Advanced Air Flow Cooling Design
Wired connectivity
700 Watts Peak Power
350 Watts RMS Power
83.7 dB sensitivity
TODAY'S BEST DEALS
Positive
Great hard-hitting subwoofer
Rich, beautiful deep bass
Amazing sound quality
Easy to install
This subwoofer by Skar Audio is a wolf in sheep's clothes. They claim it's merely an 8 inch subwoofer, yet it has a 400 Watt RMS rating. That is absurd power for something so small.
You must exercise some patience. The break-in phase must be completed before you can let this monster go. Make sure your backup battery is wholly charged, just in case you experience some flickering lights.
Depending on your musical preferences, you can appreciate the punchiness of jazz and rock or experience the dips and lows of rap, R&B, and pop.
It's ideal for rap, pop, and hip-hop because the bass is strong, and the subwoofer can easily take dips.
It shouldn't take a lot of space because it is an 8-inch sub with a compact footprint.
One of the best 8 inch subwoofer
SPECIFICATIONS
Heavy gauge steel basket
Dual-stacked high flux
120-ounce strontium ferrite magnets
UV treated / non-pressed paper cone
4-layer hi-temp voice coil
Poly cotton spider
Woven round tinsel leads
Dual impedance
TODAY'S BEST DEALS
Positive
Great little subwoofer
Strong build quality
Affordable
These red-stitched, tough-looking cones rank among the best little subs in appearance. The GTX84 combines dual-stacked Y30 90oz strontium ferrite magnets with a constant 400W RMS and 4-ohm copper voice coil.
It also has a 46.2Hz resonance and is sensitive to 88dB. The construction quality is also excellent. Even the best small subwoofers can break easily and are made of soft materials.
A high gauge steel basket, poly-cotton spider, rubber gasket, and UV-treated EROM foam from Massive Audio, on the other hand, shine through. At only $104,99, it offers outstanding performance for an affordable price.
Absolute performance value in a space-saving size
SPECIFICATIONS
4-Ohm dual voice coil for sound
Stacked magnet structure for power control
300 watts RMS power
600 watts peak power
TODAY'S BEST DEALS
Positive
Excellent speaker
Excellent bass
Worth the price
This Kicker subwoofer is a winner if you seek a decent base to make your journey enjoyable and drive a compact car.
Although this Kicker sub is only 8″, it has a 300 Watt RMS power rating. No surprise, people are perplexed. It comes in 10″ or 12″ sizes. This small one easily defeats larger subs.
The difference couldn't be more significant, even if it's only an 8″ sub. You'll adore your brand-new vehicle.
This subwoofer is ideal. If you miss the lows, your favorite tunes will take on a new dimension.
Excellent replacement subwoofer
SPECIFICATIONS
Voice coils withstand high temperatures
Resilient and durable material
Made from polypropylene
49 Hz resonant frequency
TODAY'S BEST DEALS
Positive
Good quality subwoofer
Great subwoofer for the price
Good for small trucks
Easy to install
Affordable
Negatives
Need to drill some holes for a better fit
One of the cheapest subwoofers I've ever used is from Boss Audio Systems.
Additionally, it provides midrange acoustics. You must put more money into something if you want it to be stronger. Following installation, you'll hear a great, full sound with more bass.
This subwoofer produces good bass for just 8 inches.
If you're on a small budget, it's the best approach to enhance your PC.
Home theater systems can make good use of these subs. They are ideal because they are inexpensive.
Tips for 8 Inch Subwoofer
Some tips that you need to know about 8 inch subwoofer:
To improve the sound of your system after adding a subwoofer, you must tune it. To achieve the sound you want, if your system has additional amps, you need to tune each individually.
If you don't already have a free-air subwoofer, you'll need one that is enclosed and has enough room for airflow to keep it cool. If not, the sub may eventually blow.
Don't reduce your amplifier's gain to compensate for your subwoofer's lack of volume. Your full-range speakers won't deliver the crisp, complete sound you want if you do this.
You can construct a box if your subwoofer doesn't already come with one. Just make sure the seal is tight, as leaks might degrade performance. Additionally, the box's inner capacity should be appropriate for the subwoofer.
One subwoofer should be adequate if you don't listen to much bass-heavy music like hip-hop, dance, techno, or similar genres. If not, you could require two subwoofers..
Fill the enclosure with polyester fiber if you want your 8-inch sub to perform better. It's inexpensive and straightforward to get a cleaner bass tone by cutting down on unwanted resonances.
If you hear distortion, lower the sub amp's gain. You could need a giant subwoofer and amplifier if the subwoofer isn't producing enough bass without distorting.
Upgrade all of your car's factory speakers if you want a car audio system with tighter bass and clearer sound. It will significantly impact overall performance.
FAQs on 8 Inch Subwoofer
1. Are 8 inch subwoofers worth it?
An 8 inch subwoofer will sound more powerful and impactful. Save your vehicle's battery. Smaller subwoofers normally don't consume much power, so they won't drain your car's battery as quickly as a giant sub while still producing fantastic sound.
2. What are 8in subwoofers good for?
An 8″ subwoofer will deliver clear, precise bass. An 8 subwoofer will provide you with excellent, economical, clean bass. Some 8-inch subwoofers sound nice, and some may even compare them to a lower-end 10″ or 12″.
3. Are 8 or 10 subs better?
A 10-inch subwoofer is the smallest "real subwoofer." A 10-inch subwoofer will not feel like a sacrifice, even though it can handle more power and play louder than the 8-inch subs. Most 8 inch subwoofers just lack the power that a 10″ subwoofer provides.
4. Are 8 inch subwoofers good for bass?
8-inch subwoofers are worthwhile, yes. They provide crisp bass. For people with smaller vehicles or who don't want to give up trunk room, 8″ subs are ideal.
5. What's the biggest size subwoofer you can buy?
LFM-1 Plus, is a big beast indeed; it measures 21.75x15x22 inches and includes a 350-watt amplifier and 12-inch woofer. Just $499 will do.
6. Is a larger subwoofer better?
A massive subwoofer with lots of power is the best bet. Running a large sub at "4" is preferable to running a tiny sub at "10." Multiple subs, placed across the room (or even just in the corners), nearly always produce better, more realistic sound than a single subwoofer.
7. Is an 8 inch subwoofer enough home theater?
8-inch subs are relatively small and reasonably priced. A solid 8-inch sub can accomplish a lot for a system without taking up a lot of room, even though they may not play as loudly or deeply as some larger subs. A high-fidelity sound system cannot be built without a good subwoofer.
8. Does type of enclosure make a difference?
Enclosure type significantly influences the bass sound. Subwoofers that are enclosed are often housed in pre-mounted boxes. Bandpass or ported enclosures are options to consider if you want extra volume. Choose a sealed-box sub if you desire deep, low frequencies.
9. Does a subwoofer need an amp?
A speaker and amplifier are typically housed inside the shell of a powered subwoofer. They are perfect if your car is small and doesn't have much room for a speaker and amplifier setup.
10. Can you get away with using a cheap amplifier with the subwoofer?
Cheap audio gear will probably not make your speakers sound their finest. Instead of spending less on substandard parts that you will inevitably need to replace, saving aside some cash for a higher-quality system is preferable.
11. Does material of the subwoofer cone make a difference?
Subwoofer cones are made of various materials, including paper, synthetic materials, and composites. Paper is less resilient but lighter and more responsive than other materials. Overall, most materials function well and provide excellent sound.
12. Do 8-inch subs have good bass?
Yes, the bass sound is made up of low-pitched tones with a range of frequencies between 16 and 256 Hz. 8-inch subwoofers can produce bass with clarity and accuracy at 20Hz and 200Hz frequencies. Compared to conventional speakers, they are significantly superior. However, because of their diminutive size, they lack the strength and loudness of more giant subwoofers.
13. Are 8 inch subs good?
8-inch subs are excellent for generating clear and precise bass in vehicles or other small spaces. They are superior to standard factory-installed bass systems. Several also draw comparisons to budget 10 and 12-inch subwoofers. Subwoofers are useful for home theatre setups even though they are frequently connected to auto sound systems.
14. What is the most powerful 8-inch subwoofer?
Overall, the Infinity Kappa 800w is the most potent 8-inch sub I examined. It has a 1,600-watt peak power.
But it has a 400W Root Mean Square (RMS). It indicates that it doesn't constantly maintain its highest wattage.
The Skar Audio VVX-8v3 features a greater 600W RMS but a lower peak power.
Related Topics:
Conclusion
I suggest the Rockford Fosgate P3SD2-8 if you're seeking the greatest car audio system update that will give your car the bass kick you want. It's a well-made speaker that cranks out strong, precise bass that will rattle your windows.
I advise the Pyle PLPW8D 8-Inch Car Subwoofer if you're on a tight budget yet want to hear crisp, precise bass.