Bose Solo 5 Soundbar Review: The Complete Guide 2023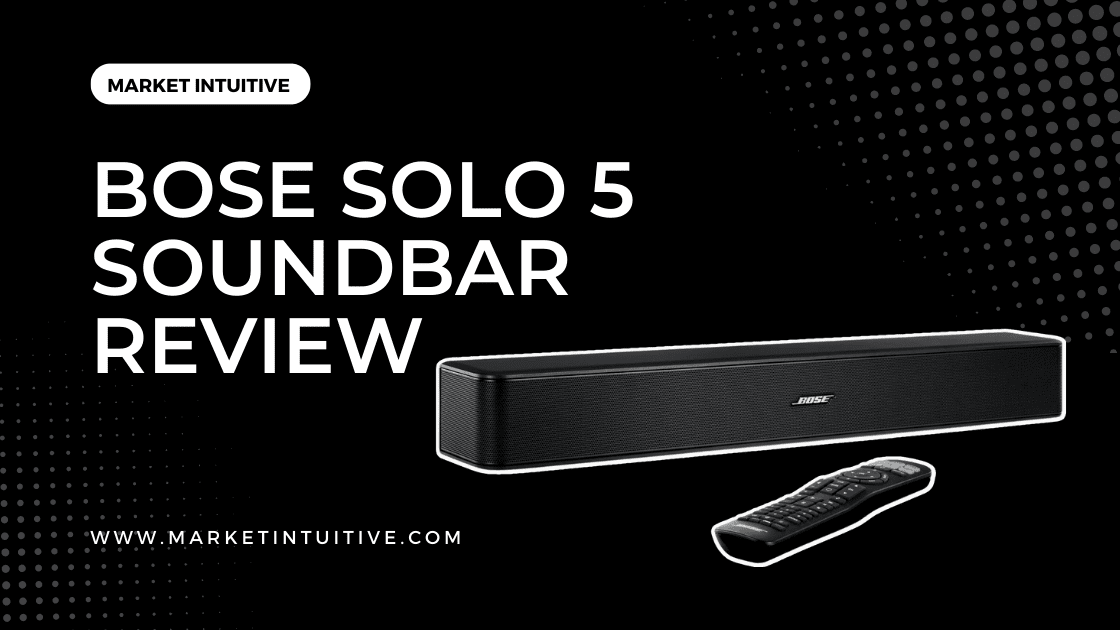 The Bose Solo 5 is an excellent improvement to the built-in speakers on your TV, and their simple setup makes them great for establishing a home theater system. The universal remote control your Blu-ray player, Bluetooth-connected devices, and video games consoles—handy because this soundbar doesn't offer HDMI connectivity, meaning you can't use your regular television remote to control it.
My Verdict for Bose Solo 5
The Bose Solo 5 is a tiny, compact soundbar that doesn't consume a lot of room in your existing setup. Its sound profile is balanced and neutral, particularly in the mid-range, allowing voices and lead instruments to be heard.
Solo 5 has a difficult time reproducing low bass. Even though it doesn't get very loud, it doesn't occupy much space and is relatively easy to install. In addition, it's Bluetooth-compatible, allowing you to stream audio from your smartphone or tablet straight to the soundbar.
The Bose Solo 5 is inadequate for all-purpose use. Its capable mid-range allows for precise playback of dialogue-heavy content such as podcasts and TV shows. However, its embedded subwoofer has difficulty creating deep bass, which may disappoint some music listeners. Dolby Atmos content is not supported, and surround sound downmixes to stereo.
Solo 5 is one of the smallest soundbars I've ever seen at 55cm long and 7cm tall. It's perfect for those who want something that's sufficiently low-profile to slide under their main television or for those who want to boost the sound of a smaller bedroom TV.
Despite its low price, the Bose Solo 5 is slightly underwhelming regarding sound quality.
Related Articles:
Specifications of Solo 5
7.0 x 54.8 x 8.6 cm (1.69 kg) speaker
10.4 x 4.0 x 1.1 cm (141.7 g) remote control
Coaxial audio input (digital), Optical audio input (digital), 3.5 mm aux input (analogue)
What's in the box: Bose Solo 5 TV sound system, Remote control, Power supply, and cable, optical digital audio cable
Pros
Strong build-in quality
Decent sound quality
Small in size
Adjustable bass
Dialogue mode
Easy to use & operate
Compact size and sleek design
Great clarity of dialogue
Compatible with Bluetooth
Comes with a universal remote
Wall mountable and flexible placement
Less distortion even at higher volumes
Available at an affordable cost
Cons
Absence of low-bass
Dolby Atmos isn't supported
Isn't very dynamic
Absence of punch
Narrow sound field
Isn't a significant improvement on standard TV sound
Check out Today's Deal for Bose Solo 5
Bose Solo 5 review: Every Features you need to know
The Bose Solo 5 soundbar is one of the smallest soundbars I've seen, resembling a dedicated 5.1 center channel speaker rather than a soundbar. Its tiny stature makes it ideal for a bedroom or kitchen television.
The Bose Solo 5 soundbar is reasonably light at 6.35kg and has a width of 70cm, making it simple to wall-mount. However, Bose does not provide brackets with the soundbar; you will have to pay £33 for the WB-120 bracket if you want to. If you wall-mount the Solo 5, you can switch its audio output to compensate for the lack of bass.
Design
The Bose Solo 5 soundbar is simple to set up. It has a durable plastic cover with a metal framework and is small and lightweight. If you want, you may purchase the mounting kit, which will save you time and effort when mounting it. The soundbar is only about 21 inches long and fits beneath most TVs.
The Bose Solo 5 doesn't include a display or any controls, as it is controlled via remote.
The design of the Solo 5 is pretty simple, and it's intended to sit underneath your TV (or to be wall mounted, if you prefer).
The soundbar is not too tall if you put it on your entertainment unit to look great in front of your TV screen. It is essential to leave a little space between the wall and the soundbar so that you can access its input connections, as they are located at the back.
Status indicators in the front of the all-black design informs whether the Bose Solo 5 is in dialogue mode by lighting up in different colors and combinations.
Build
It's a simple black grille on the front and black plastic on the top and sides, both of which contribute to its lightweight and sturdy feel to keep things simple.
In addition to the grille, two drivers are positioned at the unit's center and angled slightly outward to produce a wider soundstage. LED status indicators will light up and change color to let you know when certain features are activated, and they will also acknowledge you as you adjust the volume by blinking.
The bulky soundbar remote, which is about half the size of the soundbar itself, is a little on the chunky side. However, the remote feels a little chunky since it can control the soundbar and various infrared devices, including a TV, a Blu-ray player, and any other infrared devices.
Bose delivers what I anticipate at this value point, including optical, coaxial, and analog inputs and built-in Bluetooth for streaming audio. It also includes a few cool features, such as its automatic-awake function, which detects audio and causes the soundbar to turn on. After 60 seconds of inactivity, the soundbar will also automatically turn off.
In addition to that, Bose keeps things relatively simple.
I connected the Bose Solo 5 using the optical cable included in the box (the preferred connection, though a coaxial cable is also offered). Once everything is set up, you're ready. Ensure that your TV speakers are switched off—you should be able to find that option somewhere in your TV's sound settings.
Sound Quality
Despite its tiny size, the Bose Solo 5 is sufficiently loud to distribute sound throughout rooms up to 20 square meters size uniformly. Excellent mid-band performance is crucial in such a small speaker, and this one has it covered.
The Solo 5 can make a big difference depending on the size of your TV, so keep this in mind when choosing one. A small TV is more likely to benefit from the Solo 5 than a bigger one.
Although I was pleased with the tweeter's sound, I thought it was hidden behind the rest of the spectrum. Despite its small size, the bass was solid and loud at higher levels without losing control. There is a relatively narrow left/right ratio in stereo sound, but the stage size is still decent for compactness.
The overall presentation has more solidity to it, avoiding the thin, challenging sound that many slim TVs have. Voices are projected nicely and with good clarity (I didn't felt the need to use the included dialogue mode). Its midrange is focused and direct, with a controlled treble.
In addition to offering superior weight compared to most televisions, the Solo 5 also lacks bass. Even though the bass is still inadequate in absolute terms, the Solo 5 does deliver better weight than most other TVs.
Big explosions or action scenes are complex to feel any sense of punch or impact on the Solo 5. The bass boost option may substantially help the low-end sound but also sacrifice some midrange clarity.
Even with bass boost activated, I still want more, and although the weight is added, it still lacks presence. It is also underwhelming in other areas. Although more detail is available than what your TV provides on its own, it cannot build any tension or excitement with soundtracks, resulting in an underwhelming presentation.
The placement of drivers in the middle of the bar creates a narrow sound field much smaller than the broad, room-filling sounds you would get from the Philips HTL5140.
Pairing the Solo 5 to your TV via Bluetooth is simple. The quality is decent, and the sound is strong, but the character is the same as in movies. For music, you can select the Bluetooth icon on the remote and listen to Spotify without a problem.
The Bose Solo 5 soundbar delivers excellent sound quality when viewing films. With the dialogue mode off, the dialogue was crisp and easy to comprehend. Dialogue mode will benefit those with hearing problems by raising the volume of spoken words while lowering the bass to make them more understandable.
With music, the Bose Solo 5 soundbar sounded wonderful. The trebles and mid-tones were quite crisp, but you might want to tinker with the bass level, which was a bit quiet otherwise. When watching movies, turn up the bass to boost the energy if the movie lacks it.
Users shouldn't expect a big surround scene from the Bose Solo 5 since it does not have any virtual modes or front stereo outputs. Therefore, the sound experience will come from one speaker in particular.
Subwoofer
The subwoofers are built into the soundbar, so there is no wireless or wired external subwoofer. It provides a rather deep and rich bass without requiring an extra subwoofer.
Unfortunately, you cannot add an external subwoofer if you wish to. This soundbar would have provided extra bass in the music if it had a sub.
In addition, Dolby Digital sound decoded via the optical port will be reduced.
Channels
Bose Solo 5 is a 2.0 soundbar, so surround sound is impossible. The first number on your sounding bar represents the number of channels the soundbar has. And second number signifies the number of subwoofers on the soundbar. In this case, the 2.0 soundbar has two channels and no subwoofer.
Soundbars with 2 channels usually have a left and a right speaker. The soundbar channels are located more towards the center but on the left and right.
To create a surround sound effect, you must have at least five channels (left, center, right, and two at the rear). Having only one audio direction causes a lack of stereo separation and directionality. In other words, you only have audio coming at you from one direction.
Connectivity and Inputs
It's great to see optical and coaxial cables provided on this inexpensive system. It offers a minimal range of connections, including just optical, coaxial, and auxiliary ports.
Make sure that any device you want to connect has a coaxial or optical output if you want to connect it via HDMI. Bluetooth wireless is available but doesn't use the less-lossy aptX codec.
There are also no other sound modes to choose from. The remote control lets you switch on a dialogue mode to boost the volume of spoken words, but aside from that, there aren't any other sound options. It would have been great to see different sound modes for watching sports or listening to music.
Bluetooth
Many soundbars now feature wireless connectivity, allowing you to connect your Bluetooth-capable devices. Although the Bose TV soundbar delivers excellent sound quality, you will experience little degradation in audio when it is transferred from your device to the soundbar.
You can stream your favorite tunes and podcasts from your mobile device to your Solo 5 TV soundbar without wires or cables. The Bluetooth connection minimizes the mess and clutter caused by using wires and cables.
Controls
The Bose soundbar has no control buttons, but a universal remote control is included. The universal remote control is impressive because it can be programmed to control other devices using the manufacturer's IR code database.
When you issue a command through this device, an LED light behind its grille will flash to indicate that your changes to settings were successfully made.
In addition to controlling your TV, remote control can also control other devices, such as your satellite box, DVD, or Blu-ray player. Channel controls, menus, and other features are included.
The remote control can be programmed to control six different devices, all represented by colored buttons at the top. To accomplish this, you must press the question button and enter the corresponding manufacturer code.
For instance, remote control can switch between channels on your TV or turn your TV and cable box on and off (among other things).
Bose Solo 5 has buttons for controlling everything, from lowering the volume on all the speakers you've hooked up throughout your house to altering settings on TVs, DVD players, or Blu-ray players.
Unfortunately, the universal remote cannot control a console such as a PlayStation 4 if that is your chosen Blu-ray player. My Samsung television, however, had no issues.
The Solo 5 automatically turns on when it detects a sound source, saving you the hassle of turning it on yourself. Its auto-power-down feature only activates after 60 minutes of inactivity, which seems excessively long.
Easy Setup
The set-up procedure is critical to its success when reviewing a technology product. Whether it's Bose, Samsung, or any other brand, reviews should describe how well the product is set up. Setting up and connecting this soundbar is quick and straightforward, which is why it received many positive reviews.
Everything you need to set up and install is included with the box, including the mounting kit, a universal remote, a power brick and cable, batteries, an optical digital audio cable, and a user guide for the speaker.
Price
Price, of course, is one of the things that buyers look at when considering a product.
The Bose sound bar is an excellent choice if you're on a budget. It delivers decent audio for an affordable price.
The Solo 5 is a budget-friendly option if you can't afford high-end products from brands such as Samsung or Sonos. Even at a budget price range, people who use this speaker with their TVs give it positive reviews.
Compared To Other Soundbars
The Bose Solo 5 soundbar is one of the smallest soundbars I've evaluated. It provides an even sound profile, which makes it suitable for a wide variety of content. It is not as loud as other soundbars and does not have an external subwoofer. You can see my picks for the best Bose TV soundbars and Sony TV soundbars in 2022.
FAQs on Bose Solo 5
1. Does Bose Solo 5 have a subwoofer?
Bose Solo 5 doesn't have a subwoofer.
2. Does Bose Solo 5 have HDMI ?
No, Bose Solo 5 doesn't have HDMI. Instead, it has optical, auxiliary, and RCA jacks.
3. How to turn on Bose Solo 5 without a remote?
You can't turn on the Bose Solo 5 soundbar without a remote. However, if you lose the factory remote, you can control it with a universal one.
4. How to reset Bose Solo 5 remote?
To reset your Bose Solo 5 remote, press and hold the "source" button until all six light up, then enter the numbers "981".
5. How do I connect my Bose Solo 5 soundbar to my TV?
Your Bose Solo 5 soundbar can be connected to your TV using an RCA, optical, or auxiliary cable.
6. Does Bose Solo 5 have Wi-Fi?
Bose Solo 5 doesn't have a Wi-Fi feature. Instead, it has an inbuilt Bluetooth.
7. Can I add speakers to my Bose Solo 5?
Bose Solo 5 cannot be built upon to add speakers. However, we have other choices available if you want to expand your home theatre system.
8. Is the Bose Solo 5 good?
The Bose Solo 5 soundbar is good. It is a simple soundbar that improves sound quality.
Final Verdict
This Bose Solo 5 soundbar review concludes that using this soundbar is simple and hassle-free. Everything from setup to operation is straightforward, and everything you need is included right out of the box. The Bose Solo 5 is an excellent soundbar for those looking to upgrade their TV speakers.
Recommended
The Bose Solo 5 soundbar is a simple, sophisticated design in matte black. Its internal amplifier delivers accurate sound with minimal distortion, making it a good choice for small spaces and limited budgets. This device's small size and compact design are two of its most popular features. 
Furthermore, the factory settings offer excellent quality despite limited connection and audio modes. You can expect to like it in your living room, where both the price and reviews are favorable.
Related Articles: