Dolby Cinema vs IMAX: Which Provides A Better Cinematic Experience?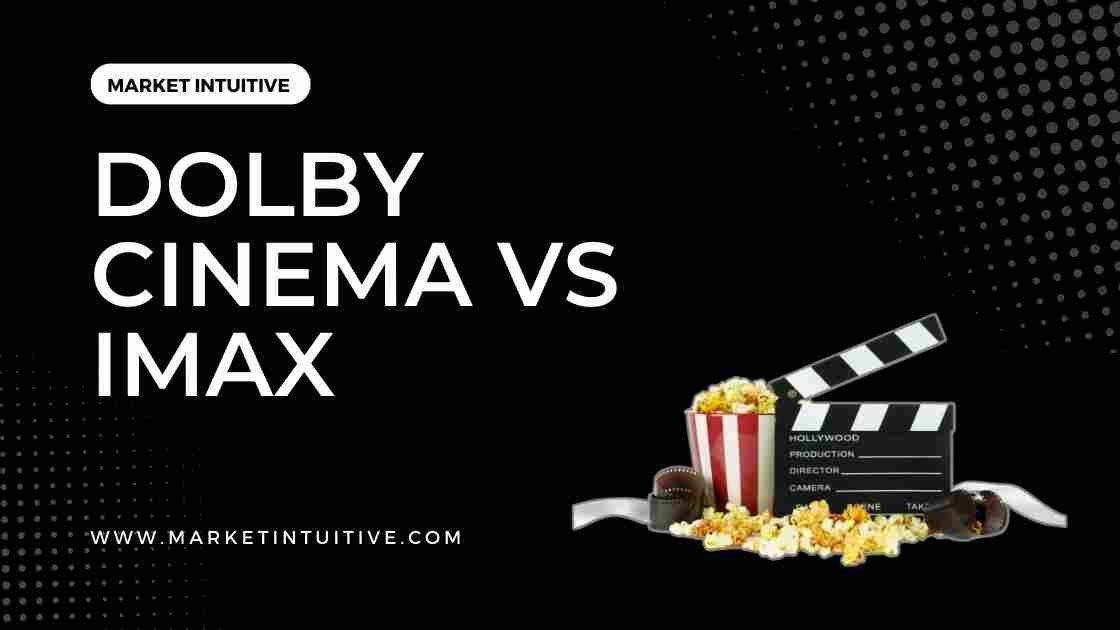 Dolby Cinema vs IMAX picture quality has been a topic of debate. Two of the most common movie formats we watch in theaters are Dolby Cinema and IMAX. That's because critics feel these two give us the best possible movie-watching experience. But how does Dolby Cinema vs IMAX blockbusters compare?
Although the metrics are fantastic, it is difficult to determine which of these two, Dolby Cinema vs IMAX formats, is superior.
The image format, the actual movie-watching experience, and their respective levels of accessibility must all be compared.
Find out more about the Dolby Cinema vs IMAX formats in the following paragraphs to choose which is preferable for you.
Dolby Cinema
What is Dolby Cinema?
We've all heard of Dolby, but this is probably due to their unmatched audio skill. Dolby is primarily an audio company, as you can see if you visit their website.
But in Dolby Cinema vs. IMAX, this is another factor that gives Dolby Cinema an unfair advantage in offering viewers the best cinematic experience.
Let's look back at the beginning of Dolby Cinema so you can see what makes it so fantastic. We'll talk about the components of the whole immersive experience, which isn't offered in most cinemas.
What is Dolby Laboratories?
Dolby Laboratories is a company that has been identified with exceptional sound quality. The majority was due to their logo imprinted on the back of each poster and home video release.
It is the business that improved sound systems starting with Dolby Stereo and continuing through the enormous step that gave rise to Dolby Atmos.
Using Dolby Vision, Dolby Laboratories redefined theater projection in addition to its outstanding sound system.
This technology makes theater screens of quality unattainable, putting 2D films back in the spotlight of the movie-going experience.
What is Dolby Atmos?
Dolby Laboratories introduced Dolby Atmos as a sound format in 2012 to raise the bar for cinema sound systems.
It continues to use the surround sound system used in most movie theaters. In Dolby Cinema vs IMAX, to surround viewers with everything happening on screen, Dolby installed additional speakers above them instead of placing them around the room.
It allows spectators to hear audio from four subwoofers, 48 surround speakers, and five in-screen speakers.
With this advanced arrangement, you may hear 128 different audio tracks from a total of 64 channels. Its sounds are so potent that you can merely follow a flying bird across the room by listening to them!
What is Dolby Vision?
Dolby Cinema vs IMAX, Dolby Vision is a visual innovation that modifies how we display images on screens. To show movies that adhere to Dolby's distinct, high dynamic range, Dolby Vision uses two 4k laser projectors rather than a laser or conventional lamp projector.
Because it uses lasers rather than bulbs, viewers can see a larger range of colors, and blacks are no longer only a dark gray tint. We receive four times more resolution than normal or digital movie formats thanks to the two laser projectors' 4k resolutions.
Additionally, its contrast ratio is 500 times larger than regular projectors! It is impossible not to notice the difference between Dolby Vision and a conventional movie format due to the accuracy of the color reproduction.
What is AMC Prime?
AMC manages upscale theaters under the brand name AMC Prime. At AMC Prime, it utilizes a variety of movie formats, including Dolby Cinema. It was confusing before 2015 since numerous movie formats were being utilized in theatres.
However, AMC discontinued selling Prime and other movie formats as part of its premium package by the end of 2015. It occurred immediately after Dolby and AMC partnered to launch Dolby Cinema at AMC.
The Birth of Dolby Cinema at AMC
Dolby Cinema at AMC, which was created by fusing all the components, completely changed how people watch movies. It integrated Dolby Atmos and Dolby Vision technology and installed it in the theaters of AMC, a major theater chain.
Dolby Cinema at AMC isn't just a matter of putting everything together and calling it a day, either. Dolby upgraded AMC theaters to meet their requirements, elevating the movie-going experience to a new level.
To increase comfort and eliminate distractions while watching, they even adopted reclining chairs and limited the theater's seating capacity.
The sound is so real at the Dolby Cinema that you can feel it! This is because they fitted each chair with transducers that can detect low-frequency sounds, causing an explosion or an accident to force the chair to tremble.
To put it all in perspective, consider Dolby Cinema at AMC as the "first-class" movie-watching experience.
IMAX
What is IMAX?
IMAX is perhaps the most well-liked movie format worldwide, including in the US. But did you know that it wasn't meant for Hollywood movies, only for documentaries? IMAX is a premium product is available at a theater.
IMAX has more than 1,500 cinemas worldwide. That is a significantly higher number of theaters than any other premium movie provider.
The popularity of IMAX movies among moviegoers can be attributed to various factors. But let's dissect it into the components of the premium movie format to make it simpler for you to understand.
IMAX Camera
A 70mm film stock is used in IMAX movies, producing 18,000 lines of horizontal resolution. Typical movie formats with 35mm film stock horizontal resolution are only 6,000 lines. It produces a more enjoyable viewing experience than what we would get from watching a movie on 35mm film stock.
Filmmakers don't employ IMAX cameras because they produce such high-quality movies that they are much heavier and have fewer mounting options than most cameras.
In addition, they are incredibly expensive to replace, which frequently occurs when filming a movie. Due to the storyline goals of Avengers Infinity War, IMAX cameras were used exclusively for the first time in a feature picture.
IMAX Screen
Dolby Cinema vs IMAX, the IMAX screen size is one of our favorite aspects. A typical theater screen ranges from 4.6 to 15.2 meters, or 15 to 50 feet. Even with a 50-foot screen, the viewing experience is superb.
The largest IMAX screen in the world is 117 feet (35.7 meters) high, which is a significant increase over the industry standard of 75 feet (22.9 meters).
Compared to regular cinema seats, those in IMAX are higher and closer to the screen. With the screen in this position, viewers may concentrate solely on the movie and pay less attention to the screen's corners.
In addition, the screen is gently curved in the middle to provide a more immersive viewing experience than we often get from conventional movie formats.
IMAX Projectors
Dolby Cinema vs IMAX, the IMAX movies you watch in theaters look like a fantastic screen duo and have powerful projectors strategically placed.
IMAX's patented laser projection technology delivers a larger color spectrum than we typically see in standard or digital formats.
While most recent IMAX theaters utilize dual 4k laser projectors, it uses dual 2k laser projectors. However, the quality we see on the screen is superior because of a mix of technology and positioning.
Since IMAX projectors are placed closer to the screen, they can produce sharper, clearer, and more fluid images.
IMAX Speaker
Dolby Cinema vs IMAX, with a complex sound configuration that isn't available in many cinemas, IMAX completes the immersive cinematic experience.
Most speakers in a movie theater are hidden behind an acoustically transparent screen. IMAX can use a significantly larger screen, allowing them to place larger speakers behind it.
Each IMAX theater has a unique sound configuration that was created to accommodate the various variables that can impact sound quality.
To protect it against manual alterations, they can remotely control these settings using a network center.
You won't need to search for the ideal location because IMAX even adjusted the audio for each seat. Any location in the space will have access to the exceptional sound system created just for that theater.
Dolby Cinema vs IMAX: Side by Side Comparison
Dolby Cinema vs IMAX: Which is better for watching movies?
Both formats can give viewers an immersive experience that is not achievable with traditional or digital formats.
Therefore, the quickest way to determine which of these two is preferable is to look at a comparison table.
| | | |
| --- | --- | --- |
| Feature | Dolby Cinema | IMAX |
| Image Quality | The resolution of standard or digital format is 4 times higher. | The resolution of standard or digital format is 3 times higher. |
| Image Format | Aspect ratio 2.40:1 | Aspect ratio 1.90:1 |
| Audio | Audio channels 64 | Audio channels 12 |
| Comfort | Reclining chairs with additional room and transducers. | Just a little bit comfier than the typical theater seats that we see. |
| Availability | There are 197 Dolby Cinemas worldwide. | There are around 1500 IMAX cinemas worldwide. |
| Film Process | Only for 2D movies | 2D and 3D |
Dolby Cinema has a significant advantage because of its "first-class" seating and high-definition audio and video. But that's not the only element we consider when we watch a movie.
We also need to take into account the image format and accessibility. As a result, we're still making some close comparisons between these two blockbuster movies.
Dolby Cinema vs IMAX: Image Quality Comparison
Dolby Cinema offers a higher-quality viewing experience. There is no way to compare Dolby Vision's projection technology to traditional or digital projection, yet the screen projection is still stunning.
You receive the highest image quality in a movie with up to four times better resolution and 500 times higher contrast ratio.
With its unique dual laser projection system, IMAX isn't too far behind, but most theaters only employ 2k quality.
Dolby Cinema vs IMAX: Image Format Comparison
Since Dolby Cinema is just average in this area, IMAX is the image format we recommend. The regular, digital, AMC Prime, ETX, and even Dolby Cinema movies that we generally watch in cinemas all employ the same image format—a 2.40:1 aspect ratio.
In reality, this aspect ratio is the same as what we receive on newer phones, and it is used in nearly every movie we watch.
On the other hand, IMAX employs its technology to show movies with a 1.90:1 aspect ratio, which has a taller ratio. We obtain 26% more screen space compared to other movie formats. Additionally, it contributes to the case for seeing IMAX-produced films in IMAX cinemas.
A bigger IMAX screen will give you more details and a more immersive experience than a Dolby Cinema screen.
Dolby Cinema vs IMAX: Audio Comparison
Dolby, a business focusing on audio, is undoubtedly a winner with its Dolby Atmos technology. There are currently more than 5,000 Atmos-capable cinemas in existence! The audio quality is far superior to what you would hear in a cinema without this sound system.
Even though Atmos is already excellent, Dolby Cinema at AMC enhanced it by adding transducers inside the seats.
You'll be able to hear a little moving object from across the room and feel low-frequency sounds in your seat as well.
The IMAX sound system is excellent and far superior to most conventional and digital cinema formats. There are more speakers in cinemas than you would generally see, and they are substantially larger, resulting in smoother, more accurate sound.
Dolby Atmos is on another level for enveloping moviegoers with immersive sound quality.
Dolby Cinema vs IMAX: Comfort Comparison
Dolby Cinema chairs are considered "first-class" seats in theaters. Therefore we referred to them as such. If you visit a Dolby Cinema, you'll sit in the same luxurious chairs that are wider and comfier than in other theaters. Additionally, you may adjust the reclining to your preferences, but IMAX does not have this option.
IMAX seats are comfy, although you'll have to adjust multiple times throughout a movie. The amount of people in the room is another aspect that may influence how comfortable you feel while viewing a movie.
IMAX seats are less spacious and only provide "good enough" levels of comfort for viewers to fit as many people as feasible.
Dolby Cinema vs IMAX: Availability Comparison
IMAX is a global brand, with more than 1500 theaters spread over 80 countries, it's most likely your only choice if you want to elevate your movie-going experience.
Dolby Cinema is superb and, in many ways, superior to IMAX. However, finding one close to you would require some luck. There aren't many opportunities for you to see it, with only 197 Dolby Cinemas worldwide and 127 through AMC.
Dolby Cinema vs IMAX: 2D vs 3D
We won't debate which of these two is superior and won't express an opinion. However, Dolby Cinema is not for you if you want to see a movie in 3D. There are no plans to screen 3D movies now, so your only choice is IMAX.
But it's important to remember that not all IMAX theaters will provide the same immersive experience if you want to see a 2D film. So be extra cautious.
You can go to either a real IMAX theater or a phony IMAX theater, sometimes known as a "LIE-MAX," according to critics.
You pay IMAX admission prices at a "LIE-MAX" cinema to watch augmented conventional or digital movie formats, which are nonetheless decent but not exceptional.
Dolby Cinema vs IMAX: Which One is Better?
Dolby Cinema is the clear winner regarding audio and visual quality for a true cinephile who wants to watch movies the way the filmmaker intended. They frequently offer the finest viewing experience for drama, horror, or independent films and have more comfy seats.
However, since IMAX theaters are easier to find and offer a more immersive experience, they might be the ideal option for an action-packed film.
Remember that Dolby Cinema offers a smaller screen with a clearer picture and superior audio, while IMAX screens are enormous and sharp. When deciding between Dolby Cinema vs IMAX technologies, keeping the film selection and theater accessibility in mind is a good idea.
In the end, it boils down to your favorite film and unique preferences for the cinematic experience.
FAQs on Dolby Cinema vs IMAX
1. Which screen Is bigger, Dolby Cinema vs IMAX?
IMAX is Bigger. Compared to Dolby Cinema displays, which may only be 50 feet wide, an average IMAX screen is 52 feet tall and 72 feet wide.
2. Dolby Cinema vs IMAX- which is better overall?
That depends on what you hope to get from the theater. Due to its enormous screens and format, IMAX is more immersive, yet Dolby Cinemas are more comfortable and offer higher-quality video and audio.
3. Which theater chains use Dolby Cinema?
AMC, an exclusive Dolby Cinema partner, is the only place to get the complete experience.
4. What does Dolby Cinema mean?
Dolby Cinemas are theaters that provide their customers with entertainment by combining Dolby Vision and Dolby Atmos technologies.
5. Do IMAX theaters have better sound?
The sound systems in Dolby Cinema theaters are superior to those in IMAX theaters in terms of depth and clarity.
6. What does LieMAX mean?
Online groups coined the moniker "LieMAX" to describe IMAX promotion. LieMAX claims that the IMAX Theater uses wide-aspect-ratio Xenon projectors rather than digital laser projectors.
Wrapping Up
Dolby Atmos is the most popular theater sound system and audio creation pinnacle. Dolby Cinema performs far better than IMAX when watching movies made with conventional cameras.
Dolby Vision offers the finest image quality of all currently available movie formats. The reclining chairs with transducers are a lovely touch that IMAX can't match in terms of the experience.
However, as more and more movies use IMAX cameras to capture their images, viewers have more opportunities to enjoy larger, more detailed screens.
Visit an IMAX theater if you want to watch a 3D film, or a movie captured using IMAX cameras. Everything else, though, will sound and look better in Dolby Cinema.
Related Article
6 Best Surround Sound System in 2022 [Compared & Reviewed]
12 Inch Subwoofer: 11 Best Compared and Reviewed [2022]