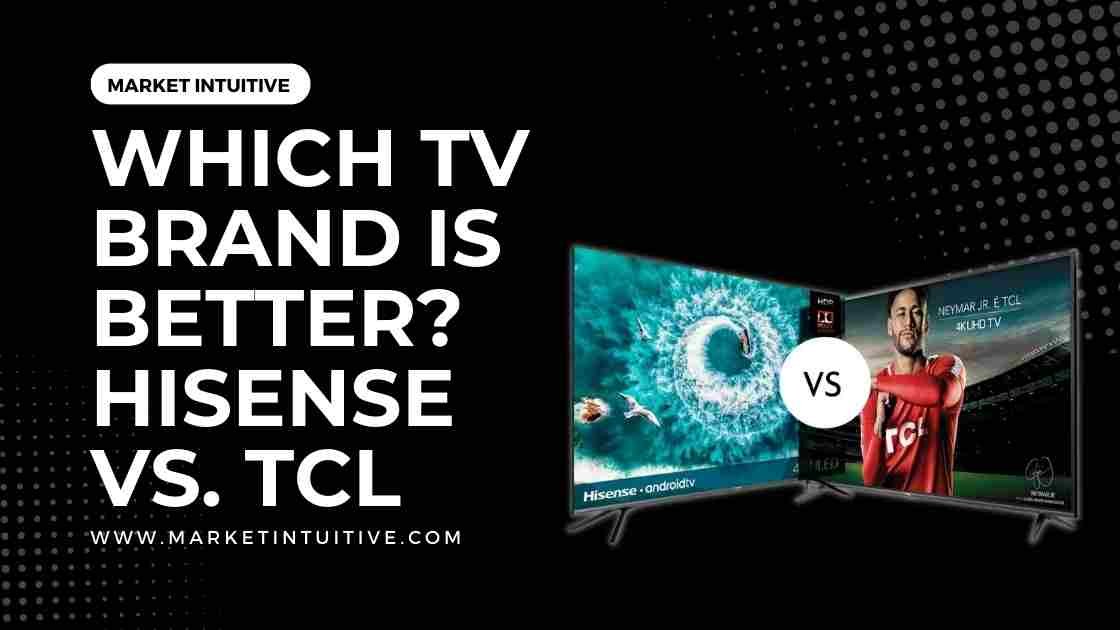 Most recommend reputable brands such as Samsung or LG when buying a new TV. However, these brands are often expensive and exceed budgets. You can find much more inexpensive alternatives in between Hisense vs. TCL. These companies intentionally target the "middle market" for TV and electronics!
This leads to the question, 'Which brand is better, Hisense or. TCL, if you're looking to buy an entry-level or mid-range television?'
Hisense TV Overview
Hisense, China's largest TV manufacturer, founded in 1969, manufactures various electronics, including TVs. The company that makes Hisense TVs, Hisense Visual Technology Co., Ltd., also owns the Sharp and Toshiba brands.
Hisense is a rapidly expanding TV manufacturing company that provides high-end TVs at an affordable price. You can buy TVs from their website and decorate your home with quality televisions. Hisense TVs are a good choice for those seeking a budget-friendly television.
Hisense TVs are well-made and offer several features that contribute to creating the ideal image.
TCL TV Overview
TCL has been in business for over 30 years and operates in 78 countries. The multinational corporation manufactures a variety of electronics, including televisions, air conditioners, mobile phones, and refrigerators.
There are a lot of choices when you buy TCL TVs online. TCL produces a wide variety of TVs with high-quality technology at competitive prices. When you buy a TCL TV, you can be confident that you're getting a quality product.
What Features Should You Look For Before Buying a Hisense or TCL TV?
You should compare Hisense and TCL when shopping for a new TV because they both provide the following features:
1. The Number of HDMI Ports
Alternatively, you can purchase an HDMI splitter, allowing you to use multiple HDMI devices with a single HDMI input on your TV. TCL and Hisense offer different models of splitters with their TVs. You can also use an HDMI switch if you have more than one HDMI device that you want to be able to switch.
Most HDMI switches offer at least 2 inputs, though some offer more. HDMI switches are slightly different from splitters because you can only use one device simultaneously. However, if you want to be able to switch between two devices at other times, an HDMI switch will work better than a splitter.
2. 4K UHD Resolution
UHD TVs have a resolution of 3840×2160 pixels. To enjoy UHD content, you need a UHD TV and a UHD source, such as a UHD Blu-ray player. Some UHD TVs also have another feature — HDR.
It stands for high dynamic range and provides even richer visuals. HDR content has a higher degree of brightness than standard content. It provides detailed images, especially in scenes with many brightness variations.
These TVs are best for watching high-definition content, such as sports or nature documentaries. They are also the right choice for watching movie theaters, thanks to their high-quality resolution.
3. Refresh Rate
It's important to note that the higher the refresh rate above the standard frame rate, the more power TV will consume. However, you'll appreciate the upgrade if you like to play fast-paced games on your TV. Purchasing a 120 Hz or higher refresh rate TV will give you a smooth and fluid gaming experience.
In addition to a high refresh rate, you'll have to ensure your TV has low latency. This is the time it takes for your TV's screen to change from one image to the next. Low latency is significant for gamers as it allows them to react quickly to what they see onscreen.
4. Smart Functionality
If you have specific needs or preferences, such as wanting a curved screen or a specific resolution, make sure that the brand you choose offers them. You can find more information on each brand's products by reading reviews and other information on websites like Amazon.
When you shop for a smart TV, it's important to remember that you usually get what you pay for. At the same time, some affordable models may not offer all of the functions or quality of a more expensive brand.
Innovative functionality features include a fast user interface, streaming video services, music streaming, media player, universal search, games, smartphone content transfer to the smart tv, app store, and more.
5. Size
Some 65-inch TVs also have curved screens, which might be preferable for a gaming setup. Many Hisense and TCL TVs are also smart TVs, which means they come with apps for streaming content and other entertainment options. You might consider a smaller-screen model if you're looking for a TV for a smaller space or a secondary TV.
Some models also have different screen sizes to pick your preferred screen size.
6. Contrast Ratio
You should consider the contrast ratio when choosing a TV. It is the ratio between the brightest and darkest pixels the TV can display. It allows for sharper shadows, making the pictures stand out. The higher the contrast ratio, the better the picture quality. It will enable you to see every detail of the image without trouble.
However, you should consult with the salesperson to make you understand what the contrast ratio is.
Hisense Vs. TCL: Side By Side Comparison
If you're looking for a new TV that offers excellent picture quality for a lower price, your two best bets will have to be either Hisense or TCL.
While these brands don't quite have a long-running reputation like other TV manufacturers such as Sony or Samsung, there is no denying that both Hisense and TCL have made their mark in the market over the past few years thanks to their high-value products. You usually get what you pay for, but with Hisense and TCL, you get quite a bit more.
So now we've reached the question that has inevitably come into your mind: which brand should you pick? If you want to find out who wins in the television battle between Hisense vs. TCL, then our comparisons of these brands in several key categories will surely give you the insight you are looking for.
For some people, the price point will be their ultimate factor in deciding on a TV. Undoubtedly, Hisense and TCL provide very economical TVs, but they cannot both be of equal quality.
For the most part, TCL is the winner in this category. In contrast, some Hisense models are slightly more expensive, such as the 65″ Quantum Dot. Hisense is usually more costly for mid to large 4K UHD TVs by $50 to $100. While Hisense's popular 50H8F model is a 50-inch 4K set, TCL offers another 50-inch 4K set called the 49S325 for a lower price.
If you browse online marketplaces long enough, you will find some instances in which Hisense offers cheaper 30-inch models at 1080p. But if you want to go all out and buy a large-screen UHD set that is cutting edge, TCL will provide you with better value.
Hisense Vs. TCL: Picture Quality
While Hisense and TCL won't give you a perfect picture, they can still both look perfect for the price. It is impressive how anyone can get a large screen set with UHD, HDR, and solid color accuracy for lower prices.
Despite that, both Hisense and TCL have their flaws, and for the most part, they are pretty similar. When you decide to go with either of these brands, you will get a viewing angle and a brightness that you can't compare with more expensive brands.
Although many less expensive panels share the same problems, TCL offers impressive picture quality. The TCL Class 6 Series is known to have excellent color uniformity as well as a great contrast ratio.
That means that the Class 6 sets display pretty accurate-looking blacks and brighter and richer colors that span the entire spectrum. For this reason, TCL produces better-looking picture quality than even the best that Hisense offers.
Hisense Vs. TCL: Technological Features
While UHD and HDR picture quality helps define cutting-edge TVs these days, another vital category is how good a TV set is at having Smart TV functions. Hisense and TCL do pretty well in this category, but several more minor details separate the two.
One of the key differences is that Hisense uses Android for its Smart TV OS, and TCL typically uses Roku. The effective use of Android OS makes the menus look and feel more intuitive. The Android functionality opens the door to more effortless connectivity with things like Alexa, Chromecast, and Google Assistant.
Hisense TVs also tend to have more quality-of-life features. Their televisions almost always have an extra HDMI or USB port compared to TCL. Hisense sets also have superior artificial intelligence that will automatically calibrate the darkness of the screen to fit what you are viewing.
Hisense Vs. TCL: Build Quality
TCL sets also have a lower risk of signal loss or interference, a common problem in Hisense sets. Again, these are all common complaints in Hisense sets, but they are not common in TCL sets. TCL sets also have better remote controls, with a backlit panel for easier viewing in darker rooms.
TCL sets also tend to have more in-depth settings for TV calibration, which is a nice bonus for those who want to get more out of their TV sets. TCL sets are also more likely to come with a TV mount, which may be a nice bonus for those setting up their TV sets for the first time.
Hisense Vs. TCL: Sound Quality
The sound quality is one of the essential factors when selecting a television. It is difficult to enjoy watching TV with poor sound quality.
TCL and Hisense TV sets have stereo speakers but do not use advanced technology such as Dolby Atmos except in their costly sets. However, Hisense models have more powerful speakers than TCL sets that use 16W speakers in all their models.
The sound output of TCL and Hisense TVs is comparable, but we recommend Hisense for people who require a louder volume. If you have hearing issues, you should select a TV with a hearing aid compatibility rating of M3 or higher.
Hisense Vs. TCL: Operating System
While TCL and Hisense models use UHD and HDR picture quality, they use different operating systems. Consequently, they have other smart TV functions and varied user experiences.
Hisense TVs use Android, giving you access to popular streaming services such as Netflix, Hulu, YouTube, and Google Play music. The set has a built-in Chromecast that allows you to stream music, videos, and photos from Android, IOS, and Windows devices. They rarely include Roku and Hisense's VIDAA in their high-end models.
On the other hand, most TCL TVs use Roku, which operates cable and antenna, and gives you access to more than 500 thousand TV shows and movies.
While both operating systems are convenient, Hisense is the winner because Android OS is a friendlier user interface with more intuitive menus. In addition, Chromecast enables connectivity with voice assistants like Alexa and Google Assistant.
Hisense Vs. TCL: Durability
Everybody wants to get the most out of their money; therefore, when purchasing a TV, we search for models that will hold up over time. There is concern regarding TVs with plastic bodies when purchasing cheaper sets like TCL and Hisense.
Although they look similar, the TCL sets have a better build, wider leg stands, and durable plastic. In addition, the frame seems tighter than in Hisense TVs.
While TCL TVs are more durable, you do not have to worry about buying a new TV set after a couple of years because of its thick plastic quality.
Hisense Vs. TCL: Which is Better?
The TCL TVs are sure to amaze you with their performance. Their excellent build quality combines with their extensive features to create a TV that delivers exceptional performance. They come in a wide variety of sizes and styles, so there's something for everyone.
Alternatively, if you're on a budget, Hisense is the one for you – they are available online at affordable prices. Hisense has everything from budget to high-end models. They ensure their TVs are of high quality by using quality hardware.
Despite being at opposite ends of the pricing spectrum, TCL and Hisense produce high-quality products.
When choosing between different TVs, you must examine their features. If you desire a feature-packed TV, TCL is the right choice, whereas Hisense is a good option if you want an inexpensive one.
In the table below, I have presented, side-by-side, the stats of two comparable TCL and Hisense TVs to get an in-depth view of the two:
| | | |
| --- | --- | --- |
| Model | TCL Class 4 Series | Hisense R6 Series |
| Screen Size | 50″ | 50″ |
| Resolution | 4K | 4K |
| Display Type | LED | LCD |
| Refresh Rate | 120Hz | 60Hz |
| HDMI | 3 | 3 |
| HDR | Yes | Yes |
| UDR | Yes | Yes |
| WiFi | Yes | Yes |
| Bluetooth | Yes | No |
| Smart TV | Yes | Yes |
| Weight | 20.7 lbs | 21.4 lbs |
FAQs on Hisense Vs. TCL
Is Hisense a reliable TV brand?
Many people regard Hisense as one of China's most prominent TV manufacturers, saying its TVs have superb performance and value. Furthermore, their support is readily accessible. The brand is becoming more popular in North America because of its economical price and excellent features.
Is TCL worth buying?
TCL is one of the best Chinese brands at manufacturing inexpensive TVs. They're releasing TVs from the P line to provide quality TVs at a lower price. They manufacture durable TVs with abundant features at the given price point.
How long does a Hisense TV last?
Hisense-made TVs such as the H8 series and ULED lines, their top-of-the-line products, are designed to last for 20 years. Their life expectancy depends on the model and specifications.
Taking good care of your TV ensures that it lasts for a long time.
Is a TCL smart TV good?
TCL TVs are also renowned for their low prices. Their P-series TVs have many features, and some even have Roku. Some of their TVs are Android compatible but do not offer the same app selection as an Android television. These televisions are excellent for viewing movies and streaming content.
How durable are TCL TVs?
TCL TVs have a greater life expectancy than Hisense TVs. Since TCL TVs are mostly constructed from thick plastic, they are difficult to damage.
However, the inner parts are not as good as those found on Hisense TVs, so you can expect them to last for 10 years.
How long is the TCL warranty?
TCL provides a 1-year limited warranty on certain products, guaranteeing they are of the finest quality. The item's model, serial number, and dealer's name are recorded on the original invoice or sales slip.
TCL will provide a no-cost repair or replacement of the item once it has been received and inspected, and the customer will be responsible for shipping it to the service center.
If you have any questions about the warranty process, don't hesitate to get in touch with TCL customer service.
Wrapping Up
Whether purchasing a new TV for the first time or replacing an old one, Hisense TVs deliver outstanding performance economically. TCL TVs are also good, as they are best known for their low price.
You're the one who has to decide between Hisense Vs. TCL, which TV is best for you?
Related Article:
7 Best Tall TV Stand In 2022 [Cost Effective Options]
Best TV Recliner in 2022: The Complete Guide