My Honest TP-Link AX1800 Review: Is It Worth Your Money?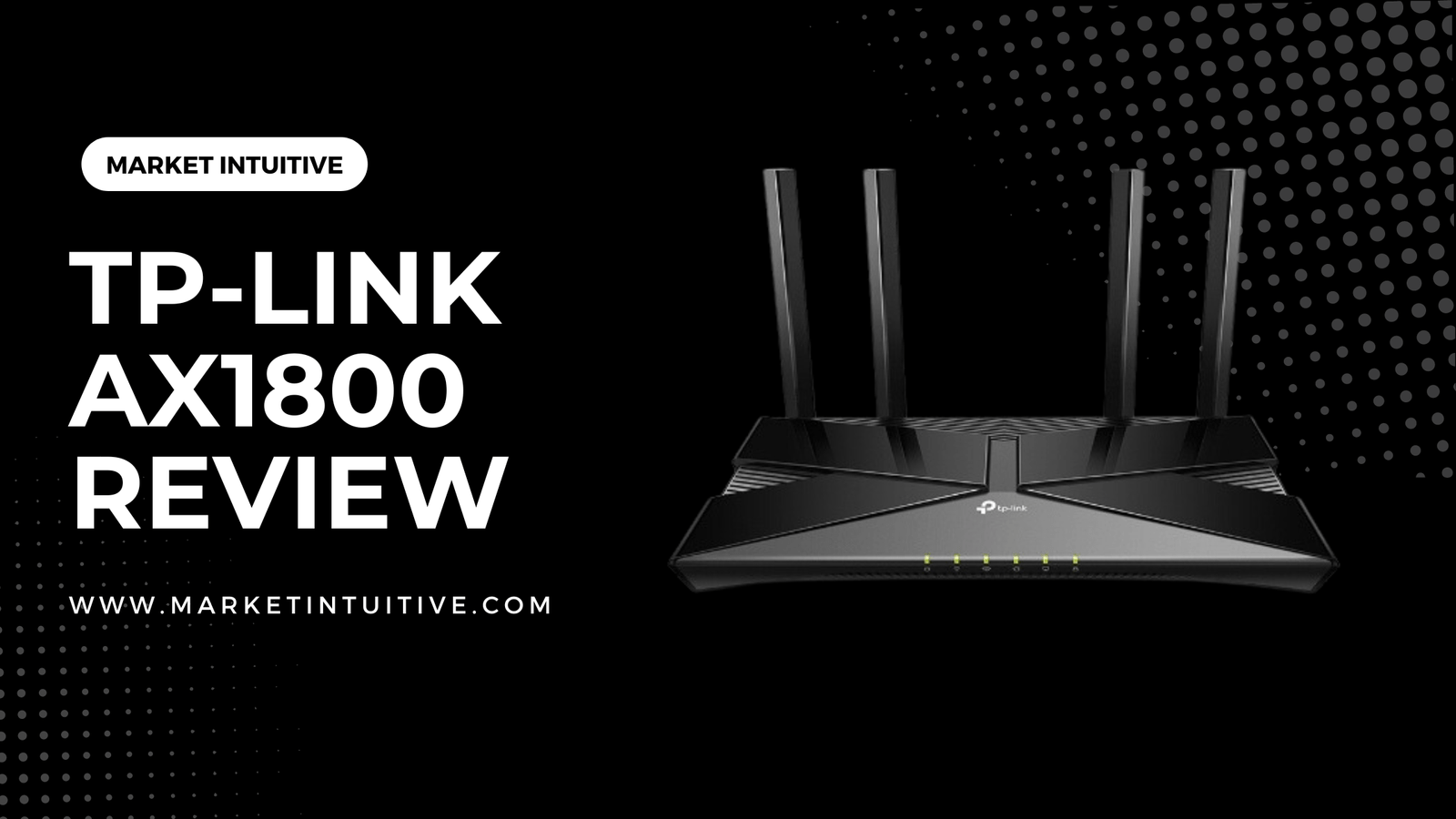 In this TP-Link AX1800 review, you'll find everything you need to see if it's worth it or not.
The TP-Link Archer AX1800 is a budget-friendly, dual-band Wi-Fi 6 router that offers solid performance and useful features for users who want to upgrade their home networks. With increasing numbers of devices becoming Wi-Fi 6 compatible and the demand for faster, more reliable internet connections growing, it's essential to have a router that can keep up with modern needs. The AX1800 takes on this challenge, providing good performance at an affordable price.
One of the key selling points of the TP-Link Archer AX1800 is its support for Wi-Fi 6, which allows for faster speeds and increased network capacity compared to Wi-Fi 5 routers. Moreover, the AX1800 is mesh-ready, meaning users can easily expand their network coverage without any significant loss of speed or performance. Additionally, basic parental controls provide the ability to manage internet access for connected devices.
Despite being a budget router, the TP-Link Archer AX1800 manages to find a balance between performance and affordability. Its dual-band Wi-Fi 6 support and mesh capability make it a versatile choice for those looking to improve their home networks without breaking the bank. While lacking some advanced features found in pricier alternatives, the AX1800 offers a solid foundation for a modern, reliable internet connection.
TP-Link AX1800 Review: Key Features and Specifications
Wi-Fi Standards and Speeds
The TP-Link Archer AX1800 router supports the latest Wi-Fi 6 (802.11ax) standard, providing faster speeds, increased efficiency, and better performance for connected devices. The dual-band AX1800 system is capable of reaching theoretical maximum data rates of up to 574 Mbps in the 2.4GHz band and 1201 Mbps in the 5GHz band.
Wi-Fi 6 (802.11ax) support
Dual-band (2.4GHz and 5GHz) operation
Speed Rating: AX1800
2.4GHz band: up to 574 Mbps
5GHz band: up to 1201 Mbps
With the implementation of advanced technologies like OFDMA and MU-MIMO, the AX1800 router assures efficient distribution of bandwidth and simultaneous communication with multiple devices. Moreover, the Wi-Fi 6 standard enhances overall network performance and optimizes power consumption for connected devices.
Ports and Connectivity
The Archer AX1800 router offers various connectivity options by including one Gigabit WAN port, four Gigabit LAN ports, and one USB port. The Gigabit Ethernet ports allow for high-speed wired connections, while the USB port enables sharing of storage devices, printers, or other peripherals across the network.
1 x Gigabit WAN port
4 x Gigabit LAN ports
1 x USB port
TP-Link's OneMesh technology further adds to its versatility, serving as a solution for seamless whole-home coverage. By connecting compatible extenders or access points, users can eliminate dead zones and ensure smooth Wi-Fi connectivity throughout their premises.
Antennas and Coverage
Equipped with four internal antennas and advanced beamforming technology, the TP-Link Archer AX1800 router is designed to offer greater coverage and improved signal strength. It is capable of covering an area of up to 2,500 sq. ft., ensuring a stable and high-quality connection for various devices such as laptops, smartphones, and other wireless devices.
4 x internal antennas
Beamforming technology
Coverage: up to 2,500 sq. ft.
In conclusion, the TP-Link Archer AX1800 router provides an array of modern features and capabilities, catering to the ever-growing demands of today's connected landscape. From its support of Wi-Fi 6 and advanced connectivity options to its coverage-enhancing technologies, the Archer AX1800 is a noteworthy option for those looking to upgrade their home networking setup.
TP-Link AX1800 Review: Setup and Configuration
Tether App
Setting up the TP-Link Archer AX1800, also known as Archer AX21, is quite simple with the help of the Tether app. Available for both iOS and Android devices, the Tether app guides you through the entire setup process. It assists with positioning the router for optimal signal coverage and even helps you configure advanced features such as HomeCare and QoS.
The Archer AX1800 comes with built-in HomeCare, a suite of parental controls, QoS (Quality of Service) prioritization, and antivirus protection. Using the Tether app, you can also set up application-specific bandwidth optimization to ensure that your most important tasks have sufficient bandwidth allocation.
Web Console
For those who prefer a web-based user interface for setup and configuration, TP-Link Archer AX1800 offers a web console accessible through a browser. The web console allows you to manage your home network, including firmware upgrades, IPv4 and IPv6 settings, as well as L2TP (Layer 2 Tunneling Protocol).
Firmware: The Archer AX1800 automatically checks for firmware updates and prompts you when an upgrade is available to ensure that you have the latest security and performance enhancements.

IPv4 and IPv6: The web console allows you to configure IPv4 and IPv6 settings, which are essential for your home network to communicate with the internet.

L2TP: The web console also lets you configure L2TP settings, useful for creating VPN connections for your home network to securely connect to another network.
The TP-Link Archer AX1800 (Archer AX21) offers an easy-to-use setup and configuration process through its Tether app and web console options. Ensuring the router's firmware is up-to-date and properly configuring IPv4, IPv6, and L2TP settings can help provide a secure, reliable, and high-speed home network experience.
Performance and Testing
Signal Strength and Range
The TP-Link AX1800 is a dual-band Wi-Fi 6 router that offers impressive signal strength and range. In close proximity tests, the router has a score of 120Mbps in the 2.4GHz band, outperforming the TP-Link Archer AX50, which has a score of 109Mbps. However, it slightly trails behind the Rock Space AX1800 RSD0619 (126Mbps) and the ZTE AX3000 Pro.
This router is designed to provide better range compared to other AX1800 routers, thanks to its multiple spare LAN ports and thoughtful design. Its signal strength remains strong even at a greater distance, providing a stable internet connection throughout your home.
Throughput Evaluation
The TP-Link AX1800 has a theoretical maximum throughput of up to 574Mbps speed at 2.4GHz and 1,201Mbps at 5GHz. This makes it a powerful router option for households with multiple devices requiring high-speed internet connections. Keep in mind that the actual throughput can vary depending on several factors, such as the number of devices connected and the type of activity being performed on the network.
Gaming and Streaming
When it comes to gaming and streaming, the TP-Link AX1800 router maintains its impressive performance. It offers low latency and stable connections that are crucial for a smooth gaming experience. Additionally, its high throughput makes streaming high quality video content seamless across multiple devices, without any buffering or lag issues.
For a more in-depth insight into its performance, consider visiting the TP-Link product page to access detailed specifications and user reviews.
Remember, it's essential to find the right balance between performance and affordability, keeping in mind the specific needs of your household. The TP-Link AX1800 has proven to be a reliable option for those seeking a budget-friendly Wi-Fi 6 router that doesn't compromise on quality and performance.
Hope this TP-Link AX1800 review helped you shape an opinion.