TP-Link AX6000 vs AX11000: In-Depth Comparison for Your Home Network
The battle between two powerful Wi-Fi routers, the TP-Link Archer AX6000 and AX11000, has raised great interest among consumers seeking a high-performance networking solution for their homes or businesses. As Wi-Fi 6 (802.11ax) gains popularity for its ability to provide faster speeds and greater coverage, choosing between these two devices can be a challenging decision for those looking to invest in the latest technology.
Both the Archer AX6000 and AX11000 boast impressive features, with Wi-Fi 6 support and fast AX speeds being just the beginning. The AX6000 offers dual-band capabilities while the AX11000 extends its reach with a tri-band configuration. Additionally, the AX11000 benefits from having three co-processors, allowing it to handle more demanding tasks compared to the two co-processors found in the AX6000.
In the sections to follow, we will delve deeper into the comparisons between these two routers, analyzing their performance, coverage, and other key features to help readers make an informed decision when deciding between the Archer AX6000 and the AX11000.
Tp-Link Ax6000 Vs Ax11000: Key Differences
In this section, we will discuss the key differences between the TP-Link Archer AX6000 and TP-Link Archer AX11000 routers. These differences consist of design and dimensions, tri-band versus dual-band, performance and speed, as well as processor and RAM, and lastly, a price comparison.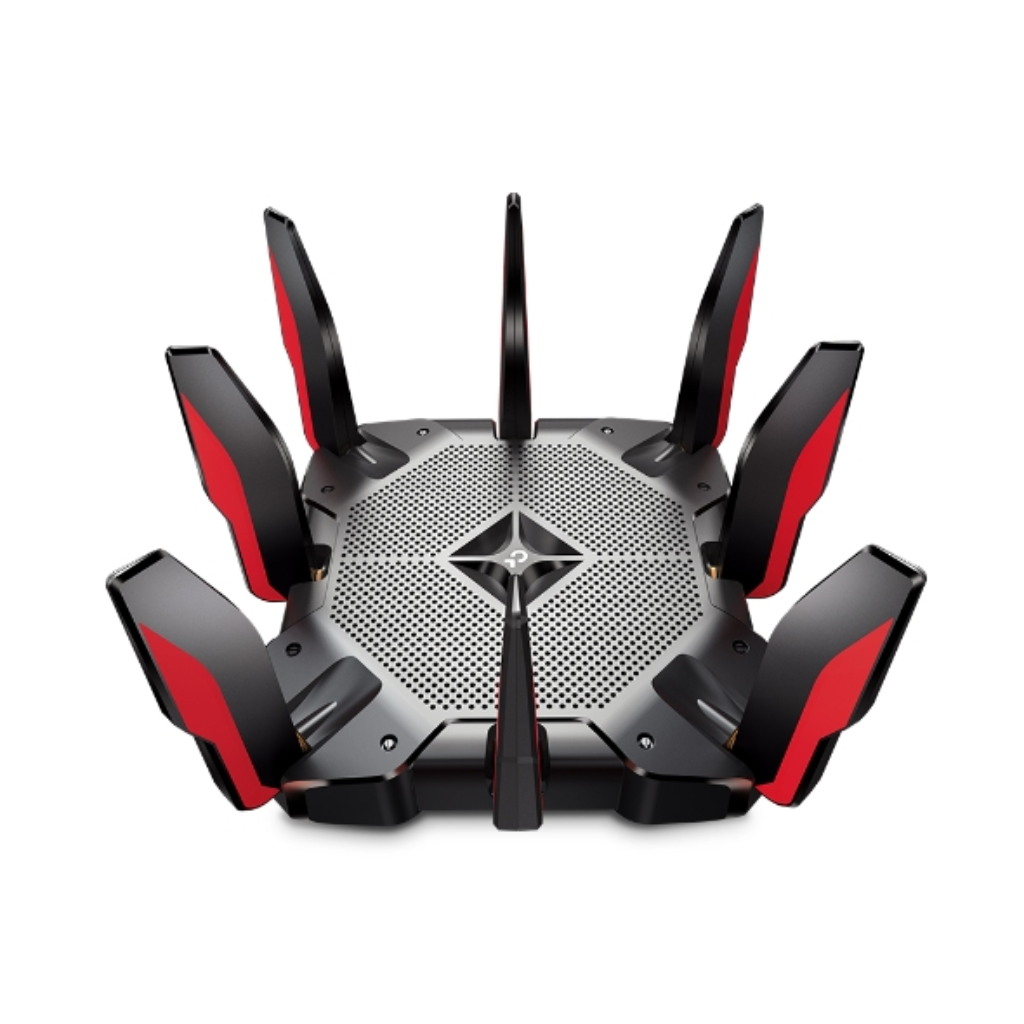 Design and Dimensions
The TP-Link Archer AX6000 and AX11000 routers have distinct designs. The AX6000 sports a sleek black appearance, while the AX11000 has a more aggressive gaming appearance. The dimensions of the two routers are also different:
AX6000: 261.2mm (width) x 60.2mm (depth) x 37.64mm (height)
AX11000: 288mm (width) x 227.8mm (depth) x 60.9mm (height)
The AX6000 is smaller and lighter compared to the AX11000, with a body volume of 4107.17cm³, whereas the latter has a volume of 15261.7cm³.
Tri-Band Vs Dual-Band
The Archer AX11000 is a tri-band router, offering one 2.4GHz band and two 5GHz bands, whereas the Archer AX6000 is a dual-band router, offering one 2.4GHz band and one 5GHz band. Tri-band routers generally provide better network performance and user capacity.
Performance and Speed
The AX11000 is an 8-stream router, while the AX6000 is a 12-stream router. Comparing their Wi-Fi 6 (802.11ax) speeds, the AX11000 technically offers higher Wi-Fi speeds due to its additional 5GHz band:
AX6000: 1.148 Gbps on the 2.4GHz band and 4.804 Gbps on the 5GHz band
AX11000: 1.148 Gbps on the 2.4GHz band, 4.804 Gbps on the first 5GHz band, and 4.804 Gbps on the second 5GHz band
Both routers support mesh Wi-Fi; however, the AX6000 has the advantage of supporting IPsec Passthrough.
Processor and RAM
The Archer AX11000 boasts a 1.8 GHz 64 Bit Quad-Core CPU, accompanied by three co-processors, while the AX6000 features a similar 1.8 GHz 64 Bit CPU but with two co-processors. The added co-processor in the AX11000 allows for better multitasking and heavy-duty tasks.
Price Comparison
When considering the pricing aspect, the Archer AX6000 has a more budget-friendly price compared to the more premium Archer AX11000. Please consult the respective product pages for the most up-to-date pricing details.
Overall, the choice between the Archer AX6000 and AX11000 depends on the user's specific needs, preferences, and budget.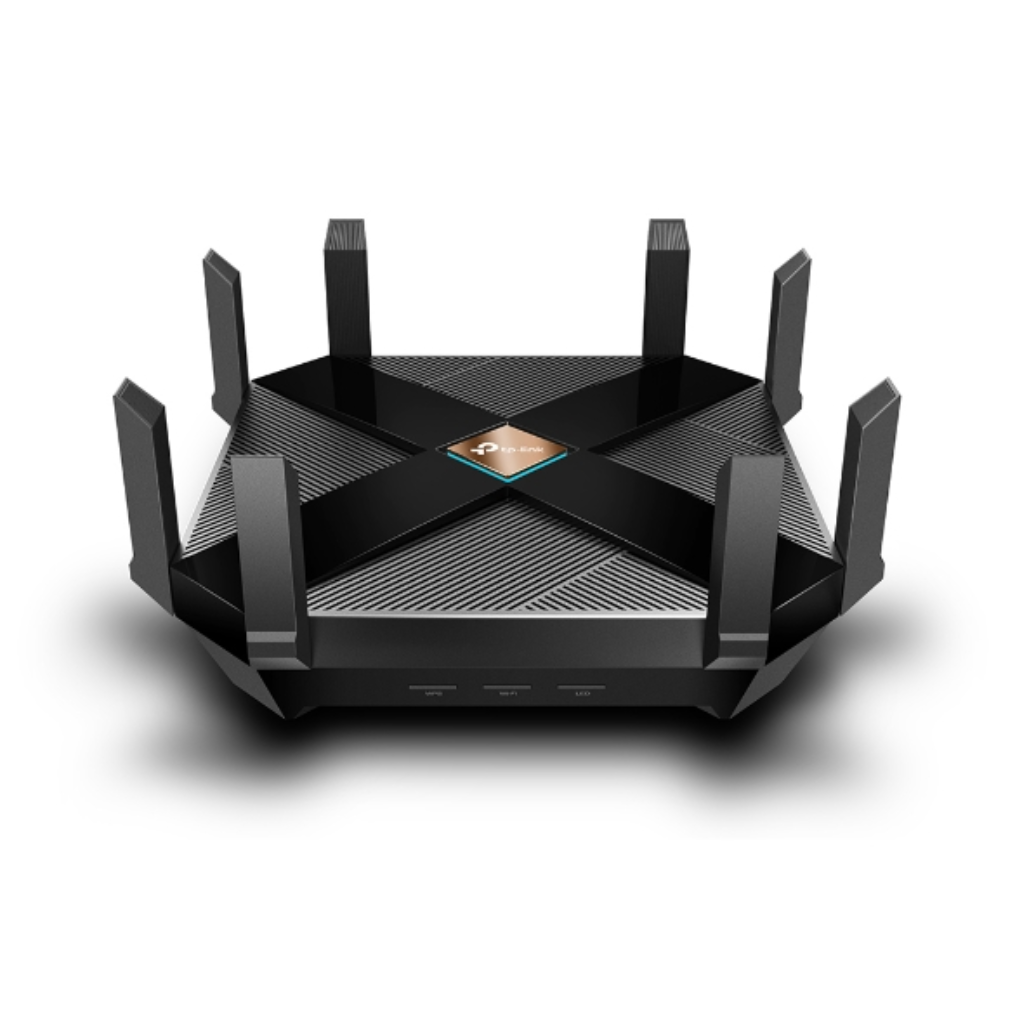 In-Depth Features
Connectivity Options
The TP-Link Archer AX6000 and AX11000 are equipped with multiple connectivity options to offer seamless and high-speed internet performance. Both routers come with the following:
A WAN port for connecting to an internet service modem.
Multiple Gigabit LAN ports to connect wired devices such as computers or gaming consoles.
USB ports, including USB 3.0, for network sharing or connecting printers.
Wi-Fi 6 Technology
Both the Archer AX6000 and AX11000 are equipped with the latest Wi-Fi 6 (802.11ax) technology, enabling faster and more efficient Wi-Fi performance. Key features of Wi-Fi 6 implemented on these routers include:
MU-MIMO: Allows simultaneous communication with multiple devices, enhancing overall network performance.
OFDMA: Increases network efficiency by dividing a single channel into smaller sub-channels, leading to reduced latency and improved throughput.
160 MHz Channel Width: Provides faster data transfer rates, enabling increased performance for Wi-Fi 6 enabled devices.
Security Features
The Archer AX6000 and AX11000 prioritize network security, offering the following security features:
WPA, WPA2, and WPA3 encryption for enhanced security.
IPsec Passthrough, ensuring secure data transmission with encrypted VPN tunnels.
Parental Controls for maintaining a safe online environment for children or filtering content on your network.
Coverage and Range
Both routers are designed to provide excellent coverage and range. The Archer AX6000 and AX11000 feature:
8 detachable high-performance antennas for a strong and reliable signal across larger areas.
Beamforming technology, directing Wi-Fi signals to specific devices to improve signal strength and reduce interference.
Dual-band (2.4 GHz and 5 GHz) Wi-Fi for a more stable and faster connection.
The Archer AX11000, being a tri-band router, offers an additional 5 GHz band to help balance the network load and further enhance Wi-Fi performance.
Remember, coverage and range can vary depending on factors such as building materials, the number of devices connected, and the layout of your home or office. The effectiveness of these features is determined by your specific environment and usage.
Setup and Configuration
Setting up both the TP-Link Archer AX6000 and AX11000 routers is relatively simple and straightforward. TP-Link offers a user-friendly Tether app that users can download onto their smartphone to walk them through the setup process. Available for both Android and iOS devices, the Tether app provides easy access to various router settings, including parental controls and QoS settings.
Tether App and Smartphone
The Tether app not only aids in the initial setup and configuration but also provides ongoing management of the router. Users can access common settings, monitor connected devices, and control a host of features all from within the app. The intuitive user interface offers a convenient way to control and maintain your router remotely, ensuring optimal network performance.
Frequency Bands and Parental Controls
Both the Archer AX6000 and AX11000 routers support dual frequency bands: standard 2.4 GHz and a 5 GHz band for faster speeds. This dual-band capability ensures better performance for various network activities, such as streaming, gaming, and general browsing. Users can also benefit from the built-in parental controls offered by TP-Link, including the ability to restrict specific content, limit internet usage times, and block specific applications.
Quality of Service (QoS)
Quality of Service (QoS) is an essential feature of both routers, ensuring optimal performance and network stability. QoS helps prioritize the network traffic based on user-defined preferences. For example, if online gaming or streaming is a priority, users can configure QoS to allocate more bandwidth to these specific activities, ensuring minimal latency and optimal connectivity.
To sum up, the setup and configuration process for both the TP-Link Archer AX6000 and AX11000 routers is simple, user-friendly, and ensures optimal performance by utilizing features like the Tether app, frequency band support, parental controls, and QoS settings.
Gaming Performance
Game Accelerator
The TP-Link Archer AX6000 and AX11000 both cater to gamers with their built-in Game Accelerators. These routers prioritize gaming traffic through Quality of Service (QoS) features, ensuring a smooth and consistent gaming experience. By directing network resources to gaming devices, the routers help minimize latency and maintain optimal bandwidth allocation.
Latency
Gamers know that low latency is an essential element for a seamless and enjoyable gaming experience. Fortunately, both the AX6000 and AX11000 come equipped with technologies to reduce latency, provide a stable connection, and handle multiple devices simultaneously, thanks to their MU-MIMO capabilities.
For instance, the AX11000 boasts a tri-band configuration, with one 2.4 GHz band and two 5 GHz bands, providing a more extensive range for gaming and other activities. It has an additional 5 GHz band compared to the AX6000, allowing for better segmentation of traffic and resulting in lower latency for gaming.
Bandwidth Handling
When it comes to bandwidth handling, both the TP-Link Archer AX6000 and AX11000 are designed to deliver impressive speeds to handle data-intensive gaming. Here's an overview of the maximum speeds each router can offer:
AX6000: 1x 2.4 GHz band (up to 1148 Mbps) and 1x 5 GHz band (up to 4804 Mbps)
AX11000: 1x 2.4 GHz band (up to 1148 Mbps) and 2x 5 GHz bands (each up to 4804 Mbps)
The AX11000's additional 5 GHz band enables it to handle more gaming traffic simultaneously, providing a faster and smoother experience for multiple gamers.
While both routers come with advanced features aimed at enhancing gaming performance, the TP-Link Archer AX11000 has the edge in terms of latency and bandwidth handling due to its tri-band configuration. Keep in mind that your gaming experience will also depend on factors like your internet speed, the number of connected devices, and the distance from the router.
Comparisons with Competitors
Tp-Link Archer Ax11000 Vs Asus Rog Rapture Gt-Ax11000
When comparing the TP-Link Archer AX11000 with the Asus ROG Rapture GT-AX11000, both routers support Wi-Fi 6 and offer similar speeds. The Archer AX11000 provides Wi-Fi speeds up to 10756 Mbps, and the Asus ROG Rapture GT-AX11000 offers slightly higher speeds of up to 11000 Mbps. Both routers support WPA3 encryption and have multiple co-processors to handle heavy-duty tasks, with the AX11000 featuring three co-processors while the GT-AX11000 has just one.
Some key features of both routers:
TP-Link Archer AX11000

Wi-Fi 6 support
10756 Mbps max speed
160 MHz frequency support
3 co-processors
8 antennas

Asus ROG Rapture GT-AX11000

Wi-Fi 6 support
11000 Mbps max speed
160 MHz frequency support
1 co-processor
8 antennas
While the routers' features are quite comparable, it's worth considering the user interface and software, as well as price and aesthetic differences.
Tp-Link Archer Ax6000 Vs Netgear
The TP-Link Archer AX6000 faces tough competition in the Wi-Fi 6 router market, especially from well-known brands like Netgear. The Archer AX6000 provides Wi-Fi speeds of up to 6000 Mbps, while many Netgear routers provide similar or slightly lower speeds, depending on the specific model.
In comparing the Archer AX6000 with a Netgear router such as the Nighthawk AX8, we can consider the following features:
TP-Link Archer AX6000

Wi-Fi 6 support
4804 Mbps (5 GHz) and 1148 Mbps (2.4 GHz)
WPA3 encryption
2 co-processors
8 antennas

Netgear Nighthawk AX8

Wi-Fi 6 support
4800 Mbps (5 GHz) and 1200 Mbps (2.4 GHz)
WPA3 encryption
1 co-processor
8 antennas
When choosing between the Archer AX6000 and a similar Netgear router, the software interface, additional features such as parental controls or VPN support, and how easy it is to set up and manage may be decisive factors for some users. Additionally, potential buyers should consider price and design when making their decision.
Additional Features and User Experience
When comparing the TP-Link AX6000 and AX11000 routers, there are several additional features worth mentioning that impact user experience. Let's dive into some of these aspects.
Both routers have powerful processors that ensure smooth performance, especially when managing multiple devices. The AX11000 stands out with its 3 additional co-processors while the AX6000 has 2. This allows the AX11000 to perform heavy-duty tasks more efficiently.
In terms of connectivity, both routers support USB 3.0 ports, enabling users to connect external devices such as storage or printers. This feature enhances the functionality and versatility of the routers within a home or office environment.
A notable feature found in both routers is the built-in antivirus protection. This security feature helps defend your network against potential intruders and malware threats, providing a safer and more resilient user experience.
Mesh Wi-Fi compatibility is another aspect of the AX6000 and AX11000 routers. Mesh Wi-Fi allows users to expand their wireless coverage throughout the entire home or office by connecting additional compatible routers. This ensures a stable and strong internet connection, even in larger spaces.
When it comes to VPN support, both routers feature IPsec passthrough, which allows secure VPN traffic to pass through the router without any issues. This functionality is especially important for users who need a secure connection for remote work or other sensitive activities.
Finally, remote management capabilities are included in both the AX6000 and AX11000 routers. Users can easily control and configure their routers using the TP-Link Tether app on their smartphones. This adds an extra layer of convenience and accessibility for managing the router's settings and monitoring the network's performance.
In summary, the TP-Link AX6000 and AX11000 routers offer several additional features that contribute to an improved user experience. By considering aspects such as power, multiple device handling, USB 3.0 support, antivirus protection, mesh Wi-Fi compatibility, IPsec passthrough, and remote management, users can make an informed decision about which router best suits their needs.
Warranty and Support
When considering the TP-Link Archer AX6000 and the AX11000, it's essential to understand the warranty and support provided by the manufacturer. This is important for customers as it ensures that they can get help or even a replacement in case of a malfunction.
The warranty period for both TP-Link Archer AX6000 and AX11000 routers may vary by region, so it is recommended to check with your local TP-Link support or retailer for accurate warranty information in your area. While the exact warranty period for these devices isn't provided in the search results, it's worth noting that as of January 1, 2016, TP-Link has updated their warranty periods for different products.
Some key points to remember about TP-Link's warranty policies are:
Metal case network switches have a limited lifetime warranty, while network switches with plastic cases have a 2-year warranty.
Indoor OMADA EAPs have a limited lifetime warranty, whereas outdoor EAPs come with a 2-year warranty.
Beyond the warranty, TP-Link provides product support to help customers with any issues they may face while using their devices. Reaching out to the TP-Link support team is generally straightforward and can be done through their website, online chat, or phone call.
In summary, make sure to check your local TP-Link warranty and support options for the Archer AX6000 and AX11000 before making a purchase. This will help you to be well-informed and know what to expect in case you encounter any problems with your device.