How To Use Tablet As Monitor? Explained In Simple Steps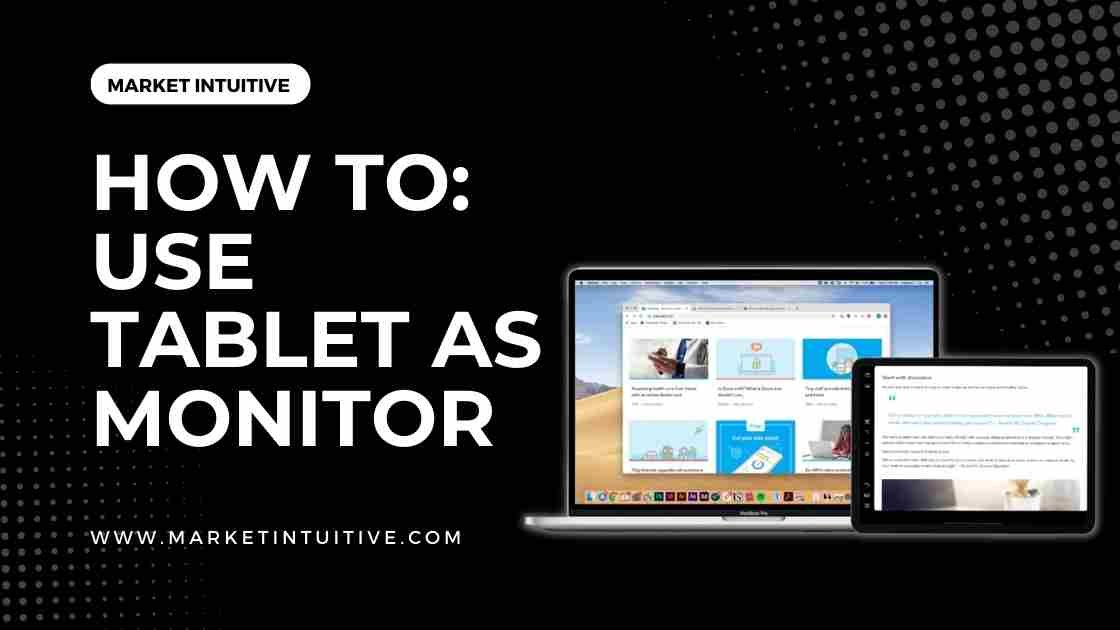 In this article, you'll learn how to use tablet as monitor.
A tablet, which hovers between a smartphone and a laptop, can function as a secondary screen. A tablet can be used in landscape or portrait orientation, with aspect ratios of 16:10 or 4:3, respectively.
Tablets offer more portability than desktops and laptops, and have touchscreens and stylus support, allowing simple and intuitive navigation and usage. You will only have to give up valuable desk space if you get an additional permanent monitor.
You can use a tablet as an adaptable second monitor setup if you work remotely or travel for work. Besides, you can switch from work to play in seconds.
Use Tablet as Monitor with Spacedesk
Spacedesk is a third-party application that works with all recent Android devices. You must have a Windows machine running Windows 8.1, Windows 10, or Windows 11 & Wi-Fi connection to connect both devices. To use tablet as monitor, follow the below steps:
First, you need to open your web browser & visit the Spacedesk website.
You will find many versions of Spacedesk drivers for different Windows. Select the one that suits your Windows and download it. In addition, you choose between a 64-bit or 32-bit installer.
Once the software is downloaded, launch the Spacedesk driver installer.
Now, follow all the on-screen instructions of the Spacedesk installer to finish the installation.
Open the Google Play store on an Android tablet. Then, search for Spacedesk.
Select Spacedesk when it appears in Google Play's search results.
Click on Install on the Spacedesk app page & wait for the app to download.
Verify that Windows computer & Android tablet are connected to the same Wi-Fi network.
Open the Android app launcher & tap Spacedesk in the list of apps.
The Spacedesk app will show you a list of computers on the local network. Tap the computer you wish to use with an Android tablet.
Wait for the Android tablet to connect to your Windows computer as a display. This might take several seconds. The screen on both Android tablets & Windows computer may flash or blank momentarily.
Now, the Windows desktop will appear on your Android tablet. You can now use it as a secondary monitor. Further, you can customize the experience in Display Settings in Windows.
Use Tablet As Monitor With Splashtop Wired XDisplay
You can use your Kindle and other Android tablets with Splashtop Wired XDisplay, which establishes a USB connection to turn a tablet into a second monitor. In addition to iPads, Wired XDisplay works with Android and iOS devices and is free to download.
Use Tablet As Monitor With Air Display
Air Display is an excellent choice if you want to wirelessly connect your Mac to your tablet to make a dual-monitor setup. With this app, you can extend up to four screens at once or mirror them and still have touchscreen functionality. It works excellently with teleprompters, making it a good choice for video and podcast creation.
Mac computers can only be used with Air Display, limiting the amount of cross-compatibility. Use PC as a secondary screen for Mac, but not vice versa. Air Display is available on the App Store and Google Play Store.
Use Tablet As Monitor With Duet Display
Duet Display connects to Macs, PCs, and Apple or Android tablets with zero lag, delivering a retina display at 60 frames per second. That is quite impressive.
Duet Display connects via USB rather than WiFi, so you don't worry about a VPN connection or data transfer speeds. It also supports touch gestures. You can purchase it on the Apple Store or Google Play Store.
Use Tablet As Monitor With iDisplay
iDisplay connects the second monitor to Mac in whichever way works best for you, whether using WiFi or a USB.
WiFi is your only choice with PCs, although a USB connection for Android will soon be available. You can configure your setup the way you desire with iDisplay, which is available on App Store & Google Play Store.
FAQs (Frequently Asked Questions) On Use Tablet As Monitor
1. Can you use a Samsung tablet as a monitor?
Galaxy Book2 devices let you wirelessly set up a tablet, such as a Galaxy Tab S8, as an additional monitor. You can pack this dual monitor setup in your laptop bag.
2. Can I use Android tablet as second monitor?
Instead of purchasing another monitor, you can use an Android tablet as a second screen.
3. How do I use my tablet as a second monitor Windows?
If you want to use your Android tablet as an extended display on your Windows PC, go to Control Panel & click Display Settings. Select Extend These Displays and click OK. Once you've finished, you'll be able to use Android as an extended display.
4. How do I connect an Android tablet to a monitor?
Connect an Android tablet to monitor & mirror its screen using specific cables and adapters. The ones you require will depend on the connections on both devices, but it would be easiest if the monitor had an HDMI port for both picture and sound. USB-C-to-HDMI converters can be obtained at electronics shops.
5. Can tablet be used as a monitor?
Unfortunately, Android does not have an official screen-sharing feature. Instead, you can use third-party apps like Spacedesk. With Windows, screen-sharing is accomplished through screen-sharing or Sidecar for macOS and iPadOS.
6. What other apps can you use for using an Android tablet as a monitor?
There are several apps available to turn an Android tablet into a monitor. If Screendesk doesn't function on your computer, you should try Twomon, Splashtop, SecondScreen, or SuperDisplay.
Summary: Use Tablet As Monitor
Having multiple monitors can help you become more productive, organized, and adept at multitasking. If you stay connected on your work chat or Slack while editing a document or working on another project, dual monitors are a great solution.
Using a tablet as a secondary monitor can be a great option, providing portability alongside functionality. However, they also help you reference multiple documents without obscuring the view.
Whether you prefer a wireless connection or the speed of a USB, there are plenty of ways to optimize your connection. Your monitor setup can be customized with two, three, or even four monitors, whichever you prefer.
I hope this article on how to use tablet as monitor sounds helpful!