Best 12 Month Broadband Deals In The UK You Must Check Out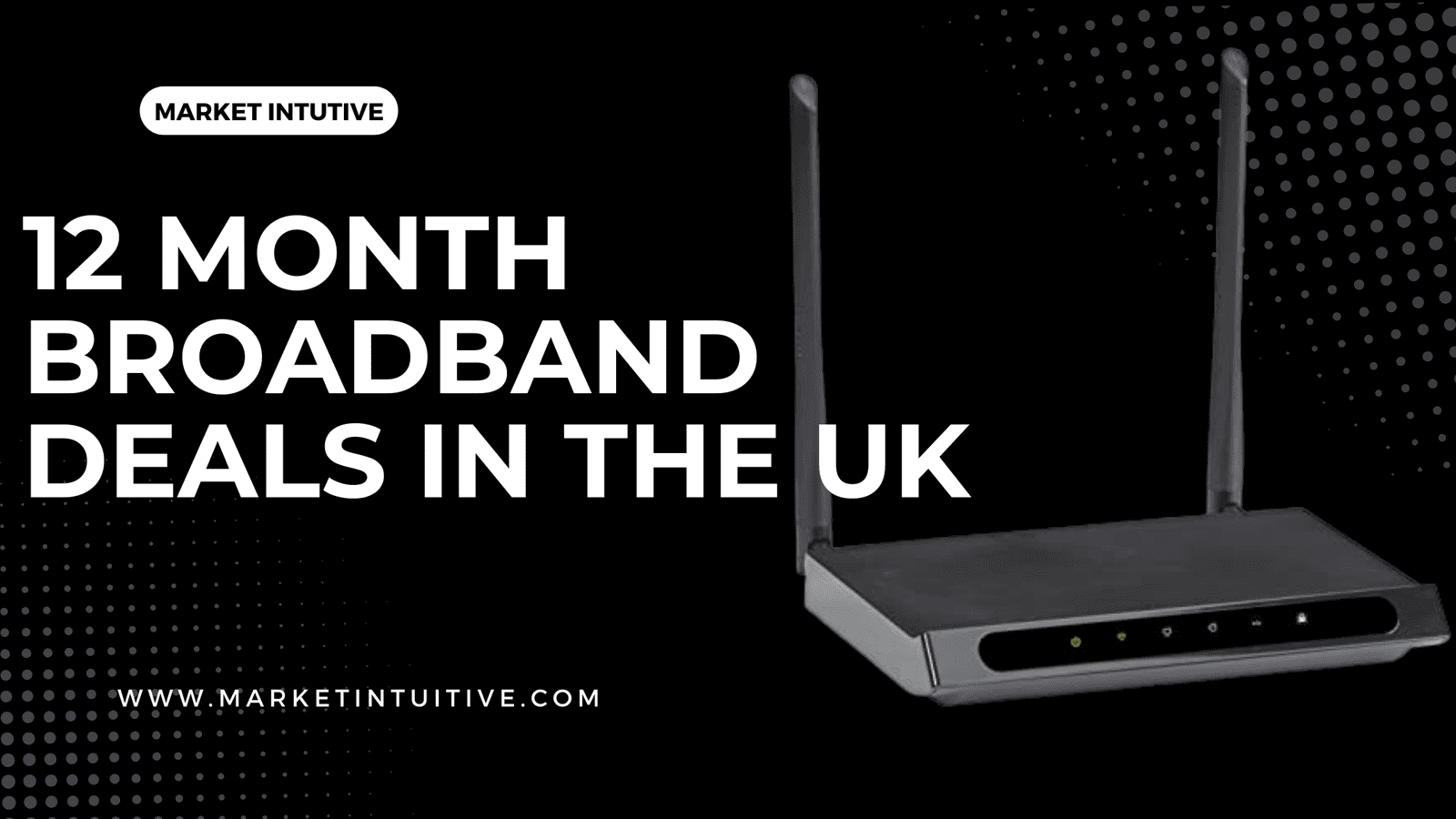 Looking for the perfect broadband deal can be daunting, especially for something that lasts a year. That's why 12 month broadband deals have become popular over the years, as they offer peace of mind for those who want to avoid the hassle of constantly switching providers.
From download speeds to data allowances, there are many factors to consider when choosing a broadband deal. In this article, you'll explore the best 12 month broadband deals on the market. So, let's dive in & find the perfect broadband deal for you!
12 Month Broadband Deals: Introduction
12 month broadband deals are top-rated among the UK customers. They are a moderate option between lengthy contracts of 18 or 24 months and shorter contracts of one-month rolling deals. 12-month contracts offer less commitment than longer ones.
Many broadband providers offer 12-month agreements, which are generally more cost-effective & accessible.
If you're looking for a 12-month broadband deal, you must consider specific parameters such as speed, performance, price, customer service, and additional features.
Broadband speed is among the most important factors when choosing a broadband deal. Choose a broadband that suits your budget and needs.
Comparison Of Best 12 Month Broadband Deals
In-Depth Reviews Of The Best 12 Month Broadband Deals
Here are the in-depth reviews of the best 12 month broadband deals:
POSITIVES
Excellent speed 

Low setup costs

Affordable
NEGATIVES
Router needs improvements
SPECIFICATIONS
63 Mb average speed
FTTC broadband
Unlimited monthly downloads
£5.00 setup costs
NOW Super Fibre provides 63 Mbps average speed. You can enjoy good speeds all time of the day. Once you sign up with NOW Super Fibre, you will be informed about your guaranteed minimum speed. If the speed decreases below this guaranteed speed, you can leave your contract without penalty.
NOW Super Fibre comes with the NOW Broadband Hub 2 router. This router is equipped with smart channel selection and 5 antennas that ensure the best signal. In addition, the 2-gigabit Ethernet ports allow you to connect two devices by ethernet cable directly into your router.
POSITIVES
Excellent speed

Zero setup costs

Great customer service
100 Mb average speed
Unlimited downloads
£0.00 setup costs
Cuckoo Fast broadband offers a 100 Mb average download speed and 20 Mb average upload speed. You get unlimited downloads.
The best part of Cuckoo broadband is that it doesn't charge any setup costs. It doesn't charge hidden prices, and you'll not have any price hikes on the deals.
Cuckoo Fast broadband lets you get a full fibre connection straight to your home. It allows five and more devices to stream in 4K simultaneously. In addition, you can play games and easily download large Gb files.
Cuckoo Fast Broadband has exceptional customer service.
POSITIVES
Great speed and performance

Amazing customer support

1-month of free service
SPECIFICATIONS
900 Mbps average speed
1 Month free service
£19 activation fee
Hyperoptic Hyperfast provides an ultra-reliable, hyperfast connection. It offers a 1 Gb average speed. It gives unlimited data usage.
Hyperoptic Hyperfast uses fibre optic cabling that allows data to travel through tiny glass tubes at the speed of light. Its 1Gb package has average wired speeds of 900 Mbps.
If you want to use the internet to stream HD or 4K video, play online games, and work from home, then Hyperoptic Hyperfast is the perfect option.
POSITIVES
Good speed

Free Wireless router

Good customer service
SPECIFICATIONS
35 Mb average speed
Free wireless router
No line rental fee
Direct Save Telecom Superfast Fibre offers 35 Mb average speed. It comes with a free wireless router. In addition, you can enjoy a free setup.
Direct Save Telecom provides affordable and uncomplicated broadband packages on 12-month contracts and monthly agreements without any fixed-term commitment. The pay-as-you-go alternative has a significant monthly fee and a reasonable initial expense.
With Direct Save Telecom, you can save money on mobile and international calls.
POSITIVES
100% full Fibre-to-the-home

Unlimited data
SPECIFICATIONS
75 Mbps average speed
Unlimited downloads
£9.95 set up fee
No line rental
Community Fibre broadband offers 75 Mbps speed. It gives you unlimited data.
If you want internet for streaming & browsing or on a light usage basis, then Community Fibre broadband is the perfect option.
Community Fibre broadband is a 100% full Fibre-to-the-home connection. It has no line rental.
Community Fibre broadband comes at an affordable rate. But it charges £9.95 as a setup fee.
Community Fibre broadband comes with a dual-band mesh WIFi router. The company has exceptional customer service.
How To Choose The Right 12 Month Broadband Deals For You
Here are the factors that you need to consider while choosing the right 12 month broadband deals:
Upload Speed
If you frequently upload bulky files or indulge in online gaming, consider the average upload speed of your internet package. This might require investigation as service providers sometimes need to provide clear information.
Download Speed
Various broadband types and providers provide varying download speeds. The download speed depends on multiple factors, such as the number of individuals in your household and your online activities.
Freebies
Many broadband providers entice customers with incentives such as complimentary items and bundling other services like television with their broadband packages. By switching at the right time, you can reduce your monthly expenses and receive a free item.
Monthly Download Limits
Most broadband packages offer unlimited data usage. However, inquire about any potential limitations. Some packages may have a monthly download limit or restrict your use during peak hours.
Inclusive Calls
Broadband deals typically do not include call packages, meaning a pay-as-you-go arrangement is the default option. This means that any landline calls you make will be charged accordingly.
The cost of phone calls for this setup is essential, as they can be quite expensive. If you use the phone frequently, explore options that offer free anytime calls or evening/weekend periods to save money.
Location
Broadband deals vary according to different locations. So, you need to enter your postcode and check whether your chosen deal is available at your location or not.
Budget
Choose the 12 month broadband deal that suits your budget and needs. The total cost of the deal should fit your budget.
Price
The primary consideration for many individuals when choosing a broadband package is its affordability. Although a low monthly fee is an excellent way to begin, ensuring the speed you require is available for this price is essential.
Additionally, it is crucial to check for costs associated with installation and early cancellation fees to ensure that a seemingly affordable deal is not more expensive in the long run.
Now comes the tips for evaluating broadband providers:
You can read independent reviews on broadband providers available on the internet. This will help you get a better overview of them.
Check out real customer reviews and testimonials of broadband providers on different websites.
Also, look out for the customer support quality offered by the broadband providers.
Reading user reviews and consulting comparison websites will help you choose the perfect broadband deal that suits your needs and interests.
Exclusive Insights From Industry Experts
According to recent research, a significant proportion of households (21%) in the UK own five or more connected devices. This presents an opportunity for broadband providers to offer contract tie-ins and support services to enable uninterrupted digital connectivity for households with multiple smart devices.
According to Ahmed Essam, the CEO of Vodafone UK, consolidation in the sector is unavoidable and will provide advantages in terms of scale to the market. Essam observed that many market operators need help generating a return on investment, which he considers unsustainable and inappropriate for the sector's future.
He further added the UK network operator industry is gearing up for further investment in the rollout of 5G and full fibre, and consolidation appears to be a compelling option.
Similar Tutorials Types to Check Out
5 Best Broadband And Anytime Calls Package: The Broadband and Anytime Calls package offers the ideal combination of value and flexibility, so you don't have to worry about being disconnected. I will discuss the best broadband and anytime calls package
9 Best Broadband Alternatives In The UK You Should Check Out: Several broadband alternatives are available, whether you're looking for a faster, more reliable, or better value for money. From wireless broadband to satellite broadband, there are various options, all offering varying benefits. In this article, you'll explore broadband alternatives
Summary: 12 Month Broadband Deals
12 month broadband deals are very popular in the UK market. 12 months is a good length for a broadband contract as you usually get value for money.
If you're looking for a 12 month broadband deal, consider speed, performance, price, customer service, and additional features.
NOW, Cuckoo, Hyperoptic, Direct Save Telecom, and Community Fibre are the top broadband providers that offer 12 month broadband deals.
Please use the information provided in this article to make an informed decision. And, then choose the best 12-month broadband deal according to your needs.
I hope this article on 12 month broadband deals sounds helpful!