7 Best Broadband And Anytime Calls Package You Don't Wanna Miss Out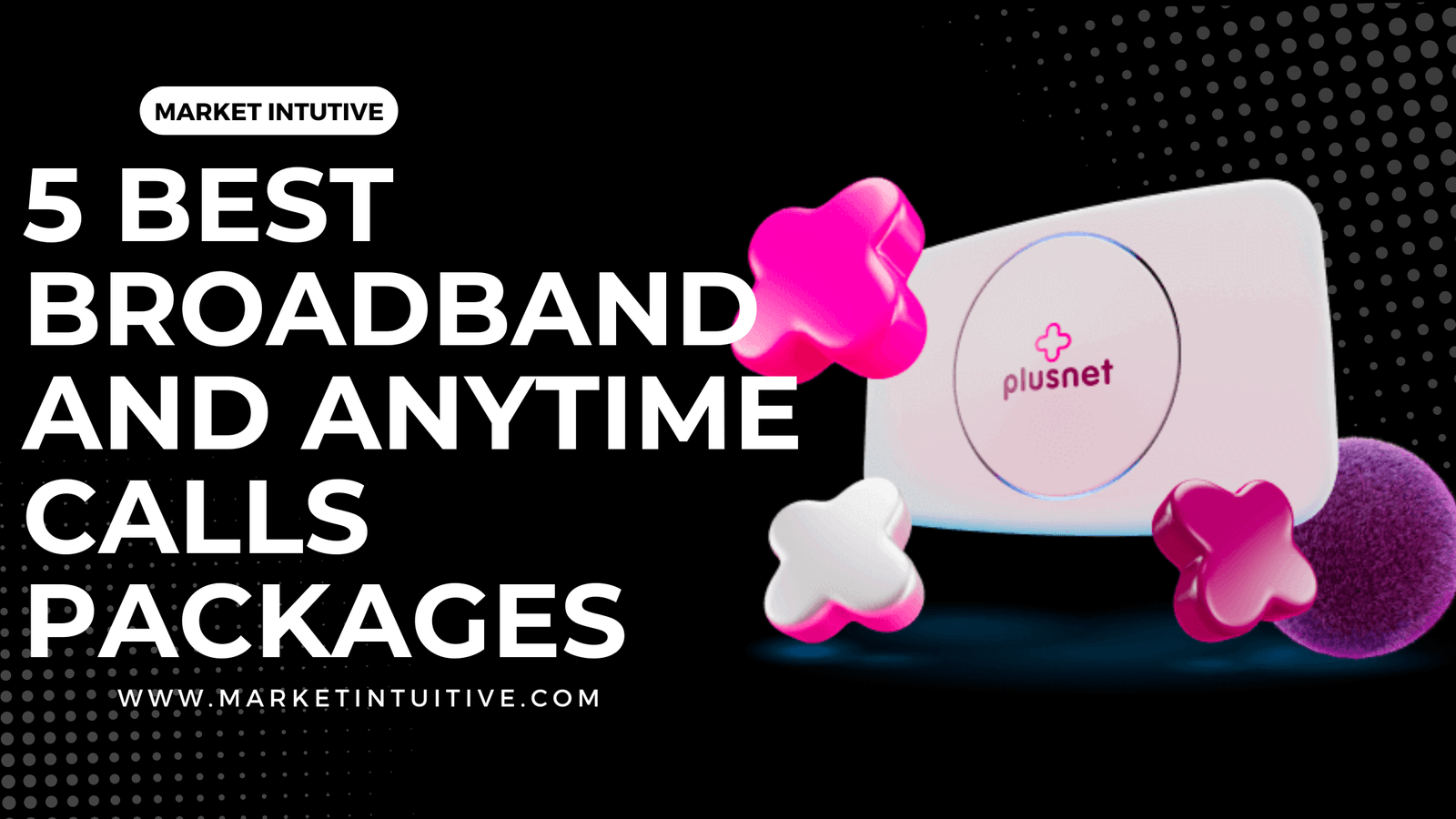 Do you want to stay linked with your friends & family while enjoying the convenience of unlimited broadband and anytime calls? Then the Broadband and Anytime Calls package could be the perfect solution for you. This package offers the ideal combination of value and flexibility, so you don't have to worry about being disconnected.
You can also access exclusive deals and discounts to save money every month. So, if you're searching for a reliable and affordable way to stay connected, the Broadband and Anytime Calls package are perfect.
Broadband And Anytime Calls Package: Introduction
Broadband and anytime calls are currently in high demand in the UK market. If you select a single provider for your phone and broadband needs, you can merge your contracts and receive a consolidated bill that results in cost savings.

By combining your broadband and anytime calls, you can benefit from discounted rates provided by service providers. While larger companies predominantly offer these deals, they significantly reduce expenses and simplify the management of both services in a single place.
Comparison Of Broadband And Anytime Calls Package
Top Broadband And Anytime Calls Providers In The UK
Here are the top broadband and anytime call providers in the UK:
1. Virgin Media
POSITIVES
Amazing bundled package

Great internet speeds

Easy to setup

Reliable
54 Mbps – 1.1 Gbps download speed
5 Mbps – 52 Mbps upload speed
18-month contract length
Virgin Media could be the optimal option if you are seeking to bundle high-speed internet, landline, television, and mobile phone services. It is a trustworthy broadband provider renowned for delivering the fastest internet speeds available in the UK.
Virgin Media's deals generally fall on the pricier end, and their value is contingent upon the extent of internet usage. Nevertheless, it is essential to highlight that they do not impose any setup fees.
Virgin Media typically requires an 18-month contract commitment. However, it is worth noting that their customer care service could benefit from enhancements.
2. Sky
11 Mbps – 145 Mbps download speed
1 Mbps – 27 Mbps upload speed
18-month contract length
The Sky is a widely recognized multinational media company with a strong reputation for its satellite TV services within the UK. Alongside its extensive TV offerings, Sky has successfully expanded its broadband, mobile phone, and landline service provider presence.
Sky broadband provides a range of download speeds averaging 36 to 900 Mbps. Their packages offer unlimited downloads and include a diverse selection of film and sports options. Furthermore, you can receive the flagship Sky Q Hub router as part of their offerings.
Sky Broadband provides broadband deals that are high but do not impose any upfront costs. Their broadband packages typically come with an 18-month contract duration.
One notable aspect of Sky Broadband is its exceptional customer service. You can call their customer support team through live chat or telephone for assistance.
3. Vodafone
POSITIVES
Fast internet speed

Great value for money

No setup fees
NEGATIVES
TV bundle isn't available
SPECIFICATIONS
36 Mbps – 910 Mbps download speed
9 Mbps – 910 Mbps upload speed
WiFi Hub router
24-month contract length
Vodafone presents an exceptional value proposition for broadband services offering affordable ultrafast fibre rates. Customers can benefit from attractive bonuses and complimentary items provided by Vodafone.
When opting for Vodafone broadband, you can experience download speeds ranging from 36 Mbps to an average of 910 Mbps through full fibre connectivity. Furthermore, by upgrading your plan, you can enjoy additional perks such as unlimited landline calls and access to Apple TV.
Once you sign up for a Vodafone broadband package, you will receive the Vodafone WiFi Hub, a top-notch router designed with seven antennas to deliver a robust WiFi signal that extends across a considerable area. Additionally, the router is equipped with four-gigabit ethernet ports to guarantee speedy wired connections.
Vodafone has gained recognition for its trendy and cost-effective fibre broadband packages, providing dependable services at affordable prices. Importantly, Vodafone does not impose any upfront fees, making it a budget-friendly choice.
Vodafone typically offers a 24-month contract duration. The company also provides commendable customer support, and you can contact them by calling 0333 304 0191 for assistance.
4. NOW
POSITIVES
Low setup costs

Great internet speed

Affordable packages
11 – 63 Mbps download speed
1 – 19 Mbps upload speed
Standard ADSL and fibre broadband
NOW Hub Two Router
12 months, rolling 1-month contract
NOW is a popular broadband provider in the United Kingdom. You can experience download speeds ranging from 11 Mbps to an average of 63 Mbps.
NOW offers broadband packages that include unlimited usage across all plans. Additionally, they provide a flexible no-contract option, which may suit specific customers. However, this option incurs an activation charge.
You will be informed about the minimum speed guaranteed for your broadband service upon signing up. If the speed provided falls below this guaranteed limit, you can terminate your contract without facing any negative consequences.
The NOW Broadband Hub 2 router offers advanced channel selection and has five antennas to ensure a robust and reliable signal. The router includes two-gigabit Ethernet ports, allowing you to connect up to two devices directly to the router using Ethernet cables.
5. BT
POSITIVES
Reliable broadband

Excellent router

Fast internet speed
6 Mbps-900 Mbps download speed
1 Mbps-110 Mbps upload speed
BT Home Hub, BT Smart Hub 2 router
24-month contract length
BT is a well-established broadband provider renowned for its premium features. They provide a range of broadband packages, including standard and fibre options, offering impressive speeds between 36 Mbps and 900 Mbps.
BT presents a diverse selection of broadband packages, encompassing standard and fibre alternatives. Particularly noteworthy is their BT Smart Hub 2 router, which has garnered significant praise and positive feedback from customers.
BT is ideal for bundling broadband, TV, and mobile phone services. Notably, they do not impose any upfront costs.
It is essential to consider that BT tends to be pricier than other broadband providers. Their customer service is considered average. You can reach out to them by calling 0800 800 150 or contacting them via text.
6. Plusnet
POSITIVES
Affordable

Comes with gifts

Quick to install
SPECIFICATIONS
10 Mbps – 500 Mbps download speed
1 Mbps – 20 Mbps upload speed
Hub Two router
18-month or 24-month contract length
Plusnet, a widely recognized broadband provider in the United Kingdom, is highly regarded for its budget-friendly packages, which many customers favour.
Plusnet provides a range of broadband deals, including standard and fibre options, with average speeds ranging from 10 Mbps to 500 Mbps. The actual internet speed will depend on your location.
One notable aspect of Plusnet is that they do not impose any upfront costs. Additionally, you can choose between a 12-month or 18-month contract, according to your preference.
7. Shell Energy
POSITIVES
Great internet speed

Reliable broadband

Affordable
11 Mbps – 920 Mbps download speed
1 Mbps – 109 Mbps upload speed
ADSL, Fibre, Full fibre broadband
18-month contract length
Shell Energy Broadband is a relatively new entrant in the market, joining the ranks of several energy companies that have ventured into the broadband sector.
It offers customers ten broadband options, each offering a distinct average download speed. All of these options come with an 18-month contract.
Shell Energy Broadband presents customers with a choice of two routers. If you subscribe to the Fast or Ultrafast Broadband plans, you will get the Technicolor TG588v2 router. Whereas, if you go for any of Shell's fibre packages, you'll get the Technicolor DWA0120.
If you encounter an issue with your Shell Energy broadband, you can contact the company by calling 0330 094 5801 for assistance.
Factors To Consider When Choosing A Broadband And Anytime Calls Package
Here are many factors to consider when choosing a broadband and anytime calls package:
Speed
You need to consider both download and upload speeds. Firstly, identify the broadband speed that meets your specific requirements. Once you have assessed your current speed, you can evaluate whether any speed enhancements are necessary. Subsequently, you can choose a broadband plan that offers adequate speed to fulfil your needs.
Location
The availability of broadband and anytime calls depends on your specific location. To find out the deals offered in your area, visit the broadband providers' website and enter your postcode. This will allow you to check the available deals tailored to your locality.
Performance
Assessing the performance of a broadband deal involves considering factors such as network coverage and customer feedback. When it comes to online gaming, opt for low-latency broadband. For an optimal gaming experience, aim for a latency range of 20-40 milliseconds.
To evaluate the performance of a broadband deal, you can rely on online customer reviews as a valuable resource.
Contract length
Decide if you want to enter into long-term or short-term commitments, then choose the broadband deal. Broadband packages that include phone services come with contract lengths of 12, 18, or 24 months. An exit fee will be incurred if the contract is terminated before completion.
Price
When selecting a broadband and anytime calls package, consider all associated costs, including installation fees, undisclosed charges, and termination fees.
Customer service
If you want to address any broadband-related issues effectively, it is important to have access to responsive and efficient customer support. Refer to independent online reviews to evaluate the quality of customer support offered by different broadband providers.
Additional features
You can combine broadband and anytime deals with television services. As part of their broadband with phone deals, numerous broadband providers entice customers by offering various incentives, such as discounts, complimentary gifts, and cashback offers. These additional benefits are designed to attract customers and provide extra value.
How To Compare And Choose The Best Package For You
You can choose the best package for you by following these tips:
If you want to find the available broadband with an anytime calls package at your location, input your postcode into the postcode checker tool provided on the broadband provider's website. This will generate a list of deals tailored to your area.
Assess the overall cost of the selected broadband and anytime calls and determine if it aligns with your budget. This calculation should include the base cost, any applicable setup fees, and hidden charges.
You need to decide the duration of your commitment, whether long-term or short-term. Based on your preference, you can then choose the option that best suits your needs.
If a broadband deal's cost seems costly, you can call the broadband providers' customer care and negotiate with the providers.
Read online customer reviews to receive a better overview of broadband deals.
Exclusive Tips For Saving On Broadband And Anytime Calls Packages
Here are the tips for saving on broadband and anytime calls packages:
To stay updated on promotions and limited-time offers, visit the websites of broadband providers regularly. You can stay informed about the current offers & freebies by checking these sites weekly. Additionally, consider subscribing to their newsletters to receive the latest offers directly in your email.
Bundled services encompass the combination of broadband, phone, and television services into a single package. Opting for bundled packages can be a beneficial choice as it often leads to better deals and potential savings on monthly bills.
FAQs (Frequently Asked Questions) On Broadband And Anytime Calls Package
1. Does broadband include phone calls?
Yes, broadband comes with bundled packages that include phone calls.
2. What are anytime calls?
Anytime calls are calls up to one hour to UK landlines at anytime. The calls must be started & ended within these times.
3. What is BT broadband and calls?
BT broadband and calls offer fibre optic broadband at different speeds, adding a home phone service, or you can go landline-free.
Conclusion: Broadband And Anytime Calls Package
Several British internet service providers provide packages that include broadband and phone deals with anytime calls. You can dial UK landlines or cell phones anytime when you purchase a broadband package with unlimited calls.
If you're looking for an economical and unlimited broadband and telephone bundle, NOW Broadband is your best option.
NOW Broadband is usually the most affordable broadband and anytime calls supplier, even though anytime calls are not provided free of charge due to the inexpensive nature of their monthly charges.
I hope this article on the best broadband and anytime calls package sounds helpful! Feel free to comment down your opinions in the comments section.