Comparing The 10 Best Broadband Providers In The UK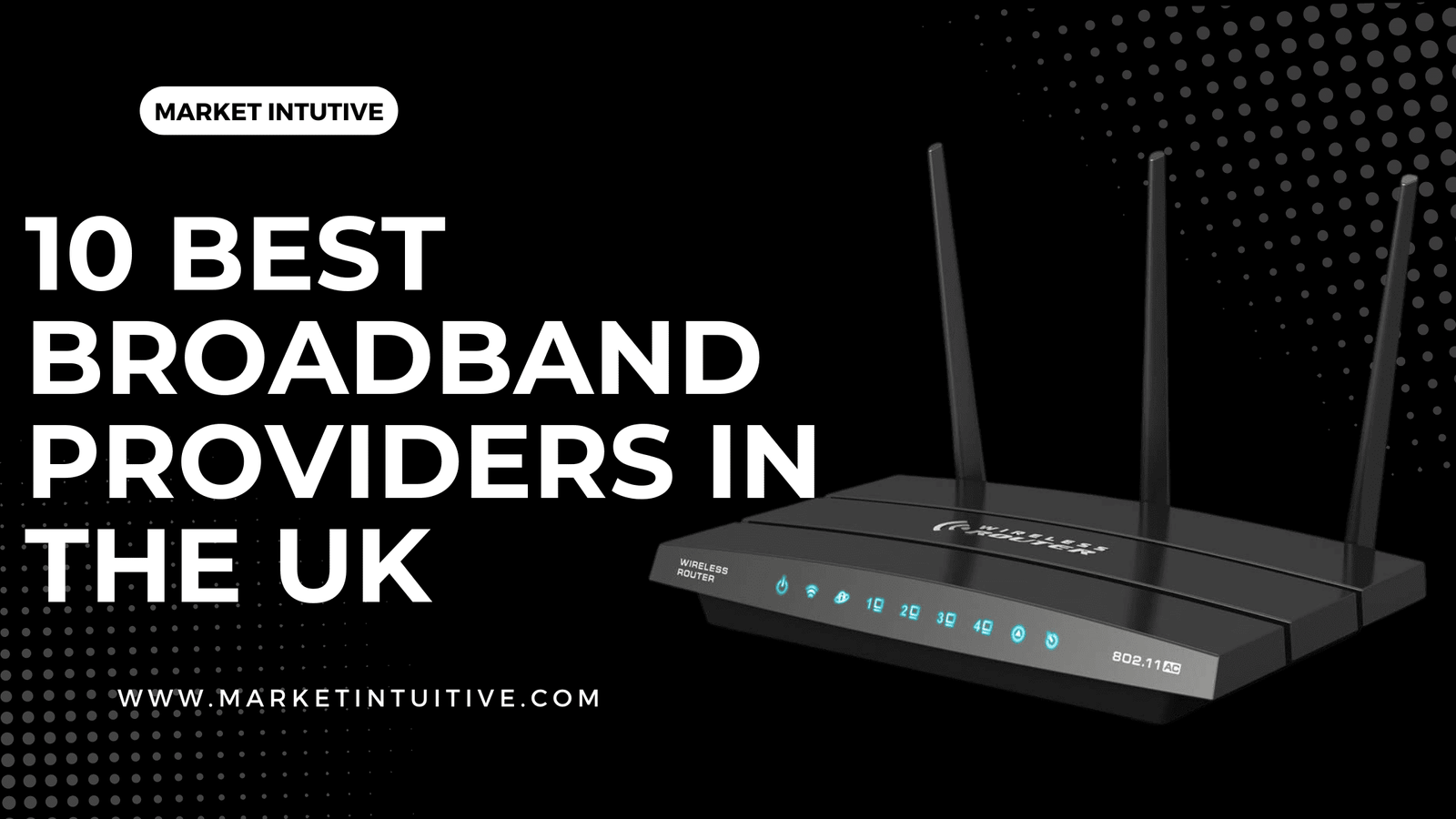 Do you need a reliable broadband provider to offer fast and reliable service? Then you are at the right place! Finding the best broadband providers can be a challenging task. You want to ensure you get the best value for your money, the fastest speeds, and the highest quality of service.
With so many options, deciding which provider is right for you can be challenging. When selecting a provider, you should consider several factors, including cost, speed, customer service, coverage, and reliability. I have compiled the 10 best broadband providers in the UK in today's article.
Comparison Of Best Broadband Providers
Frequently Asked Questions (FAQs) On Best Broadband Providers
1. Which company broadband is best?
Here's the list of best broadband companies:
Vodafone
BT
Virgin
EE
Plusnet
Sky
TalkTalk
2. Which is the best broadband in the UK?
It is a fact that Virgin Media offers the most dependable and quickest broadband in the nation. Sky offers the most comprehensive set of subscription-based TV packages in the UK, so pairing it with broadband is a no-brainer.
3. Is Sky or BT broadband better?
BT has the upper hand as it provides more options and greater maximum velocity with its premium Full Fibre 900 Mbps broadband package, compared to Sky. Whereas, Sky only has a one-speed option with an average speed of 59 Mbps.
What You'll Need:
If you desire to get online from home, you must have an Internet Service Provider (ISP) and a router to connect to the ISP. In many instances, the ISP will include a router with its services. This allows multiple computers or gadgets in the same home to access the internet simultaneously.
10 Best Broadband Providers In The UK
NOW Broadband Super Fibre
TODAY'S BEST DEALS
PROS
CONS
+ Low upfront cost
+ Short 12-month default contract
+ Affordable monthly costs
+ Optional contract
– Monthly cost will increase after 1 year
If you want a cost-effective internet service provider offering limited rewards and benefits, NOW Broadband is an excellent option.
NOW provides some of the most cost-effective superfast fibre broadband plans – their monthly payments are incredibly affordable, and the one-time charge is just £5.
Their Super Fibre deal offers an average download speed of 63 Mbps for a reasonable price. Additionally, the provider has a Fab Fibre plan with a download speed of 36 Mbps.
Going for the Super Fiber plan would be a good idea since it usually comes for just a pound or two per month.
All NOW Broadband packages include unrestricted downloads and a 1-year commitment, which means you will only be committed for a short period. Nevertheless, you must know that the cost will increase significantly once this initial contract ends.
You can opt out of signing a contract with NOW and purchase your broadband connection monthly. However, the initial cost will be a lot more expensive.
Few internet service providers allow people to bypass a long-term agreement, so NOW Broadband is exceptional.
TODAY'S BEST DEALS
PROS
CONS
+ Good choice for broadband & TV
+ Amazing download speeds
+ O2 Volt SIM card bundles can be handy
– Customer service needs improvements
It is worth looking at their internet packages if it is possible to acquire Virgin Media services in your locality. Virgin can provide faster download speeds than its competitors on the Openreach network, with its Gig1 fibre broadband package boasting an average of 1130 Mbps.
Even though ultrafast broadband packages may be very costly, I advise customers to use the M100 plan since it provides adequate bandwidth for most homes.
Virgin Media is a top-notch selection for an internet and television bundle. They have an enormous variety of cable television channels you can access without requiring a satellite dish.
Virgin Media's collaboration with O2 has allowed customers to acquire an O2 Volt SIM card when subscribing to a broadband plan. If you're searching for a mobile contract, this offer can be a good choice as it can help you minimise the total amount of your monthly payments for both services.
One of Virgin Media's drawbacks is that switching to them can be challenging. You will need a technician at your home. Additionally, if you are presently utilising an Openreach provider, you must contact them to terminate the former connection.
Virgin Media's customer care needs improvements. In addition, customers often experience lengthy wait times and a noteworthy amount of grievances compared to other providers.
Plusnet Unlimited Fibre Extra
TODAY'S BEST DEALS
PROS
CONS
+ Ultrafast broadband deals
+ Great customer service
+ Good value for money
– Only comes with an average download speed (not a minimum)
Plusnet Unlimited Fibre Extra is another good choice for broadband.
As BT owns Plusnet, their packages and offers are comparable to BT's. When you become a Plusnet customer, you will get a reward card, and decide to have a regular download speed ranging from 36 Mbps up to a maximum of 500 Mbps.
Plusnet provides excellent customer assistance, just like BT. However, there is no assurance of a minimum speed – Plusnet mentions only an average download speed.
Plusnet is more affordable than BT. However, it has less extra features. For instance, it does not include Wi-Fi boosters as part of its package like BT.
With Plusnet, you must agree to an 18-month contract, a rather lengthy commitment. On the other hand, BT usually requires you to sign a 24-month agreement.
TODAY'S BEST DEALS
PROS
CONS
+ Good range of speeds
+ No upfront fees
+ Offer discounts on other Shell products
– Customer service needs improvements
Shell Energy Broadband is an economical option for broadband service. Each of their plans has low monthly rates and no set-up fees. Presently, certain plans include three months of complimentary internet access.
In contrast to many budget suppliers, Shell offers a wide selection of fibre broadband plans, one of which has a usual download speed of 944 Mbps.
If you are a Shell Energy Broadband subscriber, you are eligible for discounts at Shell gas stations and on the Shell Energy service if you are a Shell Energy user.
A major downside of Shell is that its customer service could be better. Each customer gets many complaints concerning their broadband and landline services.
If you're comfortable with an 18-month agreement and leverage other services from Shell, then it is worth exploring their internet packages. You may receive better customer assistance if you select a more costly service provider.
TODAY'S BEST DEALS
PROS
CONS
+ No upfront costs
+ Discounts for EE mobile customers
+ Bonus data for EE mobile customers
– Only 24-month contracts
EE's Broadband service might appeal to mobile phone customers due to the available discounts. EE offers their pay monthly mobile customers a discount of between £3-£5 per month on their broadband bill.
In addition to a price reduction, EE Broadband offers an extra 5-20GB of data to customers who already have their mobile phone service. This benefit, in combination with the discount, makes EE an attractive option.
All their agreements come with a two-year minimum commitment, but there are no initial charges, except on the basic 10 Mbps plan. Although the monthly payments are not the lowest, they are also not too high.
Generally speaking, BT over EE, if you want a quality broadband package unless you are an existing EE cell phone customer and your only priority is to reduce your monthly expenditure.
When you choose BT as your provider, you get the added benefit of a minimum speed guarantee and the features you're already paying for.
TODAY'S BEST DEALS
PROS
CONS
+ Offer minimum speed guarantee
+ Comes with a quite generous reward card+ 24 months and 12-month deals
+ Great customer service
– Sometimes has a high upfront cost
Although BT may not offer the lowest prices, its internet packages have many advantages.
Instead of just providing an average download speed, they guarantee a minimum rate of speed.
This ensures that if your internet speed decreases drastically, you will be eligible to have it fixed. A lot of service providers do not offer such assurance.
Additionally, BT is known for its exceptional customer service. The company has fewer client grievances, and its average wait time is lower than most other suppliers.
Most BT broadband plans come with a generous reward card, which you can use to pay for a few months of broadband service. This operates similarly to a prepaid credit card – for instance, it can be utilised when making purchases.
BT's standard agreement length is 24 months, which is a lengthy period, yet they also provide 12-month broadband plans, but the monthly fee will be higher.
The downside of using BT is that you will usually have to pay a significant amount of money as an initial cost. This is a setup fee.
Vodafone Pro II Broadband
TODAY'S BEST DEALS
PROS
CONS
+ Pro II plans have a useful 4G backup
+ Pro II plans offer a Wi-Fi 6E router, which most other providers don't offer
+ Basic plans come with competitive monthly costs
+ Discounts for Vodafone mobile customers
+ No upfront costs
– 24-month minimum contract
Navigating Vodafone's broadband offers can be challenging due to the various choices available. Despite this, it is advisable to inspect them as they may prove to be worthwhile.
Vodafone's standard broadband options are great for an affordable internet plan. They have cost-effective packages with monthly fees, varying from a 36 Mbps average download speed to the most advanced 910 Mbps average download speed with a full fibre connection.
It is possible to upgrade this plan to include additional benefits such as unlimited landline calls and access to Apple TV.
Vodafone Pro II Broadband is worth considering if you want an extensive broadband package. You can pay more each month to receive a 4G broadband backup, ensuring that you can stay connected even if your fibre internet connection fails. In addition, the Vodafone Ultra Hub router with Wi-Fi 6 E provides faster Wi-Fi speeds in your residence.
When you purchase Pro II, you will receive premium assistance known as "Wi-Fi Xperts" plus a complimentary subscription to Norton Antivirus.
Whether you go for the Vodafone Broadband or the Vodafone Pro II Broadband service doesn't matter. You still have an array of internet speed packages to pick from Vodafone. For instance, you can opt for a simple broadband package that promises ultra-high speeds or a more elaborate Pro II scheme with lower download speeds.
No matter which plans you decide on and how much data you go for, you will not have to pay any money initially with Vodafone Broadband and are obligated to the service for at least 2 years.
TODAY'S BEST DEALS
PROS
CONS
+ Comes with symmetrical download and upload speeds
+ No setup fees on most plans
+ Comes with a range of different contract lengths
+ Good prices, given the speeds on offer
– Not available everywhere
Hyperoptic is a supplier of broadband internet. However, their infrastructure is limited to certain cities, so their reach is limited. Nevertheless, it is worth considering Hyperoptic's internet packages if available.
Hyperoptic has a variety of packages from 50 Mbps to 1000 Mbps. The advantage of these plans is that the download and upload speeds are equal, unlike most other providers, where the upload speed is usually much slower than the download speed.
When selecting your plan with Hyperoptic, you can choose from three different types of contract lengths; 24 months is the standard option, 12 months is the short-term choice, or you can go with a rolling agreement. Generally, these contracts are free of any upfront costs, but this is not the case if you opt for the monthly plan.
Hyperoptic has limited additional benefits aside from a decent Wi-Fi router. Still, they offer good value if you want rapid internet access and live in a major urban area.
TODAY'S BEST DEALS
PROS
CONS
+ Minimum speed guarantee
+ Good for broadband & TV
+ Great customer service
+ Wi-Fi signal guarantee
– High upfront cost
Sky Broadband is an excellent option if you're trying to get a package that includes broadband and TV. They have an impressive selection of networks and multiple methods to enjoy your content. You can select from a dongle to cast, a TV box, or a smart TV.
Sky Broadband promotes three plans, but several others are accessible upon entering your zip code. Sky offers incredibly high download speeds in areas with full fibre broadband, but the plans are costly.
They require a good deal of money each month and a lump sum fee at the beginning of the agreement, and they only offer contracts that last 18 months.
One of the key advantages of Sky Broadband is its exceptional customer service. Sky's complaint rate is much lower than other major providers, and they are more responsive to their customer's inquiries.
The minimum speed guarantee is more challenging than BT's in terms and conditions. Sky ensures that good Wi-Fi is available in every room in your residence, which can be handy for a spacious place.
TODAY'S BEST DEALS
PROS
CONS
+ Matched download & upload speeds
+ Great value for the first 12 months
+ Good speeds
– Only available in certain regions
Suppose you are situated in the regions close to Birmingham, most especially Oxford and Gloucester, and in the areas located between London and Colchester that Gigaclear covers. In that case, you should consider their internet services.
Like Hyperoptic, Gigaclear offers optical fibre broadband with similar transmission rates for uploading and downloading. Their plans are rapid, with the Hyperfast 900 package having a maximum speed of 830 Mbps.
One of the distinguishing features of Gigaclear is its payment plan. Their contracts are only for 18 months, and the cost for the initial twelve months is minimal. However, in the 13th month, the fee rises substantially.
Gigaclear offers an excellent deal for the initial year. However, the costs can become exorbitant after the contract period is over. On the plus side, none of the broadband plans require setup or activation costs.
Gigaclear could offer its broadband services to more people, as its coverage area is still relatively small, though it is increasing.
Things To Consider While Selecting The Best Broadband Providers
Here are the things to consider while choosing the best broadband providers:
Low Setup Fee
Unless you receive an exceptionally advanced WiFi router or have signed up for a short-term plan, you should not be expected to pay an initial fee of £20-£30 or more.
Great WiFi Router
When you purchase a broadband package, you will typically receive a Wi-Fi router in the mail, which saves you from searching for a compatible router by yourself.
The primary internet service suppliers usually give their new users a decent wireless router, but not all are the same. Ensure you obtain one with adequate Ethernet ports to suit the number of tools you need to connect to it unless you only intend to access the web via Wi-Fi.
Moreover, a router compatible with Wi-Fi 6E, the latest Wi-Fi communications protocol, is beneficial. This will give you better Wi-Fi coverage and faster speeds in your house.
Affordable Monthly Cost
If you are looking for a high-speed internet connection with an average download speed range of 30-60 Mbps, you don't need to pay more than a monthly fee of around £20-£25.
For ultra-fast broadband deals with download speeds surpassing 300 Mbps, you will likely spend between £35-50 each month, depending on the precise data speed you acquire.
Great Customer Service
It can be challenging to evaluate a broadband provider's customer service before using them, and two different consumers could have completely contrasting experiences with the same provider.
Nevertheless, Ofcom publishes details on the number of grievances every main internet service supplier gets yearly. BT and Sky have good results, and NOW Broadband also gets comparatively few customer grievances.
Tips To Save Money On The Best Broadband Providers
Here are some tips for cutting costs on the best broadband providers:
Go For An Affordable Broadband Provider
Some internet service providers incorporate many extra features into their broadband packages.
For instance, Virgin Media broadband bundles now come with O2 SIM cards, while Vodafone has a 4G broadband backup as an extra with their costly plans.
If you opt for a simpler supplier that only caters to broadband service, like NOW Broadband, you can save significant money.
Sign A Long-Term Contract
This way, you can postpone the time when the monthly bill will rise and cut down the preliminary expense of your new internet package.
Many internet service providers charge less for their lengthy plans in terms of initial installation and continuing fees, as they are confident that customers will remain with them for an extended period.
Look For Discounts
Be aware of other savings you could be eligible for due to other services you use. If you are a Vodafone mobile customer with a monthly payment plan, you can take advantage of a lower cost for Vodafone Broadband. A few telecom companies provide bundles with both broadband and cell phone services.
Only Pay For The Bandwidth Amount
Obtaining ultrafast broadband with full fibre is costly – spending £50 a month for gigabit download speeds would be unnecessary if you don't require that speed.
Concurrently, you must ensure enough bandwidth to prevent lagging while viewing videos or slow file downloads.
Always Stay In Contract
Internet service providers are most profitable when your agreement ends and they raise their monthly charges. To cut costs, remember to alter your broadband provider or negotiate a new agreement with your present company when your contract is about to terminate.
If you inform your internet provider that you are considering cancelling your service, they will probably offer you a new agreement at an affordable rate.
Look Out For Social Tariffs
A discounted rate for internet access is accessible to individuals receiving government assistance, such as Universal Credit. The subsidised broadband plans have no disadvantages – they may not be ultra-fast. However, they still provide a lot of bandwidth and have no limits on data.
Previously, only BT and Virgin Media provided these discounted packages, but now Sky, Vodafone, and other vendors offer similar offers.
Openreach Vs. Other Broadband Providers
Currently, there are two main providers of broadband services in the UK, namely Openreach and Virgin Media.
BT owns Openreach, the broadband infrastructure that most suppliers employ, such as BT, Sky, NOW Broadband, Plusnet, TalkTalk, and many other firms. In contrast, Virgin Media maintains its broadband system.
If you switch service providers through Openreach, the cancellation process is automatically handled, and you don't need to contact your prior provider.
Conversely, suppose you switch from Openreach to Virgin Media, for instance. In that case, you'll need to terminate your existing arrangement yourself, and Virgin Media may require you to send a technician to your location if it is your first time using their services.
Aside from that, the two systems are quite comparable in functioning. Virgin offers higher maximum download speeds, while Openreach provides higher maximum upload speeds, although the disparity is not too pronounced.
Notably, other minor fibre networks are accessible in specific locations, such as Hyperoptic. These "altnets", as they are referred to, usually do not serve many addresses but can provide very high download speeds at a fair cost.
Best Broadband Providers In The UK
When it comes to rate, assistance, and affordability, I believe that BT is the top internet service provider at present.
Even though there are more cost-effective providers, BT offers a selection of broadband packages, including speedy fibre service, which is a great bargain considering what you are being provided.
Signing up for BT will give you a guaranteed minimum speed rather than an average marketed download speed.
Nevertheless, BT is not the optimum choice if you are trying to conserve money – their monthly fees are not the least expensive.
Fastest Broadband Provider In The UK
Virgin Media is the quickest internet supplier in the United Kingdom right now. Their Gig1 fibre broadband plan has an average download speed of 1130 Mbps.
Although Virgin Media is not accessible in all parts of the UK, those who cannot access it can turn to Openreach broadband providers like BT or Sky for high-speed internet. With this method, people can enjoy maximum average download speeds of about 900 Mbps.
It is noteworthy that Openreach providers have relatively lower download speeds, yet their upload speeds are significantly greater than those provided by Virgin Media. For instance, while Virgin's Gig1 plan supplies an upload speed of 52 Mbps, BT Full Fibre 900 offers 110 Mbps.
Cheapest Broadband Provider In The UK
If you want to get the best broadband deals and you want fast fibre speed, NOW Broadband can be a fantastic selection.
They provide high speed with a maximum of 63 Mbps at an affordable rate every month. The agreement they give by default is only for 12 months, yet acquiring their broadband service with a month-to-month plan is possible.
NOW Broadband is cost-effective since they don't include additional perks, such as landline call minutes. Nevertheless, they do have TV plans that give access to Sky channels.
Buyer's Guide On The Best Broadband Providers
Here is the buyer's guide to the best broadband providers:
Broadband Line Rental
Depending on your location in the United Kingdom, you may require a telephone line to get a broadband connection for your home. If that is the case, you must pay for the line rental regardless of whether you use the home phone.
When you are required to use FTTC internet, the fee for the line rental will be included in your monthly payment and will not appear as a distinct cost.
But, if you have access to full fibre broadband, also referred to as fibre to the premises (FTTP), there is no need for a landline. Thus, you are not obligated to pay for any line rental. If you do not opt for a landline phone, you can reduce the cost of your internet connection monthly.
Broadband Contracts
You can select between various contract durations when signing up for a broadband connection:
Nine months – Generally, internet access is only available for students and only with specific companies, like BT.
Twelve months – A limited number of service providers provide this 12-month broadband plan. It is common for these packages to require a hefty initial payment or for the monthly rate to jump substantially when the contract period expires.
Eighteen months – A frequently selected option might or might not require an initial fee.
Twenty-four months – This type of service does not typically require an initial payment.
The type of contract you select should be according to your requirements. For instance, you might lean towards a 24-month contract to ensure that you won't have to stress over a cost increment at the contract's expiration for an extended period.
You might not wish to be bound to a certain internet provider for longer than one year so a 12-month agreement might be the most suitable.
When selecting a plan, it is essential to pick the right contract duration, as if you end your agreement before its conclusion, you'll be charged a substantial fee.
A few companies, for example, NOW Broadband, offer the choice of a month-to-month broadband plan. However, this option involves a significantly higher initial cost.
Average Vs. Minimum Download Speeds
Recognizing that the various broadband packages and their respective speeds are promoted differently is essential.
Companies usually market broadband plans based on the mean download and upload rate. What this average rate signifies will vary from one provider to another.
For instance, the average speed BT and Plusnet provides is what most customers can anticipate during peak hours (from 8 to 10 pm).
In addition to the lowest possible transmission rate, some providers also guarantee a certain level of speed, which is a beneficial feature.
The speed that is advertised as an average may be different from the minimum speed you experience. If the speed drops below what was promised to you, you may be able to end your contract if the provider cannot resolve the problem.
Does Best Broadband Providers Deal Offer Unlimited Downloads?
Every fibre broadband package purchased in the United Kingdom has unlimited download and upload limits.
When you sign up for a fresh internet package, you can rest assured that you will not be subject to any caps on the amount of data you use.
Does The Broadband Plan Offer Mid-Contract Price Rises?
Mostly, all broadband packages on sale have in-contract price rises. The regulatory body Ofcom is evaluating whether service providers sufficiently inform customers of price increases.
Generally, the cost of your broadband will increase annually in April by a certain percentage, along with inflation. This information should be clearly outlined in your broadband contract.
Service providers can also raise their prices while clients are in a contract. In such a situation, customers can end the agreement without paying the penalty.
Should You Bundle Other Services With Your Broadband?
If you know any additional services you require, you can spend less money by combining them with a broadband contract.
Here are a few items you can include in your broadband package and what you need to know.
Landline Calling Minutes
If you frequently use your landline, getting a broadband plan with unlimited calling might be more cost-efficient than paying for each minute. Some packages include free calls during evenings and weekends if you don't typically make weekly calls during the middle of the day.
Cable TV Channels
If you want to catch up on Sky Atlantic, Sky Sports, or BT Sport content, you could save money by signing up for a broadband and TV bundle.
It is important to note that these packages can become costly quickly, particularly if you opt for a plan that includes a television box. To minimise your expenses, go for a plan that provides access to a streaming service, allowing you to watch the shows you desire.
SIM Cards
BT and Virgin Media are some providers that offer the possibility of combining a data SIM card with your broadband package. If you are no longer bound by any contract on your mobile phone or need a data SIM for an iPad, these offers may be worth taking advantage of.
If You Can't Get Fast Broadband At Your Area?
For those residing in a remote area or a place that does not have access to fibre optic broadband, there are certain ways to attain a faster download speed.
Dongles and MiFi gadgets are 4G-compatible and can access the 4G network, similar to a mobile phone, and usually offer speeds of around 15-30 Mbps. The benefit of these devices is that they are easily transportable and have more flexible contract options than those for home broadband.
5G routers like the Three 5G Hub can connect to 5G, allowing fast download speeds of 500 Mbps or even more. However, the downside is that their latency could be better than that of a fixed-line broadband connection.
Satellite broadband is a potential solution if you reside in a rural area. However, it is pricey, and the latency is very high, ranging from 100-200 milliseconds or more, which can cause delays during video conferencing.
Keep Your Email Address When Changing The Best Broadband Providers
If you have a @sky.co.uk email address, you may be curious about what will occur if you switch your internet service provider. When you switch to a new email service provider, your email inbox might get lost.
Virgin Media deletes your email account after 90 days
Sky access your inbox and keep your emails indefinitely
BT charges £5 per month to maintain your inbox.
Starting a new email account, such as Gmail, would be beneficial when changing to a new internet provider.
After creating a new email account, transfer your contacts and emails from the old account and change the email address associated with your essential accounts. Configure your previous account to forward emails to your new mailbox.
It is essential to switch email providers. Your forwarding could be disabled unless you have a service provider that keeps your previous email address perpetually.
Similar Tutorials Types to Check Out
5 Best Broadband And Anytime Calls Package: Broadband and Anytime Calls package offers the ideal combination of value and flexibility, so you don't have to worry about being disconnected. In this article, I will discuss the best broadband and anytime calls package
5 Best Dongle Deals You Don't Wanna Miss Out: Are you looking for the best dongle deals? Dongles are a great way to stay connected to the internet, and with the right deal, you can receive the most out of your purchase. In this article, you'll explore the best dongle deals
Three MiFi Review: Should You Buy It In 2023?: Three MiFi is the perfect device for anyone who needs reliable and fast internet access while on the move. Read this Three MiFi review to see what other features this device offers
Summary: Best Broadband Providers
When selecting a broadband package, the data transfer rate you will receive is an essential aspect to bear in mind.
If the download speeds need to be faster, you will experience lags while streaming videos, mainly if multiple individuals are online simultaneously.
Conversely, you may spend over one hundred pounds annually on internet access if you have less bandwidth.
Now Broadband is one of the most cost-effective providers out there. You can pay as little as £35 a month for a broadband package that, in most cases, provides you with a maximum download speed of 63 Mbps.
I hope this article on the best broadband providers sounds helpful! Feel free to comment down your opinions in the comments section.