4GEE WiFi Mini Review: Is It Worth Buying In 2023
The 4GEE WiFi Mini is a superfast 4G mobile broadband device. It supports the latest 4G technology and fits in your pocket! The 4GEE WiFi Mini is perfect for anyone looking for a reliable & efficient way to stay connected.
With an incredible battery life of up to 10 hours, you can stay connected even when you're away from home. This amazing device also boasts a sleek, modern design, making it the perfect accessory for any lifestyle.
4GEE WiFi Mini Overview
EE provides a 4GEE WiFi Mini mobile WiFi system and a wide range of data SIM plans.
This system enables you to access the web via the EE cell phone broadband connection. It links to the 4G network and creates a limited WiFi zone, so your devices can join it.
EE offers a more costly 5GEE WiFi device with a faster 5G internet connection. Here are the features:
Contract lengths: 24 months
Download speeds: 15-50Mbps, depending on 4G coverage in your area
Data plans: 5GB, 25GB, 125GB, or unlimited data
4GEE WiFi Mini Specifications
Here are the specifications of EE 4GEE WiFi Mini:
Maximum concurrent devices connected: Up to 64
Maximum upload speed: 100Mbps
Maximum download speed: 300Mbps
WiFi frequency bands: 2.4GHz and 5GHz
WiFi range: 30 metres (approximately )
Battery: 2150mAh, up to 6 hours
4GEE WiFi Mini Unboxing And Setup
When you order the 4GEE WiFi Mini, it should be delivered within one to two working days.
The product and its accompanying items come in a yellow container. Inside the package, you will discover the following items:
Removable battery
Micro USB charging cable
Safety guide
4GEE mobile WiFi device
EE SIM card
Keepsake card with WiFi login details
Creating an account and connecting to the internet is a straightforward four-step process:
Before inserting the SIM card and battery, it is necessary to take off the back cover of the mobile WiFi device.
A slight indentation on one corner of the device can be used to pull the cover off. Place your fingernail in this indentation, and you can detach the back cover from the MiFi gadget.
The SIM card must be put in first since it goes above the battery.
Get the punch-out card from EE and remove the SIM card. The one you need is the nano SIM, which is the smallest one.
Extracting the SIM card may take a lot of work. However, don't worry about damaging the bigger SIM since using it is unnecessary.
Grasp the SIM card with the EE logo facing up and the cut-out corner at the bottom left. After that, press it down and move it horizontally to the left, beneath the metallic covering.
After placing the SIM card, you can put the battery inside the gadget.
To determine the proper orientation, you'll need to locate the four golden connectors on the battery's side and then match them to the corresponding golden connectors within the device.
Now, you can insert the battery into the designated area. Secure the back enclosure by affixing it on all four sides.
Connect To The WiFi Hotspot
To activate the 4GEE WiFi Mini, hold the power button at the top of the device for approximately five seconds. The battery already has some charge, so recharging it first is unnecessary.
Keep an eye on the front of the device until the WiFi and network lights have changed to blue. After that, look for any WiFi networks beginning with "4GEE-WIFI".
You'll need the password on your keepsake card to access the WiFi hotspot.
Pros and Cons Of 4GEE WiFi Mini
Positive
The WiFi network can be used by multiple devices simultaneously, whereas many other MiFi devices can only handle up to 10 concurrent connections.
With this product, you can expect a very long battery life, lasting up to 6 hours with a single charge.
It is quite effortless to start employing the device and get linked quickly. For instance, unlike other MiFi devices, it is straightforward to install the SIM card – it may be more complicated with Three's MiFi device, for example.
Regarding 4G coverage, EE's mobile network stands out from the rest of the UK's networks.
The data plans are quite adaptable. Numerous options are available regarding the amount of data you can get monthly and whether you pay in advance or monthly.
Negatives
One of the primary cons of the 4GEE WiFi Mini mobile broadband gadget is its cost, which I have examined in detail.
EE mobile broadband is more costly than the Huawei 4G Plus MiFi device provided by Three, and the agreements for EE are less adaptable in terms of length.
Additionally, this equipment has fewer automatic features than its rivals.
For instance, if you have Three MiFi, you will receive a QR code that you can scan to access its WiFi connection. On the other hand, with EE, you have to manually enter the standard password, which is a hassle.
4GEE WiFi MiFi Deals
EE has various data packages that can be used with their MiFi device.
You can select a data limit from four packages – 5GB, 25GB, 125GB, or an infinite amount.
However, there are two problems with EE MiFi deals:
The only agreement period available is two years; no short-term contracts are available for one month, a year, or eighteen months.
EE MiFi can be quite pricey if you do not purchase a minimum quantity of data that requires a long-term commitment.
Generally speaking, the amount of data offered is satisfactory. However, EE's MiFi packages are quite costly, and only two options are available regarding the contractual period.
Three's offering will be an excellent selection if you're trying to save money on a MiFi device.
Speed Of 4G EE MiFi
The 4GEE WiFi Mini usually provides download speeds ranging from 15-50 Mbps, depending on your location's 4G signal strength.
The EE coverage map allows you to determine if there will be sufficient 4G signal inside and outside when you plan to use the device at the specified location(s).
Fortunately, EE provides the most extensive coverage of any UK mobile network, so the speed of connection with this mobile WiFi device is typically very high.
If you reside in a space that receives a 5G signal and wants to experience faster speeds, you could look into the 5GEE WiFi device as an option.
Can You Use 4GEE MiFi Abroad?
You can bring the 4GEE WiFi Mini when you go overseas, but the fees may differ depending on the place you visit.
If you are in the European Union, you can utilize the same data plan you have in the United Kingdom. But if you are outside the EU, you must purchase a roaming add-on.
The cost of the roaming feature will change based on the nations you are visiting. EE provides a selection of daily roaming passes that provide different prices and data limits depending on the destination.
Regardless of Brexit's outcome, it is essential to enable EE roaming. To do this, connect your device, enter the IP address 192.168.1.1 into your browser, sign in, navigate Settings, and select the "Data Roaming" option.
It is crucial to remember that some nations have different 4G systems and operate with different frequencies, which implies that this appliance might need to provide better outcomes in specific places. Nevertheless, it functions excellently in almost all developed countries.
Is 4G EE MiFi Worth? My Verdict
The EE MiFi device is a superior technology. It provides a powerful WiFi connection, can accommodate various devices simultaneously, and boasts an impressive battery life.
EE boasts outstanding 4G coverage throughout the UK, which ensures users have access to fast speeds no matter where they are.
The primary issue with this MiFi device is its expense. The monthly use cost is quite expensive compared to other MiFi gadgets.
Nevertheless, you should still invest in the 4GEE WiFi Mini. If you wish to ensure you have a strong reception and connect several devices to your MiFi simultaneously, the additional expense will be justified.
I would give the 4GEE WiFi Mini 4 stars out of 5. This product is excellent, but the tariffs associated with it could be more cost-effective.
4GEE WiFi Mini Alternatives
If this MiFi device is too costly or you prefer a long-term mobile broadband option, there are other gadgets you should consider using.
1. EE 5GEE WiFi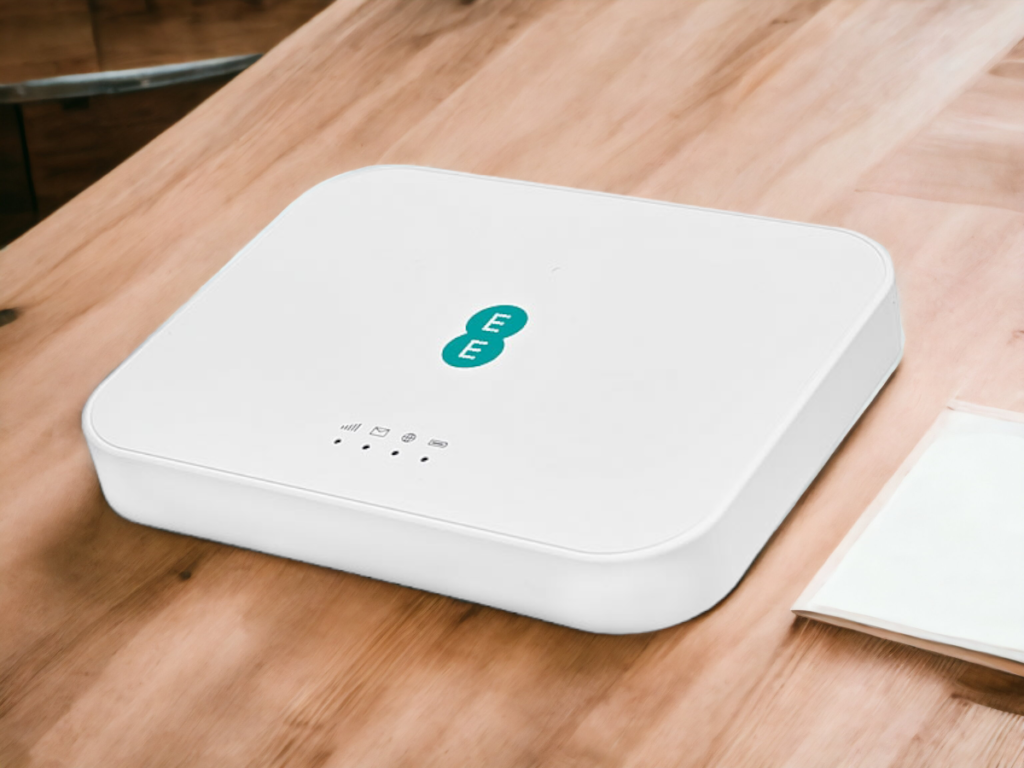 This gadget is very comparable to the 4GEE WiFi Mini, however:
The initial cost is significantly higher than usual.
You can use its lightning-fast download speeds if your location has a solid 5G network connection.
The device is larger and roughly twice as heavy as before, but it is still portable.
If you value speed highly, this product is worth your time. Unfortunately, it isn't a low-cost item.
2. Three Huawei 4G Plus
Three's MiFi device provides similar but more economical mobile internet access.
Compared to Three, the device does not have a wide WiFi range and cannot support multiple simultaneous connections.
By contrast, Three is much more cost-effective regarding their data plans than EE, especially if the requirement is for 100GB or higher data allowance each month.
Although Three's 4G range is less comprehensive than EE, their 4G MiFi device usually offers more bang for your buck.
3. EE 4GEE Home Router 3
If you want internet access from your home rather than a portable Wi-Fi device, consider using a full-fledged 4G router.
Instead of running on a battery, the 4GEE Home Router 3 must be directly plugged into an electrical outlet, similar to a regular WiFi router. But, it links up to the EE 4G network instead of a landline connection.
Even though this device is a bit costly, it is worth the expenditure because it provides at least 100GB of data (you can opt for unlimited data).
Similar Tutorials Types to Check Out
What Is A Good Upload Speed For Gaming?: Upload speed measures how fast your internet connection can send data. If gaming is your main reason for getting fast internet, what is a good upload speed for gaming.
Summary: EE 4GEE WiFi Mini
The 4GEE WiFi Mini is the latest gadget from EE, and it is a mobile-wi-fi hotspot device that provides the most popular mobile broadband service in the UK and a 4G access network.
This device comes with a 4GEE SIM card which you can use to access the EE 4G network. To access the 4GEE-WIFI network, you need to buy a data SIM card from EE. You can also use a standard nano-SIM card.
The 4GEE WiFi Mini is incredibly easy to use, and it will take you just a few minutes to set it up. The device also has a 15-50 Mbps download speed, which is excellent for most purposes.
When you sign up for an EE data plan, you will get free access to the 4GEE-WIFI network for your agreement. This is a remarkable offer that many other networks don't provide.
I hope this article on EE 4GEE Mini sounds helpful! Feel free to comment down your opinions in the comments section.
FAQs (Frequently Asked Questions) On EE 4GEE WiFi Mini
1. What does a 4GEE WiFi Mini do?
If you are connected to 4GEE on the quickest network in the UK, you can expect an average speed of 31 Mb/s in certain areas, which is swifter than ordinary fiber broadband. If you reside in a place with a slow connection, 4GEE WiFi Mini can provide faster speed over the 4G network.
2. How do I use EE 4GEE WiFi Mini?
Follow these steps: 
Insert the SIM into the 4GEE WiFi device
Connect to the browser. For this, connect a laptop or tablet to 4GEE WiFi or turn on 4G on your device
Once it is connected, select Register
Register your details and then select Activate.
3. How many devices can 4GEE WiFi Mini support?
4GEE WiFi Mini can support 10 devices within 10m.