6 Best Monitors With Speakers To Improve Your Workflow
Your monitor is among the essential elements of your workspace setup. A good resolution, color gamut, and connectivity are all crucial aspects. People often consider monitors with speakers as an extra feature and neglect them.
Many people prefer to connect their computers to a Bluetooth speaker, but it is still possible to have a decent audio experience without external speakers. When you need to listen to music while working, watching movies, or playing games, you can find monitors with speakers that will suffice your needs.
Make sure that monitors with speakers produce loud and clear audio. You might also be surprised to find systems with a subwoofer for deeper bass.
Let's look at some of the most impressive monitors with speakers in 2022.
Best Monitors with Speakers Buyer's Guide
When choosing the best monitors with speakers to purchase, I focused on performance, display, ergonomics, refresh rate, and port quantity, which are some of the most crucial factors to keep in mind.
Let's discuss them in detail now.
1. Performance and Display
Regarding monitors with speakers, you need to seek out the most advanced option with a Full HD resolution of 1920 x 1080p, which provides a healthy 16.7 million color palette suitable for watching movies and playing games.
AMD FreeSync and NVidia G Sync support for optimal image refresh rates (eliminating stuttering and tearing) should be present at refresh rates of 75Hz or higher. Remember to seek color scale coverage of at least 90% for Adobe RGB and sRGB, two of the most common color schemes.
2. Ergonomics
Avoid monitors with sharp edges to rest your hands on or that sit too low or too high for your desk. You'll also want one with a good resolution for crisp detail. The best monitors with speakers for gaming requires a faster response time for a smooth experience.
If you work with spreadsheets or word processing, you'll want a monitor with a high refresh rate for reduced eye strain. The best monitors with speakers for work needs a panel with wide-angle viewing for a better view.
An ergonomic stand with tilt, swivel, and pivot options lets you set your monitor at the best height and angle for maximum comfort. Finally, you'll want monitors with speakers that produce rich, clear sound with decent volume.
3. Number of Ports
An HDMI monitor with a USB-C port is ideal for the latest devices. The newest iPhone and iPad models are compatible with HDMI monitors with USB-C connections. These also work for charging the most modern Android tablets and smartphones.
An HDMI monitor with a USB-C port can also charge laptops. HDMI is the most widely used and convenient connection standard for devices. The best monitors with speakers is also equipped with a webcam.
The quality of the built-in camera is not as important as the fact that it is there. If you want to make video calls or use your monitor for other purposes, having a built-in webcam makes things much easier and more convenient.
Comparison Of Exclusive Monitors With Speakers
| | | | | |
| --- | --- | --- | --- | --- |
| Image | Name | Best For | Rating | Price |
| | HP VH240a | Best for gamers. | 4.5/5 | Check Price |
| | Asus Designo MZ27AQ | Overall the best for visual comfort because of flicker-free backlighting. | 4.3/5 | Check Price |
| | Dell S2419H | Overall the most stylish and premium because of Infinity Edge display and sleek glossy back cover | 4.6/5 | Check Price |
| | Sceptre (E248W-FPT) | Overall the most affordable option. | 4.6/5 | Check Price |
| | BenQ GW2780 | Overall has the widest 178° viewing angle. | 4.7/5 | Check Price |
| | ASUS Designo MZ279HL | Overall it has the best sound quality. | 5/5 | Check Price |
Best Monitors With Speakers In 2022 You Can Buy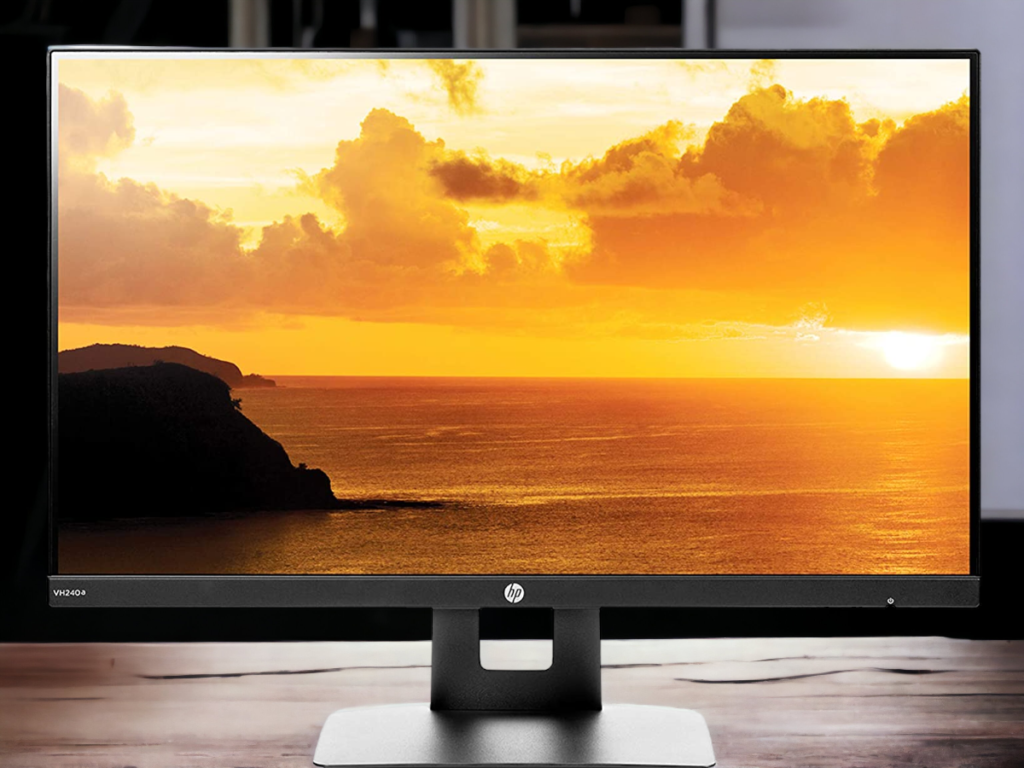 Specification
Screen Size: 23.8 Inches
Display Technology: LED
Refresh Rate: 60 Hz
Display Resolution Maximum: 1920 x 1080 pixels
Today's Best Deal
If you want to eliminate external PC speakers, the HP VH240a is an excellent choice. Professionals or gamers will appreciate its smooth, blended sound due to the monitor's dual 2-watt speakers.
The VH240a monitor has a 23.8-inch screen with a Full HD resolution and a 60 Hz refresh rate. With 16.7 million colors and 2 million pixels, the IPS LED-backlit monitor delivers excellent picture quality with no motion blur. The 5 ms response time ensures that everything appears smooth and sharp.
You will also be impressed with the monitor's exterior design. With its slim bezel-less frame, this monitor can be pivoted, tilted, and raised to the perfect height.
You can mount the Mac mini or other devices using a VESA mount if you prefer not to keep them on your desk. Mac mini and other devices can be connected using VGA and HDMI ports with HDCP support.
When you buy the VH240a, you'll get an energy-efficient HDMI cable and power cord free of charge. HP's web support is available 24/7 and provides a one-year limited warranty.
Pros
Ergonomic design.
HP provides 24/7 online support and a one-year limited warranty.
The full HD screen provides an ultra-wide viewing angle.
Specification
Screen Size: 27 Inches
Display Technology: LCD
Refresh Rate: 60 Hz
Display Resolution Maximum : 2560 x 1440 Pixels
Today's Best Deal
The ASUS Designo MZ27AQ is unique because of its 2.1 audio channel setup. ASUS SonicMaster and Harmon Kardon collaborated to develop their speaker system, which includes 6W stereo speakers and a 5W subwoofer.
The ASUS MB27Q is an elegant, ultrathin IPS display with a 178° viewing angle and a 27-inch WQHD screen. A sundial inspired its design, and its metallic, icicle gold finish is eye-catching. This monitor also features ASUS Eye Care technology, preventing computer user eye fatigue.
The ASUS Designo MZ27AQ provides blue light filtration and flicker-free backlighting to boost your visual comfort. ASUS' SplendidPlus technology automatically enhances the sharpness, brightness, color, and contrast of your pictures and videos.
There are six picture settings to choose from if you don't know how to calibrate your monitor correctly: Darkroom, Reading, Standard, Scenery, sRGB, Night View, Gamer, and Theater.
The monitor has an HDMI and a DisplayPort cable, both free.
Pros
ASUS Eye Care technology.
Modern and stylish design.
Superb picture quality.
Cons
Limited to a 60 Hz refresh rate.
Expensive.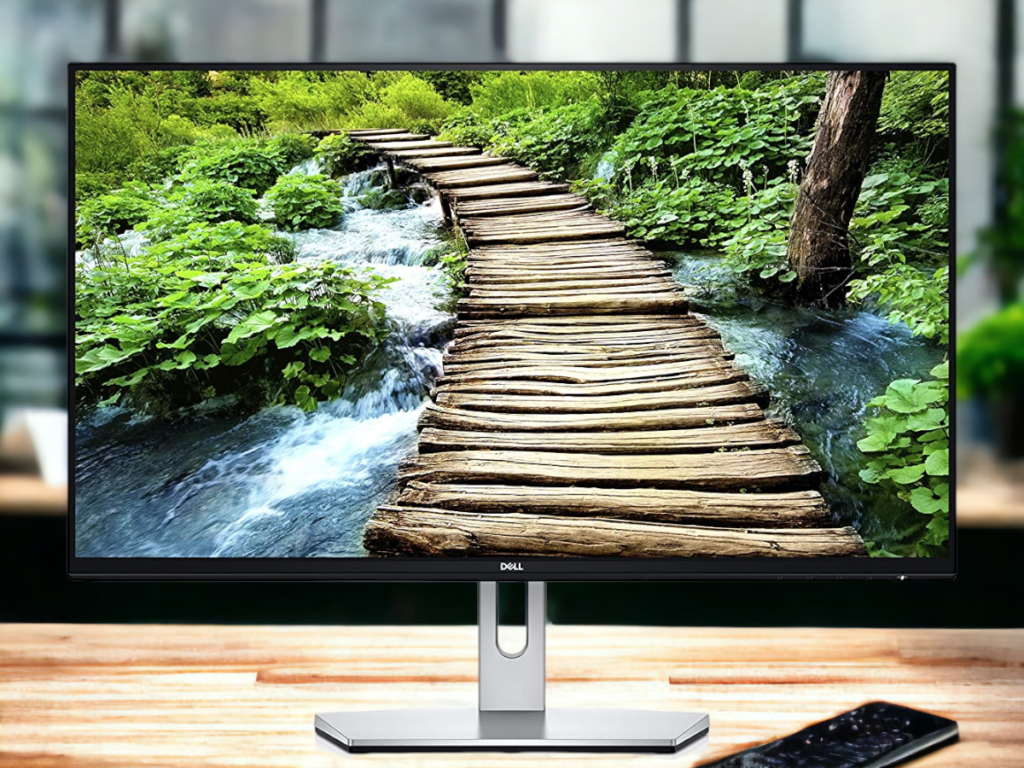 Specification
Screen Size: 24 Inches
Display Technology: LCD
Refresh Rate: 60 hertz
Display Resolution Maximum: 1920 x 1080 pixels
Today's Best Deal
The Dell S2419H is equipped with dual 5-watt built-in speakers, which is among the best of any monitor. MaxxAudio, tuned by Waves, guarantees a cinematic and lively sound.
The monitor looks stylish and premium with its Infinity Edge display and sleek glossy back cover. The monitor won't be outdated thanks to its thin bezels. Using the monitor won't be harmful for long periods because of the ComfortView technology that filters out harmful blue light emissions.
Everything on your monitor will look high-quality, and you will be able to maintain your productivity for the rest of the day. You will experience less eye strain and be able to see more vibrant and accurate colors thanks to the monitor's 99% sRGB color coverage.
The S2419H has one HDMI port and one audio line-out port. This monitor is not the best choice for gamers because it has a 60-Hz refresh rate. Tilt-only designs are also not as versatile as other monitors. This monitor is available in 23-inch and 27-inch models.
Pros
Glossy screen surface.
Low input lag.
Dual 5W speakers.
Cons
Lacks AMD FreeSync.
Limited ports.
Specification
Screen Size: 24 Inches
Display Technology: LED
Refresh Rate: 75 Hz
Display Resolution Maximum: 1920 x 1080 pixels
Today's Best Deal
The Sceptre (E248W-FPT) provides decent sound quality and a large screen for a modest price. It's an excellent choice for work, gaming, or media consumption.
A 75 Hz refresh rate is certainly a perk, as many of its rivals only have a 60 Hz refresh rate. The IPS panel provides outstanding color performance and sharp visibility over a 178° viewing angle.
Because of its 99% sRGB color gamut, all colors appear vibrant and accurate on the monitor. Due to its 300-nit peak brightness, all content seems well-lit and clear. Its edgeless design makes it easy to set up a dual-screen setup.
Four connections are on the back of the monitor: one VGA port, two HDMI ports, and a headphone jack. The Blue Light Shift feature reduces blue light effectively. The monitor also has an anti-flicker function to prevent backlight flickering.
The good thing about the monitor's stand being pretty fragile is that it is VESA wall mount compatible, saving space on your desk.
Pros
Anti-flicker and Blue Light Shift capabilities.
Edgeless design.
Budget-friendly.
Cons
The monitor stand is very fragile.
Specification
Screen Size: 27 Inches
Display Technology: LCD
Refresh Rate: 60 hertz
Display Resolution Maximum: 1920 x 1080
Today's Best Deal
An IPS FHD (1080p) display is included in this monitor with speakers. Those who aren't too picky about the audio experience they receive when using their computers will be satisfied with the 1W speakers that are included.
Users can view crisp content from any angle on the monitor thanks to its wide 178° viewing angle. Its slim bezels and minimalist base will help blend any modern workspace setup. Unfortunately, its base may not be as sturdy as some would like and cannot be adjusted.
The GW2780 has Eye Care technology that eliminates any flicker and reduces blue light for a comfortable viewing experience. Additionally, this monitor has an integrated cable management system to keep your desk tidy.
While BenQ implemented a superb HDR mode on their monitor, I wish they had also provided image adjustments. The GW2780 is also missing a few ports, as it only has one HDMI 1.4 port, one DisplayPort 1.2 port, and a VGA port.
Pros
Integrated cable management system.
Wide 178° viewing angle.
Fantastic eye care technology.
Cons
HDR Mode could use image adjustments.
The base could be sturdier.
Specification
Screen Size: 27 Inches
Display Technology: LCD
Refresh Rate: 75 Hz
Display Resolution Maximum: 1920 x 1080
Today's Best Deal
ASUS Designo MZ279HL is a superb choice for monitors with speakers. This 27-inch monitor comes with stereo 3W speakers that provide deep bass and balanced sound, thanks to ASUS SonicMaster.
The monitor's IPS panel offers a Full HD (1920 x 1080) resolution with a wide 178° viewing angle. Gamers will appreciate the 75Hz refresh rate since it minimizes motion blur and lag. Because of its sleek design and ultra-thin edges, this monitor appears minimalist.
The monitor's thin 7-mm display looks modern and premium with Flicker-Free technology. You'll experience less on-screen flicker with this monitor. After several hours on your computer, you may experience eye fatigue, headaches, and eyestrain, so this monitor minimizes them.
The ASUS Ultra-Low Blue Light technology ensures no harmful blue-light emissions from the monitor. Users can select from four blue-light filter settings.
The Designo MZ279HL can connect to various computers and consoles due to its dual HDMI and D-sub (VGA) ports. The monitor's ergonomic design provides swivel, tilt, and height adjustment options, but there is no portrait orientation, as it cannot pivot.
Pros
Flicker-Free technology.
ASUS Ultra-Low Blue Light technology.
Tilt, swivel, and height adjustment.
Cons
No pivot option.
Lacks VESA mounting support.
FAQs on Best Monitors With Speakers
1. Should I buy monitors with speakers?1. Should I buy monitors with speakers?
If you're planning on using your monitor for office jobs (e.g., voice command prompts, dictation, and other similar jobs), we recommend purchasing an IPS, VA, or TN panel monitor with integrated speakers. 
We recommend purchasing a separate sound system for immersive experiences when gaming or watching movies, such as a subwoofer or soundbar with higher wattage and frequency.
2. How do I connect my monitor to speakers?
Connecting speakers to a monitor is pretty simple; all you have to do is connect your HDMI cable to your monitor's HDMI port and change the sound settings to make it the default sound device, regardless of screen size. Other settings may then be adjusted (e.g., the overall volume and bass/treble levels).
3. Why do Monitors not have speakers?
Integrating speakers into a monitor can be difficult, as doing so often increases the price and weight. Certain manufacturers forgo designing a sound system to achieve a slim profile at an affordable price. Even the finest gaming monitors usually do not have speakers sufficient for the finest gaming experiences.
4. Do all desktop computers have inbuilt speakers?
Desktop computers do not always have built-in speakers. An external speaker is a better choice for games or movies than a standard built-in setup, as it contains a richer bass and treble palette and more robust calibration settings.
5. How do I know if my monitor has speakers?
There are a few ways to tell if your monitor has speakers. Searching for a port marked with a speaker icon on the monitor's back is one option. Another method is checking for ports on the front or sides. If there are no ports or holes, your monitor most likely does not have speakers.
6. Does DisplayPort carry audio?
DisplayPort carries audio, but it is not a common display feature. Many displays with audio support use HDMI instead since HDMI is more common.
Wrapping Up
The most important thing to remember if you try to avoid breaking the bank is that quality comes at a cost and that you should research a product before buying it because if it sounds too good to be true, it usually is.
If you want monitors with speakers that sound like it has everything you require, with all the bells and whistles, in an affordable option, then refer to the buying guide above.
Related Articles:
How To Play Sound Through Monitor in Different Ways
12 Best Vertical Monitor To Gain More Productivity