Best Tri-Band Router On The Market [2023]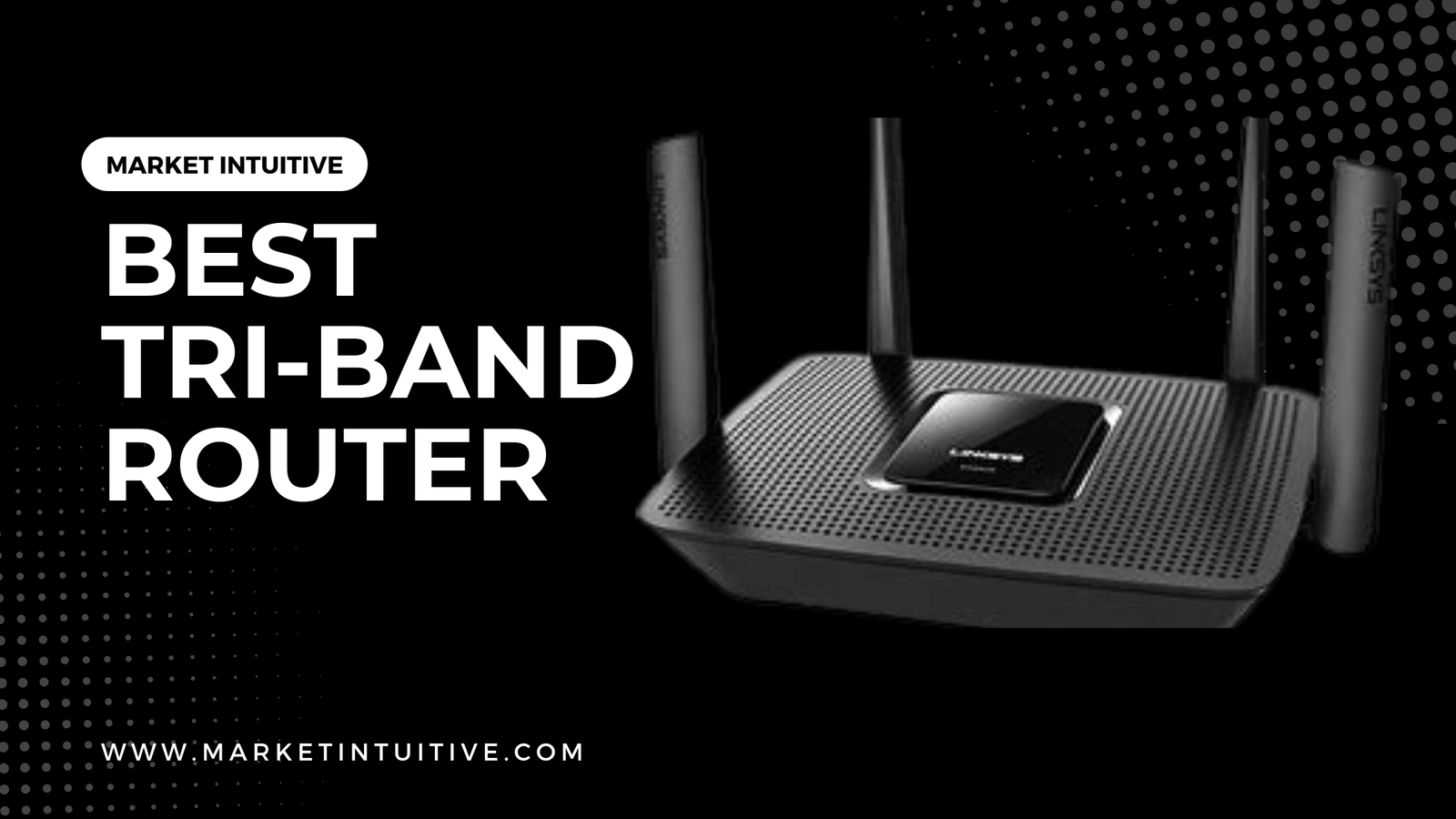 Are you looking for the best Tri-Band router on the market? Then look no further. This article will provide you with the list of the best ones.
With the rapid advancements in internet technology, having a reliable and high-performing Wi-Fi router at home or in the office has become essential. In recent years, tri-band routers have emerged as the go-to choice for many individuals and businesses, offering faster speeds and improved connectivity compared to their dual-band counterparts. These devices support three different types of wireless networking, allowing users to enjoy uninterrupted internet usage, regardless of their online activity.
Tri-band routers help maximize your Wi-Fi coverage and provide an optimized experience for your devices. Equipped with features such as Wi-Fi 6 support, advanced QoS, and robust security and parental controls, these routers cater to the needs of everyone – from gamers and streamers to busy professionals and large households. In this article, we will delve into the world of tri-band routers and explore some of the best options on the market today.
As you read further, you will learn about the key features, benefits, and considerations to keep in mind when selecting the ideal tri-band router for your specific needs. With the right device, you can expect seamless Wi-Fi connectivity across your entire home or office, ensuring you stay connected and productive at all times.
Understanding Tri-Band Routers
Tri-band routers are a step up from the more common dual-band routers, offering an additional 5GHz wireless band. In this section, we will explore the differences between dual-band and tri-band routers, their compatibility with Wi-Fi 6 and Wi-Fi 6E, and the benefits of using a tri-band router.
Tri-Band vs Dual-Band
Dual-band routers support both 2.4GHz and 5GHz frequency bands. Tri-band routers, on the other hand, offer a 600 Mbps 2.4GHz signal and two separate 1300 Mbps 5GHz signals. However, it's worth noting that no device can reach the combined 3200 Mbps speed of a tri-band router; the maximum possible speed for an individual device is still 1300 Mbps.
Essentially, tri-band routers provide more options for devices to connect, reducing network congestion and improving performance. Tri-band technology is especially useful in homes with numerous Wi-Fi-connected devices, as it allows for better distribution of traffic among these devices.
Wi-Fi 6 and Wi-Fi 6E
Wi-Fi 6, also known as 802.11ax, is a newer standard that offers improved performance and efficiency over previous Wi-Fi standards, like Wi-Fi 5 (802.11ac). Wi-Fi 6 routers deliver faster speeds, greater capacity, and better performance in congested environments compared to their predecessors.
Wi-Fi 6E is a further enhancement of Wi-Fi 6, extending its capabilities into the 6 GHz band. This additional spectrum allows for more channels and even better performance. Tri-band routers that support Wi-Fi 6 and Wi-Fi 6E can provide better throughput rates and features, though they may come at a higher price.
Benefits of Tri-Band
Using a tri-band router comes with several advantages:
Reduced network congestion: With three separate bands, tri-band routers can accommodate more devices on the network, resulting in less interference and increased performance.
Better performance: Devices can connect to the optimal frequency, depending on their specific needs and capabilities, leading to faster speeds and improved range.
Flexible bandwidth management: Tri-band routers can intelligently distribute bandwidth among devices and prioritize traffic as needed, such as giving gaming devices or video streaming services more priority for a smoother experience.
Improved compatibility: Tri-band routers are typically backward compatible with older Wi-Fi standards, ensuring older devices can still connect without issue.
Investing in a tri-band router can significantly enhance your Wi-Fi network's performance and efficiently manage multiple devices. As the demand for better connectivity continues to grow, considering a tri-band router with Wi-Fi 6 or Wi-Fi 6E technologies is a wise choice for future-proofing your home network.
Top Tri-Band Router Features
Security Features
One of the main aspects to consider when looking for a top tri-band router is the security features it offers. With the increasing number of connected devices at home, ensuring a secure network is essential. Most modern routers come with the latest WPA3 security encryption, which is more robust and provides better privacy protection. Additionally, features like guest networks and VPN support can help you maintain control over your network and who has access to it.
Parental Controls
As internet usage has become an integral part of daily life, parental controls have become increasingly important for families looking to safeguard the online experiences of their children. Top tri-band routers often come with comprehensive parental control options to manage device usage and access to specific content. These features might include:
Customizable device access times
Restricting access to certain websites
Monitoring device usage
Mesh System Support
To ensure reliable wireless coverage throughout your home, many tri-band routers now offer mesh system support. A mesh Wi-Fi system essentially extends your Wi-Fi signal across multiple devices, providing a seamless connection experience. By combining a tri-band router with a mesh Wi-Fi system, you can enjoy smooth connectivity and wide coverage, even in larger homes or areas with signal interference.
Gaming Performance
For gamers, having a top-performing router can make all the difference in online gaming experiences. A tri-band router can be an excellent choice for gaming enthusiasts, as it offers:
A dedicated 5GHz band for gaming devices, ensuring smooth and low-latency gameplay
Advanced features like Quality of Service (QoS) to prioritize gaming traffic on your network
Faster Wi-Fi speeds supported by Wi-Fi 6 technology
By considering all of these essential features — security, parental controls, mesh system support, and gaming performance — you'll be well on your way to finding the perfect tri-band router for your needs. Just remember to do thorough research and compare products to ensure you're getting the right router for your specific requirements.
Best Tri-Band Routers for Gaming
When it comes to gaming, a high-quality internet connection is crucial in reducing lag and ensuring an immersive experience. Tri-band routers are designed to provide superior wireless performance, with dedicated bands for various tasks. In this section, we'll discuss two of the best tri-band routers for gaming: the Netgear Nighthawk RAXE500 and the Asus ROG Rapture GT-AX11000.
Netgear Nighthawk RAXE500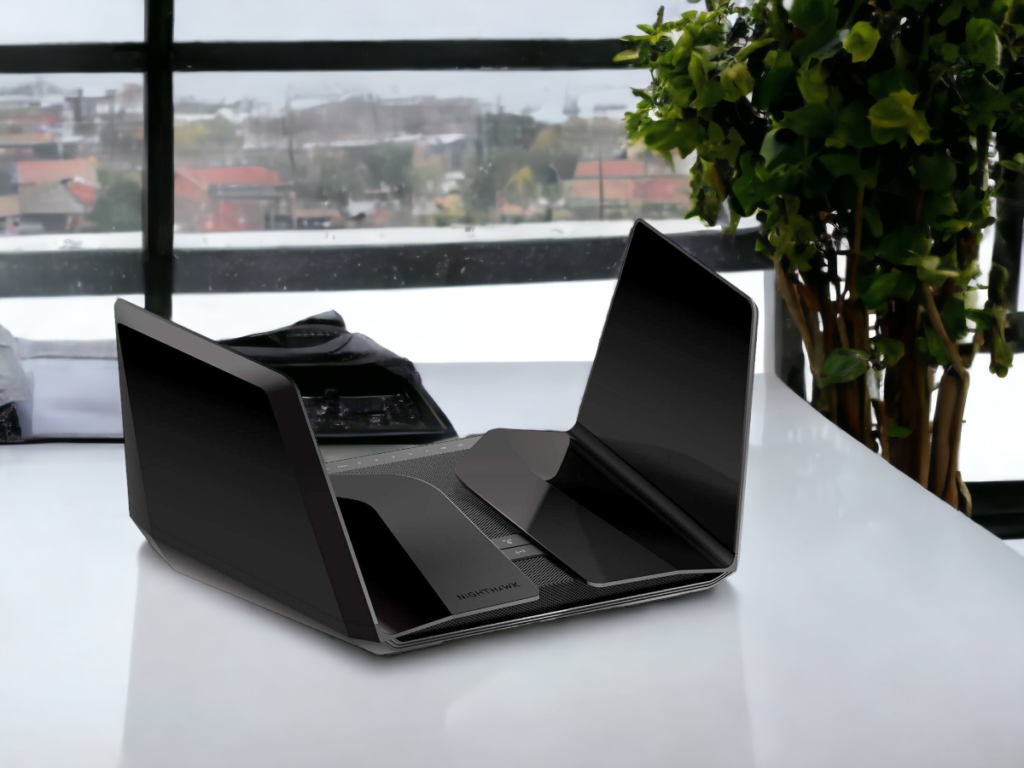 The Netgear Nighthawk RAXE500 is a powerful router that utilizes Wi-Fi 6E technology to deliver faster and more stable connections. Here are some reasons why it is a top pick for avid gamers:
Signal strength: With eight high-performance antennas and beamforming technology, the Nighthawk RAXE500 ensures wide coverage and better signal quality.
MU-MIMO and OFDMA: These features provide efficient data distribution to multiple connected devices, reducing latency and improving overall network performance.
LAN ports: The router comes with five Gigabit Ethernet ports, allowing for faster wired connections to gaming consoles or PCs.
QoS: Quality of Service (QoS) is essential for gaming. It prioritizes gaming traffic, ensuring lag-free gaming sessions.
Security features: The RAXE500 includes advanced security features such as a firewall, intrusion prevention system (IPS), and a guest network for added safety.
Visit the Netgear Nighthawk RAXE500 product page
Asus ROG Rapture GT-AX11000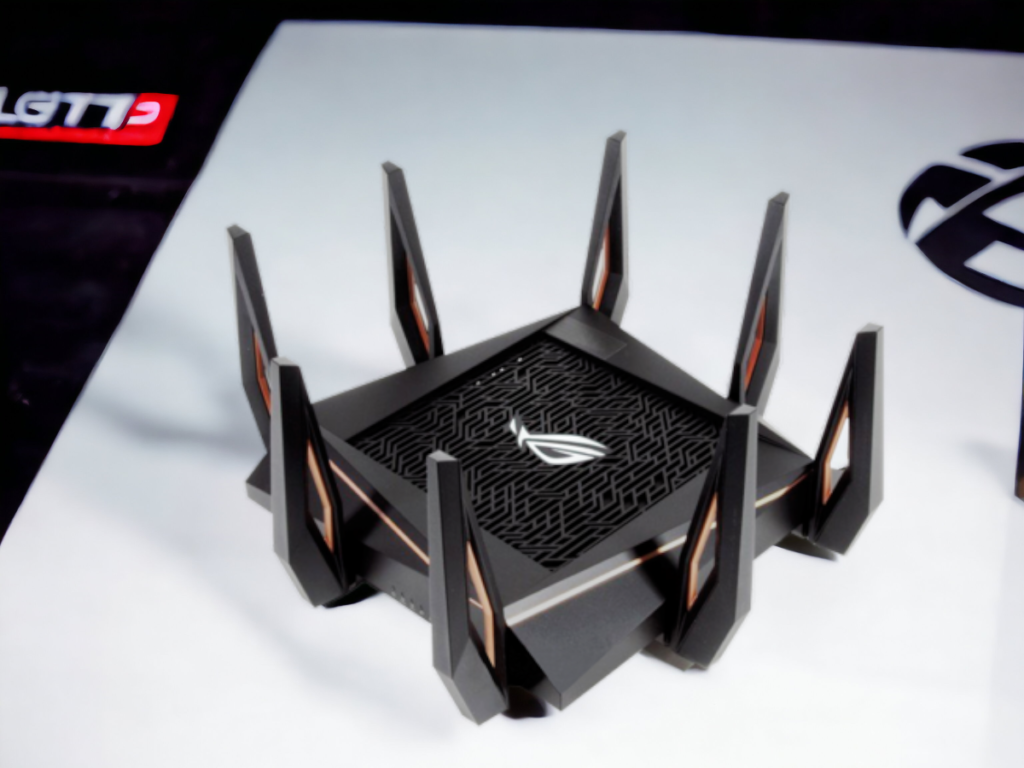 As part of the Republic of Gamers (ROG) series, the Asus ROG Rapture GT-AX11000 aims to cater specifically to gamers' needs. Here are some factors that make it an excellent choice for gaming enthusiasts:
2.4 GHz, 5 GHz, and 6 GHz bands: The GT-AX11000 has three dedicated Wi-Fi bands for different tasks, ensuring minimal interference and smoother gaming.
LAN ports: The router features four Gigabit Ethernet ports and a 2.5 Gbps gaming port for faster, more stable wired connections.
Compatibility: The GT-AX11000 is compatible with a wide range of devices, thanks to its support for Wi-Fi 6 technology and backward compatibility.
Network security: Asus provides robust network security with AiProtection Pro, a commercial-grade security suite that includes antivirus, QoS, and advanced parental controls.
Coverage area: The router is equipped with eight antennas and RangeBoost technology, providing a wide coverage area and stronger signal strength.
Visit the Asus ROG Rapture GT-AX11000 product page
By optimizing signal strength, offering multiple LAN ports and prioritizing gaming traffic, tri-band routers like the Netgear Nighthawk RAXE500 and Asus ROG Rapture GT-AX11000 provide excellent connectivity options for gamers. These routers also come with advanced network security and coverage features, ensuring a safe, high-performance gaming environment.
Best Tri-Band Routers for Large Homes
When it comes to providing reliable Wi-Fi coverage in large homes, tri-band routers are an excellent choice due to their ability to handle multiple devices and deliver consistent performance. Let's take a look at some top contenders and explore their benefits.
Netgear Orbi
The Netgear Orbi is a popular tri-band mesh router system designed to cover large homes with strong wireless coverage. It offers:
Wi-Fi 6 support for increased bandwidth and network efficiency
AX5400 speed rating, delivering fast and consistent connections
Link aggregation, which combines two Ethernet ports for even faster wired connections
An easy-to-use app for setup and management of the Orbi system
The Orbi system is able to provide coverage for areas up to 5,000 sq ft. The additional 5GHz band ensures optimal performance even with multiple devices connected.
Mesh Wi-Fi Systems
Mesh Wi-Fi systems are a great solution for large homes as they offer seamless wireless coverage across multiple areas. Some top mesh Wi-Fi systems using tri-band technology include:
TP-Link Deco X90: A Wi-Fi 6 mesh system with an AX6600 speed rating for impressive performance. Covers up to 6,000 sq ft with two devices and provides seamless roaming.
Linksys Velop: Another tri-band Wi-Fi 6 system that covers up to 6,000 sq ft, depending on the number of nodes. It offers a user-friendly app for setup and management.
These systems use multiple router-like devices that work together to provide extensive wireless coverage. They ensure that devices switch smoothly between nodes as you move around, maintaining a strong and consistent connection.
Overall, tri-band routers are an excellent solution for large homes that require reliable Wi-Fi coverage. Both Netgear Orbi and mesh systems like the TP-Link Deco X90 or Linksys Velop make it easy to set up and manage an extended network, while delivering solid performance and support for the latest Wi-Fi 6 technology.
Best Budget Tri-Band Routers
Tri-band routers are great for households with multiple connected devices, offering a future-proof solution that can handle increased Wi-Fi demands. In this section, we'll cover three budget tri-band routers: TP-Link Archer AXE75, Linksys Hydra Pro 6, and Archer AX90.
TP-Link Archer AXE75
The TP-Link Archer AXE75 is a budget Wi-Fi 6 router that provides a reliable connection for multiple devices. It has a USB 3.0 port for connecting wired devices and comes with future-proof technology that will keep your router up to date as Wi-Fi technology develops. This router features:
A 2.4GHz band for basic internet activities like browsing and emailing
Tri-band capability offering increased bandwidth for multiple devices
USB 3.0 port for wired device connectivity
Game Boost technology for optimized gaming performance
Linksys Hydra Pro 6 (MR5500)
The Linksys Hydra Pro 6 is an excellent mid-range option for those seeking a high-performance tri-band router at an affordable price. With its future-proof technology, it ensures your router remains up to date with the latest Wi-Fi advancements. Key features of this router include:
Wi-Fi 6 support for multiple connected devices
A 2.4GHz band for basic online tasks
USB 3.0 ports for connecting wired devices
Game Boost feature for enhanced gaming performance
Archer AX90
The Archer AX90 is another budget-friendly tri-band Wi-Fi 6 router. This router is well-suited for households with multiple connected devices, providing advanced features such as:
Tri-band capability for increased bandwidth
USB 3.0 ports for connecting wired devices
Game Boost technology for a smoother gaming experience
A 2.4GHz band and two 5GHz bands for multitasking and high-speed connections
These budget tri-band routers offer a great combination of performance and affordability. While each of these routers has unique features that set them apart, they all provide reliable connections and future-proof technology for an enjoyable online experience.
Future-Proofing Your Tri-Band Router
As technology continues to evolve rapidly, it's important for users to future-proof their routers to stay ahead in the game. To future-proof your tri-band router, here are some features to consider while making your decision.
Wi-Fi 6E Compatibility
Wi-Fi 6E adds the 6 GHz band to the already existing 2.4 GHz and 5 GHz bands, allowing for more channels, reduced network congestion, and improved performance. This new technology greatly expands the number of 160MHz channels available, offering faster speeds and reduced latency.
One of the notable routers offering Wi-Fi 6E compatibility is the Asus ROG Rapture GT-AX11000. This router can efficiently handle the increased demands of Wi-Fi 6E technology while maintaining a strong and reliable connection.
Multi-Gig Port
Multi-gig ports are becoming increasingly important as internet speeds continue to rise. These ports support faster wired connections, typically at 2.5 Gbps, 5 Gbps, or even 10 Gbps.
An example of a router that provides a multi-gig port is the Asus RT-AX86U. This router comes equipped with a 2.5 Gigabit Ethernet port for ultra-fast wired connections, ensuring that your devices receive the highest possible performance.
Advanced Security Features
Keeping your network secure is crucial, especially with the growing number of connected devices in modern households. Many routers offer advanced security features like AiProtection Pro by Asus or Netgear Armor. These features include things like automatic security updates, protection against phishing, malware, and other cyber threats, and easy-to-use parental controls.
The TP-Link Archer AXE75 is one router that delivers advanced security features along with its Wi-Fi 6E compatibility. This router offers a safe and secure home network without compromising performance and speed.
By considering the above features and focusing on Wi-Fi 6E compatibility, multi-gig ports, and advanced security features, you can future-proof your tri-band router and get the most out of your home network without having to frequently upgrade your equipment.