10 Best Monitor For Trading in 2023: [Tested & Reviewed]
The best monitor for trading can enhance your trading experience and help you achieve better results. Traders often use 3-to-5 trading monitors to track the markets and have a world of opportunities before them.
Having the right trading monitors is critical. You must pick trading monitors that won't result in unexpected losses and impede your progress as a trader.
To start trading professionally, purchase the most potent trading screen monitor that fits your budget. In this article, I'll share some of the best monitors for trading. Check them out. 
Points to Consider When Purchasing the Best Monitor for Trading
Choosing the right monitor for your trading setup can be difficult, particularly if you're unfamiliar with all available choices. So, I will discuss some essential factors before buying the best monitor for trading:
Screen Surface Finish
There are three primary monitor finishes. Let's look at these three types in detail:
(a) Glossy – Glossy finish screens are shiny and smooth. Vibrant, bounce colors are among its many advantages. They are bright and exhilarating, with rich and sharp colors. Unfortunately, they also tend to reflect light and emit a glare.
If you are an early morning stock trader, you may find it challenging to catch up on the latest news or get in early morning options picks as markets open. Furthermore, you may be surprised to see a layer of visible dust across the screen if you use a glossy finish monitor.
(b) Matte – These screens have a microscopic rougher surface than glossy monitors, resulting in slightly duller, less vibrant colors, which make them less suitable for color grading. Even though matte screens are less prone to glare, they still look pretty clean and dust-free in direct light.
The dust will remain on the matte screen, but it will not be as hard to clear away because of the rough texture.
(c) Semi-gloss – This type of screen sits in between the other two in terms of advantages and disadvantages, making it a decent compromise for customers who want a balanced approach to their buying.
Stock and day traders seeking early morning clarity might believe that matte is the only option. While this notion is somewhat accurate, there are also a few monitors with "anti-glare" technology. The old-fashioned shut-the-blinds trick might also work wonders.
An individual's aesthetic preferences may determine whether they prefer glossy or semi-gloss finishes, but casual traders or night owl crypto enthusiasts may be drawn to them.
Screen Flicker
A monitor that changes pixel colors continuously may cause the screen to flicker. The frequency of this flicker is measured in Hertz (Hz).
Even if screen flicker is not noticeable, it can pull you out of flow, make you miss crucial information, and cause significant eye fatigue and strain (all of which can be avoided with the appropriate monitors).
Individuals who wish to stay up late to catch up on the day's news or keep an eye on cryptocurrency markets can be particularly damaged by this tiring phenomenon.
Low refresh rates cause more screen flickering. Unfortunately, there are other issues besides refresh rates.
Please don't solely look at refresh rates as a way to reduce screen flicker. Take a close look at customer complaints about hardware issues, particularly months after purchase.
However, choosing a monitor with anti-flicker technology is no harm in choosing to look after your eyes' welfare. I will, therefore, not consider monitors with refresh rates below 60Hz.
Resolution
A higher resolution screen provides for better data presentation. A basic level of resolution refers to the number of bits in a given location. With high-resolution monitors, you can see more information in a smaller area.
A high resolution helps you to see the outline of the boxes on candle-and-stick charts, bar graphs, line charts, and the like with more precision if your trading world is filled with them.
Imagine a monitor that is 10 pixels tall. A bar chart displaying percentages would be challenging to read on this monitor because a bar depicting 61% would appear identical to a bar showing 69%. At 20 pixels tall, these values only seem to be one pixel apart.
It's a relief to know that there are no monitors with such terrible resolutions nowadays, but the principle remains the same. Low-resolution displays may lead to significant, preventable losses in the trading world by impairing our ability to interpret charts correctly.
Meanwhile, high-resolution screens display accurate information from several windows at once.
OLED vs LED vs LCD
The trader must understand these three acronyms when buying a monitor. Here is some background on each one:
(a) OLED (Organic Light-Emitting Diode) – OLED monitors are relatively new and feature thin displays rather than backlighting. They offer the fastest response times and the highest refresh rates.
(b) LED (Light-Emitting Diode) – LED Christmas tree lights are probably the type of lighting you are most familiar with. LED lights on monitors have excellent viewing angles and reduce eye fatigue compared to LCD screens.
(c) LCD (Liquid-Crystal Display) – The monitor uses backlighting to make it easier to see the display. This type of monitor is usually more power-hungry, has a narrower viewing angle, and is slightly worse for your eyes than an LED screen.
Traders prefer OLED or LED screens for high-quality, energy-efficient products that reduce eye strain.
How I Selected the Best Monitor for Trading
I compiled my list by combining personal experience, peer input, respected critics, and user impressions and considering the environment of the modern work-from-home trader and what they required.
There is a great deal of diversity in these requirements. For instance, morning light may bother the stock trader because of the early opening times.
A day trader must assess information rapidly and with a screen displaying the greatest amount of readable and informative information.
Comparison of Best Monitor for Trading
| | | | | | |
| --- | --- | --- | --- | --- | --- |
| IMAGE | MODEL | SCREEN SIZE | OTHER FEATURES | COST | RATING |
| | HP VH240a 23.8-inch Full HD 1080p | 23.8 Inches | 23.8 inches screen size, 1920 x 1080 Pixels display resolution(maximum), 60 Hz refresh rate | CHECK PRICE | 4.7 / 5 |
| | BenQ 24 Inch IPS Monitor | 23.8 Inches | 23.8 inches screen size, 1920×1080 Pixels display resolution(maximum), 60 Hz refresh rate | CHECK PRICE | 4.7 / 5 |
| | Dell 27 LED backlit LCD Monitor SE2719H | 27 Inches | 27 inches screen size, FHD 1920 x 1080 display resolution(maximum), 60 Hz refresh rate | CHECK PRICE | 4.7 / 5 |
| | Philips 276E8VJSB 27″ Monitor, 4K UHD IPS | 27 Inches | 27 inches screen size, 3840 x 2160 Pixels display resolution(maximum), 60 Hz refresh rate | CHECK PRICE | 4.5 / 5 |
| | Dell S Series Led-Lit Monitor 32″ (S3219D) | 32 Inches | 32 inches screen size, 2560×1440 Pixels display resolution(maximum), 60 Hz refresh rate | CHECK PRICE | 4.6 / 5 |
| | Dell P2419H | 24 Inches | 24 inches screen size, 1920×1080 Pixels display resolution(maximum), 60 Hz refresh rate | CHECK PRICE | 4.7 / 5 |
| | LG Ultrawide WN80C | 34 Inches | 34 inches screen size, 3440 x 1440 Pixels display resolution(maximum), 60 Hz refresh rate | CHECK PRICE | 4.6 / 5 |
| | SAMSUNG 49-Inch CHG90 144Hz Curved Gaming Monitor | 49 Inches | 49 inches screen size, 3840 X 1080 Pixels display resolution(maximum), 144 Hz refresh rate | CHECK PRICE | 4.5 / 5 |
| | AOC C24G1 | 24 Inches | 24 inches screen size, 1920 x 1080 Pixels display resolution(maximum), 144 Hz refresh rate | CHECK PRICE | 4.7 / 5 |
| | Acer SB220Q | 21.5 Inches | 21.5 inches screen size, 1920 x 1080 Pixels display resolution(maximum), 75 Hz refresh rate | CHECK PRICE | 4.7 / 5 |
Let us explore each of the listed best monitors for trading.
Best Monitor for Trading You Can Buy Right Now.
HP VH240a 23.8-inch Full HD 1080p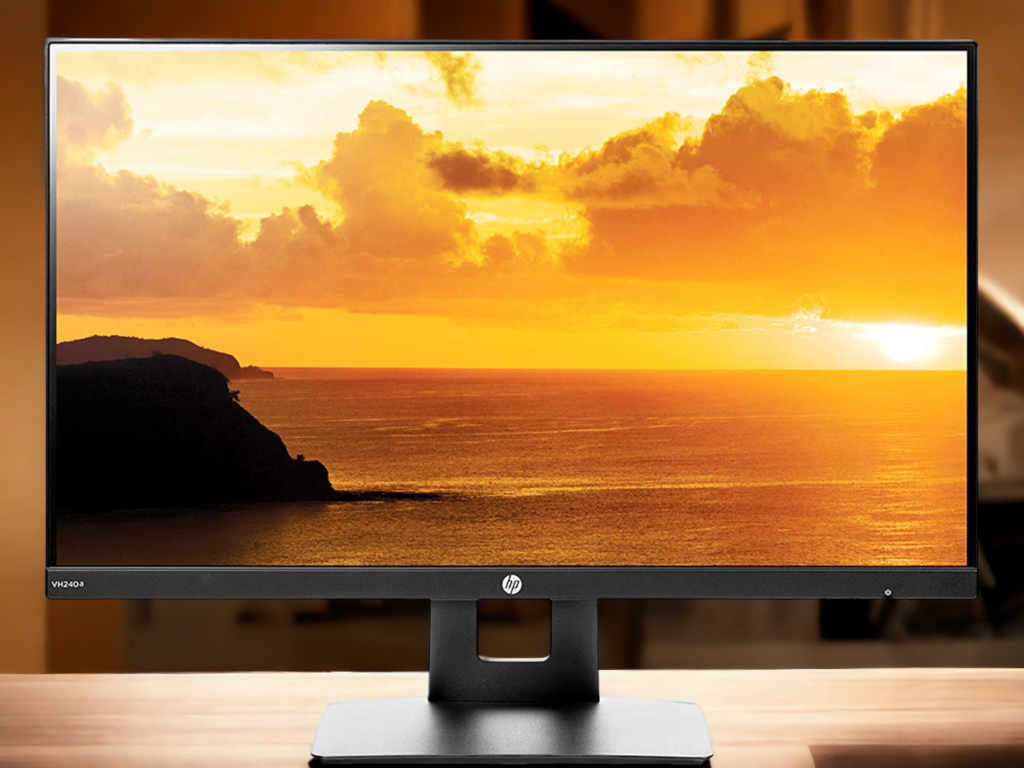 Excellent monitor in form and function
SPECIFICATIONS
23.8 inches screen size
1920 x 1080 Pixels display resolution(maximum)
60 Hz refresh rate
Thin and virtually frameless ultra-widescreen monitor
Integrated audio speakers
Height adjustment feature
Wall mountable
Blue light filter
5ms response time
3-sided narrow bezels
TODAY'S BEST DEALS
CHECK OUT THE DEAL
Pros
Works very well with Mac and CCTV Security System
Super suitable for a standup desk
Very versatile resolution settings
Nice monitor for the price
Great vertical monitor
Excellent picture quality
Cons
Does not have any FreeSync (AMD) or G-Sync (Nvidia) support
This is an HP trading monitor with 178-degree wide-angle viewing. Furthermore, it's magnificent from every viewpoint. You can see sharp-quality photos and graphs thanks to its high resolution of 1920X1080. 
A high-quality computer screen and anti-glare technology are crucial to protect your eyes and increase productivity. You'll rarely find that with cheaper models. 
This LED screen can be used as a great trading monitor setup. Its height can be altered and tilted and provides four-directional viewing.
Having monitors that can be adjusted, have good resolution, and can be wall-mounted are just a few of the things that make for a great trading screen monitor setup.
It is crucial to get a screen that allows you to adjust its height to benefit from all of its features.
HP Company has developed a lighter LED that can be mounted on a wall or bracket. With 100m VESA mounting patterns, it is simple to install.
You will save a lot of space on your desk if you mount it on the wall. Wires can be concealed, reducing the chance of tripping over them.
Buy HP VH240a if you want to link your LED to your TV. It includes HDM1 and VGA ports. You can connect your LED to your PC using the VGA ports. As a result, picture signals will be transmitted from your PC to the LED display.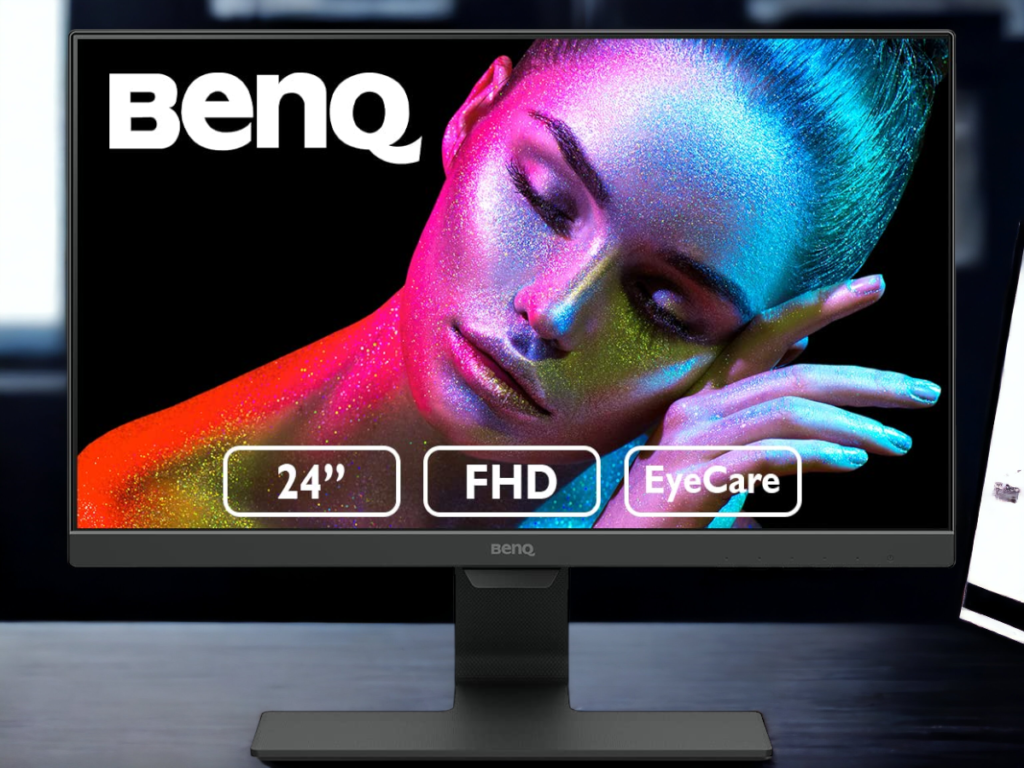 High-quality IPS monitor
SPECIFICATIONS
23.8 inches screen size
1920×1080 Pixels display resolution(maximum)
60 Hz refresh rate
250 nits of brightness
Built-in speakers
Blue light filter
Ultra-slim bezel
Flicker-free
TODAY'S BEST DEALS
Pros
Nice entertainment monitor
Great for photo editing
Good picture quality
Decent brightness
Easy to set up
Easy on the eyes
Affordable
When trading for several hours a day, you should get a monitor such as BenQ that has less blue light and flicker-free technology. You don't want headaches or eye problems every time you use your PC.
Using a monitor that cares for your eyes when exposed to artificial light is crucial.
This monitor is not only attractive but also space-saving. Its ultra-slim design combines with IPS technology to provide a wide viewing angle of 178°. BenQ manufactures it.
With this monitor, you won't have to bother with cables getting in your way. The cables are neatly stored inside the monitor stand and thus shielded from tripping risks.
Keeping your cords organized is especially important if you have children and animals that like to run around the house. You will prevent accidents and losses and make your workplace neat and organized.
Dell 27 LED backlit LCD Monitor SE2719H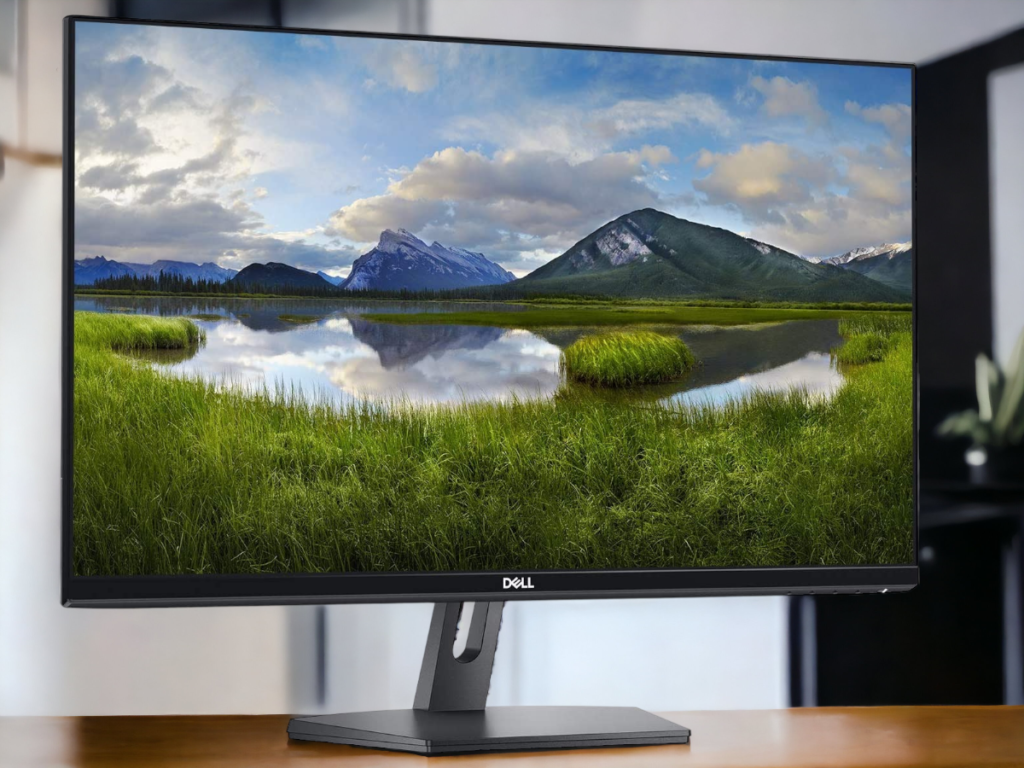 Large monitor at a great price
SPECIFICATIONS
27 inches screen size
FHD 1920 x 1080 display resolution(maximum)
60 Hz refresh rate
8 ms response time
HDMI, VGA input connectors
1000:1 contrast ratio
16:9 aspect ratio
Blue light filter
Tilt adjustment
Flicker-free
TODAY'S BEST DEALS
Pros
Better than a dual-screen solution for (home) office
Business IT Workhorse Monitor
High-quality monitor
Beautiful image
Easy to use features
Good viewing angles
Quick response time
Affordable
Spending time on your computer trading life is sure to be a good time. You should avoid exposing your eyes to strong artificial light, or you might develop PC vision syndrome (CVS). Blue light and flickering are common on monitors.
Purchase a flicker-free, anti-glare screen to protect your eyes. Many screens or monitors nowadays have integrated DC modulation LED backlights to prevent flicker.
Having the right-sized monitor for trading is crucial. The Dell LED-backlit LCD Monitor has a display size of 27 inches. With a larger screen like this, you can fit more charts.
Furthermore, you can watch your favorite movie on Netflix without distraction.
Dell makes high-quality computers, so if you're seeking a monitor with a big resolution, this one might be a good option for you. This monitor has 1920 x 1080 resolution, which is quite suitable for trading purposes.
For individuals who trade on two displays, a monitor with this resolution is sufficient.
Philips 276E8VJSB 27″ Monitor, 4K UHD IPS
Excellent all-around monitor for average home use
SPECIFICATIONS
27 inches screen size
3840 x 2160 Pixels display resolution(maximum)
60 Hz refresh rate
16:9 aspect ratio
Elegant, slim design
Blue light filter
Flicker-free
TCO certified
TODAY'S BEST DEALS
Pros
Picture quality is very nice
Perfect iMac secondary monitor
Perfect true color for video editing
Works great as a desktop monitor
Great colors and brightness
Excellent gaming monitor
Light and easy setup
Sturdy metal base
Cons
No HDR10 and low refresh rate
This monitor provides ultra-clear and excellent image quality. Phillips, a renowned computer manufacturer, provides this screen with the highest resolution of 3840×2160. To view your charts and trade effectively, you'll need clarity.
This is an attractive, slender monitor. The screen is 27 inches, and the view is magnificent. As time passes, I suggest purchasing a larger PC display so you can fit several charts.
No matter how small the numbers or complex the chats are, everything will be displayed on this large screen, and you'll be able to see everything.
Philips 276E8VJSB 27″ Monitor is what I use on my trading screen setup. It is sleek and slender, which makes it simple to hang on my wall. In addition to being flicker-free and having the best reduced blue light, I like that it's elegant and slim.
You can work long hours, which is beneficial for your eyes as it prevents eye strain. Flickers can give you headaches and damage your eyes, so buy a monitor with eye strain protection.
Dell S Series Led-Lit Monitor 32″ (S3219D)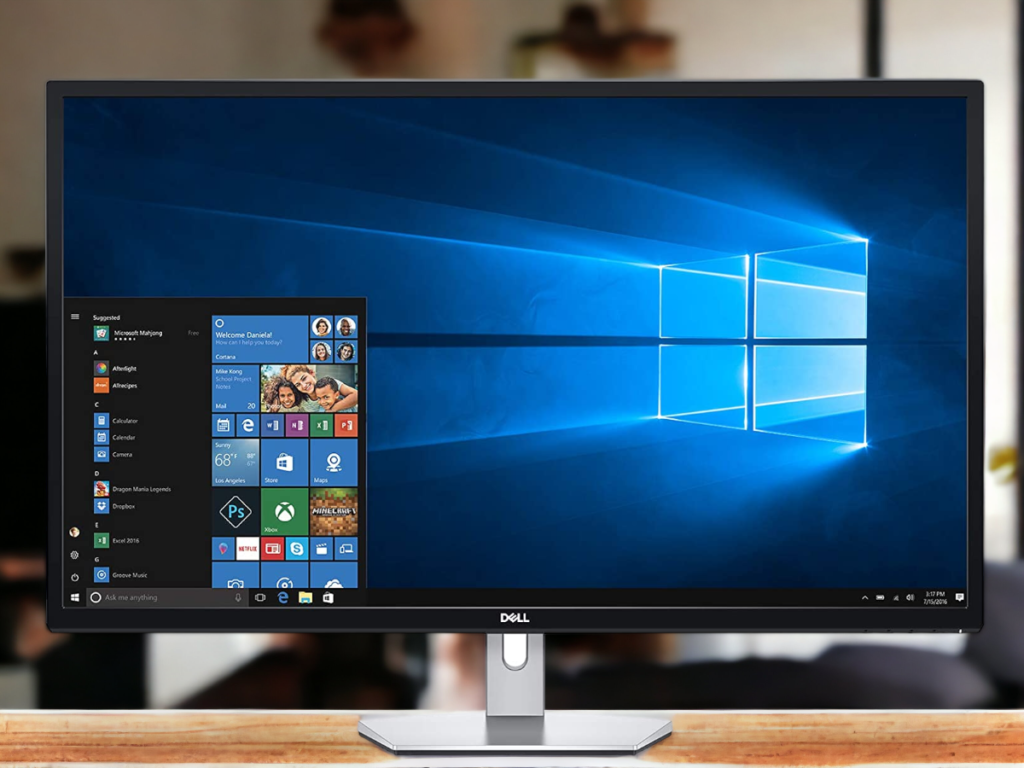 Great home office monitor
SPECIFICATIONS
32 inches screen size
2560×1440 Pixels display resolution(maximum)
60 Hz refresh rate
Crisp, vivid image clarity
Wide viewing angles
Covers 99% sRGB color gamut
Vesa wall-mountable design
Dual 5W speakers
USB, HDMI connectivity
TODAY'S BEST DEALS
Pros
Excellent monitor that makes multi-tasking easy
Good quality at an affordable price
Great value for lots of pixels
Perfect displays for 1440 resolution
Outstanding performance
Perfect for work setup
Dell is renowned for producing high-quality monitors. This monitor is 32 inches wide and has a non-reflective screen. Its high-resolution display, multiple port connections, low power consumption, and large size indicate Dell's excellence in technology.
This monitor's size is ideal for trading businesses because of its reliability. A big monitor lets you see a more reasonable price history, which translates to more resistance and support zones.
A high-resolution monitor is what I would recommend. A monitor with a resolution of 2560×1440 is the best display resolution. This monitor shows clear and high-quality images of your trades and conversations.
A quality monitor arm will improve your trading experience by keeping your monitor in the best position for your eyes.
It comes with 5 audio lines out ports and two security lock slots. In addition to two HDMI ports, this monitor has two charging ports. You can connect your monitor to your TV using the HDM1 ports.
You can connect your devices to this Dell monitor via several USB ports.
Excellent monitor for programming
SPECIFICATIONS
24 inches screen size
1920×1080 Pixels display resolution(maximum)
60 Hz refresh rate
Three-sided ultrathin bezel
Wide viewing angle
Height adjustment
1000:1 contrast ratio
TODAY'S BEST DEALS
Pros
Good images and crisp letters
Good quality monitor
Fantastic video quality
Great for the home office
Super clear, vivid colors
Easy to set up
Affordable
Cons
Display quality could be better
You can rely on the Dell P2419H if you want to leap out of bed and head straight for the trading floor in the morning. The anti-glare screen allows you to open your windows thoroughly and take advantage of the morning sun without experiencing glare or eye damage.
The TL32HNV is an excellent choice for keeping up with business reports, reading, and trading all day long, as it is TUV-certified to be flicker-free and a blue light reducer, which helps maintain sleep.
The color quality seems to have been affected by the blue light adjustment, but the trade-off seems well worth it.
The Dell VH240a rotates into portrait mode, besides having access to the Dell Display Manager. With this program, you can divide your monitor into as many parts as you like, simulating two monitors in one. Traders with limited desk space or those wishing to compare two graphs side by side will benefit most from this feature.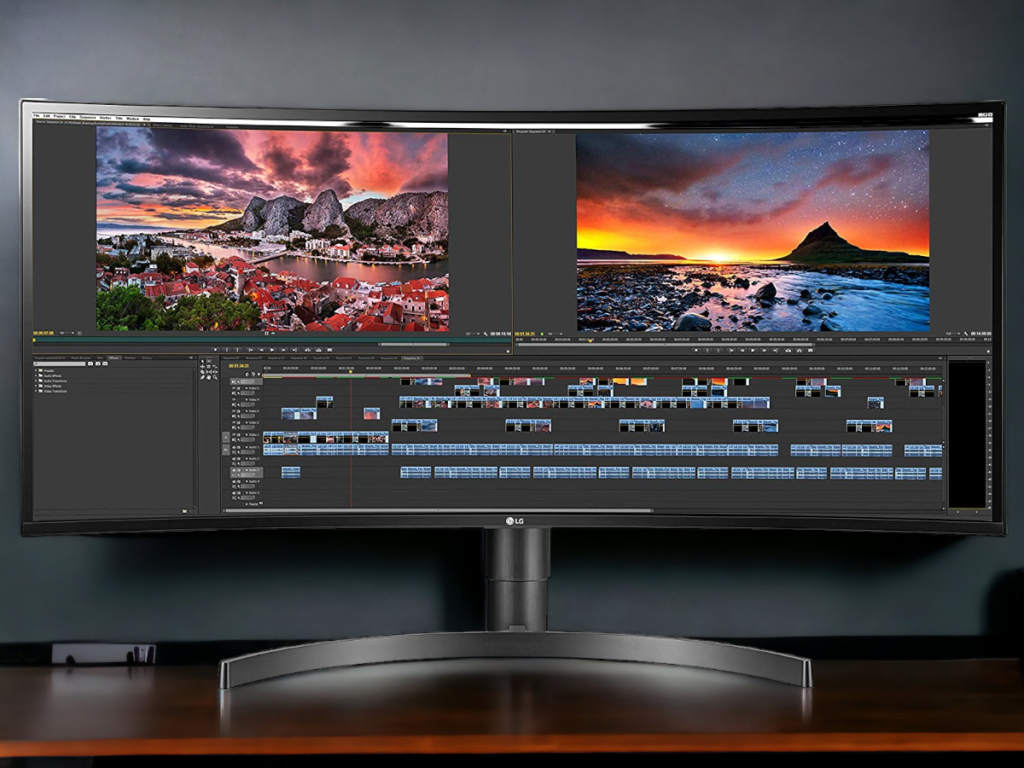 Very nice ultra widescreen for Mac and PC
SPECIFICATIONS
34 inches screen size
3440 x 1440 Pixels display resolution(maximum)
60 Hz refresh rate
USB type-C connectivity
HDR 10 compatible
Height & tilt adjustable stand
Supports sRGB 99% color gamut
Curved display
On-screen control
TODAY'S BEST DEALS
Pros
Excellent dual monitor replacement for developer
Perfect for multitasking needs
Great monitor for productivity
Good content creator monitor
Great monitor for office use
The LG 34WN80C-B is a fantastic ultrawide monitor for productivity at home. It provides excellent connectivity with a USB-C connection, making it one of the best monitors for MacBook Pro trading. The included software creates a robust office environment where you want to work.
With LG's On-Screen control options, you can arrange your windows and apps into a grid, giving your screen the look of a new residential lot. Instantly place everything into position and go. This setup provides a pseudo-multi-monitor appearance without all the added desk space, installation, and neck movement required.
The monitor has a significant overall height adjustment of 6.3 inches using a spring-loaded mechanism. The 100 x 100 millimeter VESA mounting system is always compatible with most monitor arms if the standard mechanism doesn't suit you. The monitor won't move or slowly sink over time if you lift or push down and release it.
Although the LG 34WN80C-B is one of the finest ultrawide monitors, it is costly. I can't say that an excellent gaming experience will compensate for the cost since professionals mainly use this monitor.
Despite its price, the LG 34WN80C-B provides robust performance in the office, keeps your eyes on the charts, and provides the support you need.
SAMSUNG 49-Inch CHG90 144Hz Curved Gaming Monitor
Big bright monitor with a large stand
SPECIFICATIONS
49 inches screen size
3840 X 1080 Pixels display resolution(maximum)
144 Hz refresh rate
32: 9 aspect ratio
High dynamic range
TODAY'S BEST DEALS
Pros
Great for heavy Excel users
Easy to set up, plug and play
Great monitor for coding and studying
Immersive gaming experience!
Works excellent on Iracing
Great picture/performance
Beautiful display
Cons
Only curves in the center
The CHG90 is a 49-inch curved-screen monitor with an advanced 32: 9 aspect ratio and HDR technology. It is currently the most advanced trading monitor.
With one curved screen space, the Samsung 49-inch curved monitor provides a broader view than two 27-inch monitors.
It is, therefore, the perfect choice if you want to purchase one monitor rather than multiple screens to avoid technical issues. It is an expensive monitor, but it delivers a great solution.
Samsung CHG90 is an excellent VA-type HDR monitor that features wide Double Full-HD resolution.
It has a wide color gamut that displays vibrant HDR content.
The CHG90 is very responsive for gaming because of its high refresh rate, low input lag and FreeSync 2 support.
Flawless great value monitor
SPECIFICATIONS
24 inches screen size
1920 x 1080 Pixels display resolution(maximum)
144 Hz refresh rate
Height adjustable stand
3-Sided frameless design
1500R curved monitor
1ms response rate
Flicker-free
Built-in speakers
Blue Light Filter
Wall mountable
TODAY'S BEST DEALS
Pros
Great color, picture quality, and features
Solid monitors with no notable issues
Amazing quality and performance
Incredible build quality
Superior customer service
Easy to build and easy to use
Affordable
The AOC C24G1 is a powerful monitor for late-night stints on crypto forums, NFT discussions, and r/SatoshiStreetBets banter. It can also function as an excellent gaming display while you wait for Elon Musk's tweet that sends DOGE to the moon again.
The Low Blue mode software makes adjusting your monitor for nighttime use simple. AMD FreeSync technology, which matches the refresh rate to the FPS of running programs, makes for a gentle viewing experience.
Even if you work or play late into the night, you will still appreciate the AOC C24G1. The monitor's sharp contrasts and soft colors make it a terrific gaming monitor and an excellent reading monitor.
Gamers may notice a little bit of "ghosting," or image-trailing artifacts, in this monitor. This is an excellent choice for the price, even if there are a few downsides.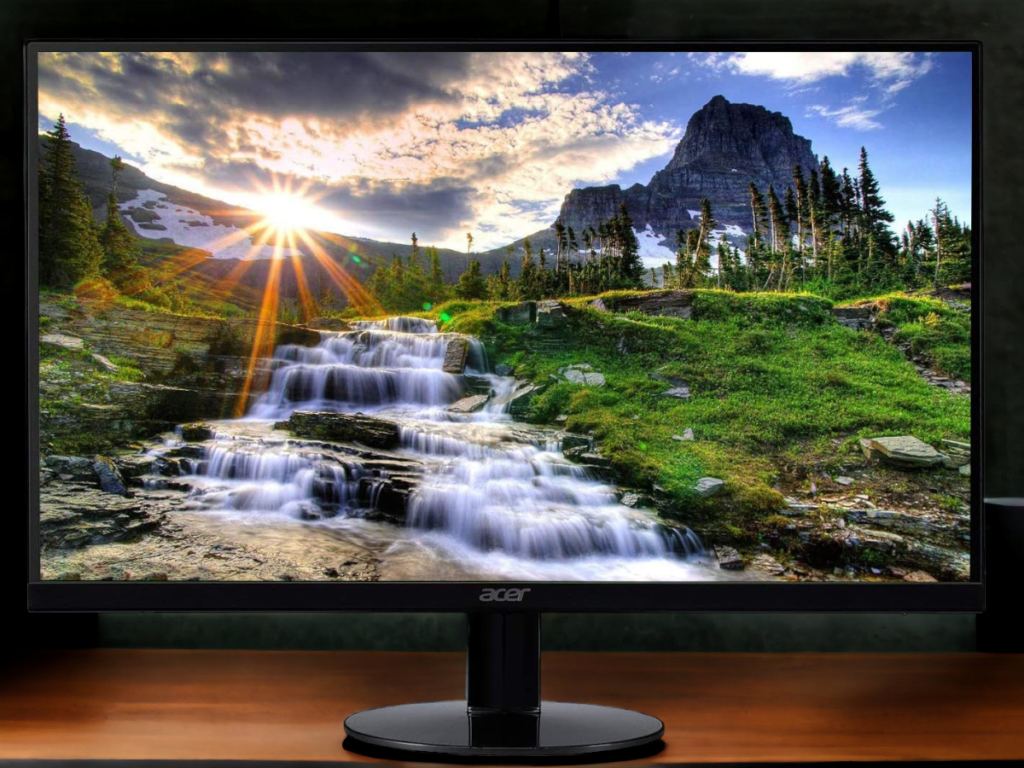 One of the best monitors for trading
SPECIFICATIONS
21.5 inches screen size
1920 x 1080 Pixels display resolution(maximum)
75 Hz refresh rate
AMD Radeon free sync technology
250 nit brightness
4ms response time
16:9 aspect ratio
Frameless feature
TODAY'S BEST DEALS
Pros
A true door-to-desk morning
Decent for gaming at 1080p
Fantastic for the price
Great budget monitor
Good quality product
Specific traders always look for good value in everything, always trying to buy low while getting decent deals. Acer SB220Q is the right monitor for them. It is, in fact, one of the best monitors for trading that offers such good value for the money. 
Our advice is to pass on Acer's webcam upgrade offer. The webcam's cost is nearly half as much as the monitor's, making it an unaffordable choice.
While this monitor doesn't come with VESA mounting hardware or other conveniences, it would be an economical alternative for virtually any monitor listing. People like it, and we must respect what it can do at such a low price.
Acer SB220Q is equipped with an IPS panel that offers accurate and intense colors. These colors provide life to your games and movies.
This monitor comes with wide viewing angles(178 degrees) both vertically and horizontally.
Acer SB220Q is a great display for a multi-monitor gaming setup because of its thin bezels and low price.
Buyer's Guide on Best Monitor for Trading
What to Look for in Stock Day Trading Monitors?
There is no doubt you need the best monitor for trading. It will enable you to get the most out of your PC, thus allowing you to make smooth trades. Here are the points you need to look at in Stock day trading monitors:
(a) Screen size
The screen size is one of the essential considerations when buying a screen for trading. A larger screen allows for more versatility to fit multiple chats on it.
(b) Resolution
Higher resolution monitors provide sharper pictures. Current common resolutions include:
2560×1440, 1920X1080, 3840×2160
(c) Eye Protection
A flicker-free monitor will protect your eyes as you use your computer for long periods. While purchasing a monitor, look for one that has an anti-glare coating and an anti-blue light technology.
(d) Connectivity Options: Check if your screen has the required ports, such as HDMI and VGA. You can connect your PC to your TV via an HDMI cable or connect your PC to a monitor using a VGA cable. Remember to see how to connect your Mac Mini to your monitor.
How Many Monitors Do Profitable Traders Use?
Having one or two monitors is the most profitable for stock traders. The more charts and markets you watch, the more likely you spot opportunities. For this reason, you can only see one monitor at a time with your two eyes.
Large-screen monitors have enough space to accommodate more charts, so you do not need many of them.
What is the Best Size for Day Trading Screens?
Many quality 24, 27, and 30-inch monitors are suitable for trading.
I like big screens because you can multitask with them, but large screens take up a lot of space on your desk unless they are slim.
Contrast, Response Time, and Viewing Angle
There are many points to remember when buying the best monitor for trading, including enhanced contrast, response time, and viewing angle. These attributes are not highly significant, so don't spend too much time thinking about them.
A higher contrast ratio indicates a larger difference between an image's lightest and darkest areas, while a lower contrast ratio indicates a smaller difference.
A monitor's response time is required to switch from one color to another. A fast response time reduces image blur.
A monitor's viewing angle is a challenging technical specification to comprehend. They are measured vertically & horizontally.
A large viewing angle is better for you than a small one.
The Real-World Impact of Higher Resolution Screens
Having a higher resolution monitor allows you to see things more clearly. You should avoid buying a screen with a low resolution, as it may annoy you. A screen with a low resolution will frustrate you.
The typical monitor resolutions are listed below. They provide a count of pixels vertically and horizontally.
3840 x 2160(4K), 2560 x 1440, 1920 x 1080(1080p), 1280 x 720(720p).
5K and 8K displays are not very common.
Features You Shouldn't Worry Too Much About
Don't worry about a few key characteristics when purchasing a computer screen. Focus on resolution, monitor size, and flicker-free technology. A contrast ratio, response time, and viewing angle are all irrelevant.
The monitors I've reviewed here are excellent and affordable if you need large, high-quality monitors. They will fulfill your trading requirements. Furthermore, they include eye protection technology like less blue light and no flickerings.
FAQs(Frequently Asked Questions) for Best Monitor for Trading
1. Why do traders use 3 monitors?
Keeping track of order flow, technical charts of different timeframes, market sentiment indexes, and technical charts of other markets is one of the reasons traders use multiple monitors.
2. Do you need a high refresh rate monitor for trading?
Having a screen with at least 1080p resolution and a high refresh rate is crucial because it won't tire your eyes as much, and you'll be able to work longer without the need to rest your eyes.
3. Is 1080p good for trading?
Excellent resolution is what this monitor provides, with a resolution of 1920 x 1080. For those who trade using two monitors, one such monitor with good resolution is sufficient.
4. Do you need 4K monitor for trading?
Yes. Traders should choose a monitor capable of displaying all information on their screens without having to scroll around, as 4K monitors are becoming more popular in the business world.
Having a 4k monitor makes reading text and view charts easier since there is less scrolling required. You'll see text and charts on your computer monitor more clearly with increased resolution.
5. Is a curved monitor good for trading?
A curved monitor is excellent for trading, providing a more enjoyable viewing experience. The curved screen allows seeing more of your workspace without turning your head or tilting. Eye fatigue and strain are reduced by the broader field of vision, enabling you to work longer before feeling tired.
6. How do I choose a trading monitor?
You can choose a trading monitor by following these steps:
Amazing resolution
Ergonomic design
Compatibility with VESA
Blue light filter.
7. How much does a monitor for trading cost?
The range of monitor prices in 2022 will be between $100 and $500, with most averaging $200. It is worth noting that recent inflation has caused monitor prices to rise in comparison to just a few years ago, even for identical models. Traders should be wary of purchasing the most expensive equipment due to the subsequent bear markets and bear markets.
8. How many monitors are needed for day trading?
As for most office work, having at least two monitors is recommended for day trading. The LG Ultrawide WN80C is a good option for day trading. Day traders may also want the best portable monitors for the adrenaline rush of swing trading on the go.
9. How many Hz do I need for day trading?
Having a high refresh rate than 60Hz is always beneficial for day traders, but for screen flicker issues, 60Hz should be sufficient. Screen flicker issues aren't only about refresh rate, after all. When it comes to specs for a day trader or pro gamer, their requirements aren't going to be close.
Related Topics:
Summary
Choosing the right trading monitor can be difficult, especially with many options. Traders should always focus on the fundamentals and look for eye health options to ensure they feel they are worth their money.
The best monitor for trading isn't enough to make you a great trader.
You still need to work hard to get a good education in trading.
Watching multiple charts at once can provide you with an advantage. You can gain access to a larger portion of the market by doing so.
Seeing more plays develop and having more screen time is excellent if you know how to use it!
I hope this article helped you! All the best for your trading journey.