Three MiFi Review: Is It Worth Your Money?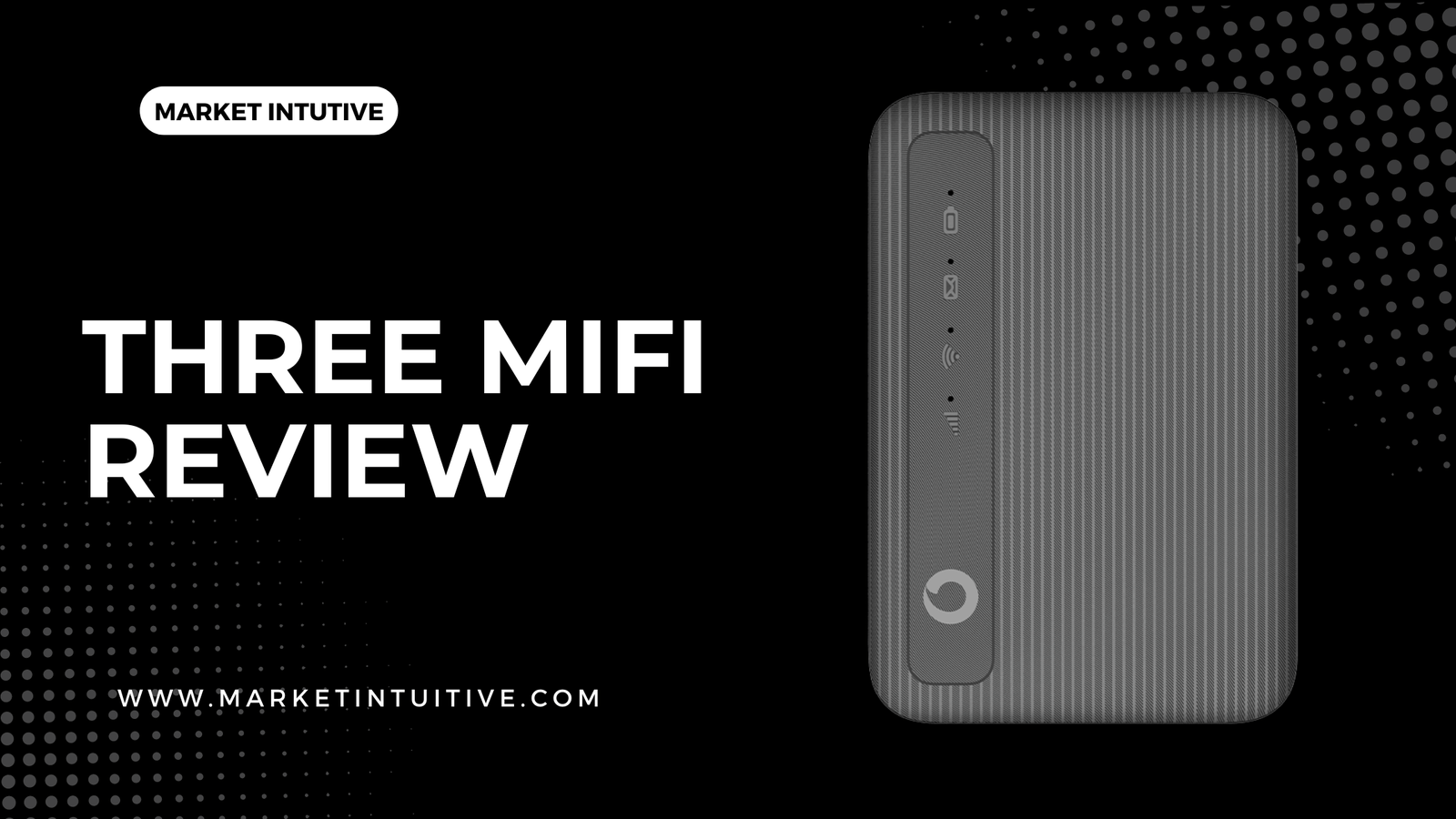 Are you looking for the perfect device to stay connected on the go? Look no further than the Three MiFi. This pocket-sized device is a great way to stay connected with friends, family, & colleagues. The Three MiFi review covers whether you need to stay connected for work, streaming music, or gaming.
With its high speeds, portability, and affordability, the Three MiFi is the perfect device for anyone who needs reliable and fast internet access while on the move. Read this Three MiFi review to see what other features this device offers and why it is one of the best MiFis on the market.
Three MiFi Review: How Reliable Is It?
Three MiFi Review Total Score
Three MiFi Review: Introduction
A MiFi is a compact device that serves as a wireless router, enabling multiple devices to connect to the internet via cellular data. MiFi is short for Mobile WiFi and represents this portable internet-sharing device.
The Three MiFi device, provided by Three, a telecommunications company, is a portable wireless router that empowers users to establish their personal Wi-Fi hotspots wherever they travel, granting them internet connectivity while on the move.
I will provide an unbiased and comprehensive Three MiFi review in this article.
Three MiFi Review: Device Overview (4.3 / 5)
Three MiFi is black and appears as a minimalist box, displaying only the Huawei logo and a set of status indicators on its front face.
Three MiFi is small in size. It is portable & can be easily carried wherever you wish.
Now, let's see the setup process of Three MiFi:
Install SIM card – To access the internal components of the Three MiFi device, remove the back casing. Insert a tool into one of the corners to unscrew the cover. Locate the SIM card slot and carefully insert the SIM card, removing it from its protective covering if necessary. Lift the small metal flap on the SIM card slot and insert the SIM card into the designated area, ensuring that the notched corner aligns with the lower right corner. Moreover, an indicator on the device guides the correct orientation for inserting the SIM card.
Install battery – Align the SIM card with the four gold pieces on the upper right side and carefully position it. Proceed to reattach the lid onto the 4G Plus MiFi router, ensuring a snug fit. Press the edges firmly until you hear a satisfying click, indicating securely closed. If the lid doesn't fit easily, attempt rotating it by 180 degrees as an alternative solution.
Link the device to the WiFi network – After inserting the SIM card and battery into the MiFi device, activate it. Press and hold the prominent power button at the top until the three LED indicators illuminate in green. Searching for available Wi-Fi connections on your computer or mobile device will discover the Three MiFi devices listed. To connect, enter the security code on either the gadget's inner side or the accompanying Wi-Fi keepsake card.
Three MiFi Review: Speed And Performance (4.8 /5)
Three MiFi has an excellent 4G internet speed. It has 300 Mbps download speed (minimum) and 100 Mbps upload speed (minimum).
Three MiFi has 2.4GHz and 5GHz WiFi frequency bands that provide high speeds. Enabling both 5GHz and 2.4GHz simultaneously allows for connecting up to 8 devices on each frequency band, offering a combined capacity of 16 devices.
If you want to enhance its performance, you can utilise the Three MiFi device as a USB modem by connecting it to a computer via the provided micro USB cable.
Three MiFi Review: Data Plans And Pricing (4.6 /5)
Three MiFi devices come with a diverse selection of plans, available for durations of 1 month, 12 months, or 24 months. These plans provide varying data allowances, including options for unlimited data.
One of the most budget-friendly plans with no upfront cost is a 24-month option that offers 10 GB of data. It comes at an affordable rate of only £12 per month.
There's also a 24-month plan that offers unlimited data at a monthly cost of £23, accompanied by a £9 upfront fee. These prices reflect a competitive offering considering the specifications provided.
Three MiFi Review: Battery Life
The Three MiFi device has a 1,500mAh battery that can be charged using the micro USB cable. It offers a maximum operating time of up to 6 hours & an impressive standby duration of 350 hours.
MiFi devices don't allow frequent charging, especially during periods of non-use. If you are actively utilising it, the battery life is sufficient to last through extended journeys without any inconvenience.
Three MiFi Review: Customer Reviews
Here is the customer reviews on Three MiFi:
Indre Tricyte said, "This is the best decision I made in 2023! I had just moved to my flat and desperately needed wifi the next day. I am delighted with the Three MiFi Broadband!"
Eral Shezairov Mutalibov said, " Thanks to Three for perfect unlimited internet with amazing download/upload speed."
Three MiFi Review: Pros And Cons
Here are the pros & cons of the Three MiFi review:
Positive
Link 10 gadgets simultaneously
Impressive WiFi signal coverage area
Takes less time to charge
Long battery life
Easy to install
Similar Tutorials Types to Check Out
Three 4G Hub Review: Should You Buy It?: The 4G Hub is a reliable and affordable device that has revolutionised how people stay connected. This small, portable hub is perfect for those who require it to stay connected on the go. In this article, you'll explore the Three 4G Hub review
4G Vs WiFi Speed: Why Your WiFi Is Slower Than Your Mobile Data?: Have you been in a situation where the video suddenly starts buffering while streaming a movie? You might wonder if your 4G or WiFi connection is to blame. 4G and WiFi are excellent options for staying connected, but which is faster, 4G vs WiFi speed? In this article, I will compare 4G and WiFi speed
FAQs (Frequently Asked Questions) On Three MiFi Review
1. How fast is Three 4G MiFi?
Three offers 4G broadband for £20 a month with 3 months free in the initial days. It has a typical download rate of 50-100 Mbps. In certain regions, downloads could be as fast as 600 Mbps.
2. Is MiFi any good?
MiFi can't be a permanent solution because it has a much lower speed than WiFi. It is suitable for jobs like working and streaming but not for activities requiring quick and large data transfer, such as gaming.
3. Is 3 Homefi any good?
HomeFi offers substantial coverage for entire homes or businesses regarding high-speed data access, yet an extra modem is essential for connecting to the web. If you possess a modem/router combination device, you can dedicate it to the modem while utilising a mesh network to take charge of the WiFi.
Summary: Three MiFi Review
The Three MiFi is a compact device that conveniently provides internet connectivity for up to 10 devices simultaneously. It serves as an excellent solution for individuals requiring reliable internet access daily, whether in residential or office settings.
Compared to alternative mobile hotspots, this product offers notable benefits in speed and affordability. It is important to note that its functionality is limited to areas with 4G coverage, necessitating alternative means, such as a landline, in rural regions.
The Three MiFi presents a practical solution for individuals seeking high-speed internet access while aiming to conserve their monthly data allocation. It is an exceptional choice, particularly for residents of 4G-covered urban areas, who can benefit significantly from its features.
I hope this article on the Three MiFi review sounds helpful! Feel free to comment down your opinions! Thank you!