Three MiFi Review: Should You Buy It In 2023?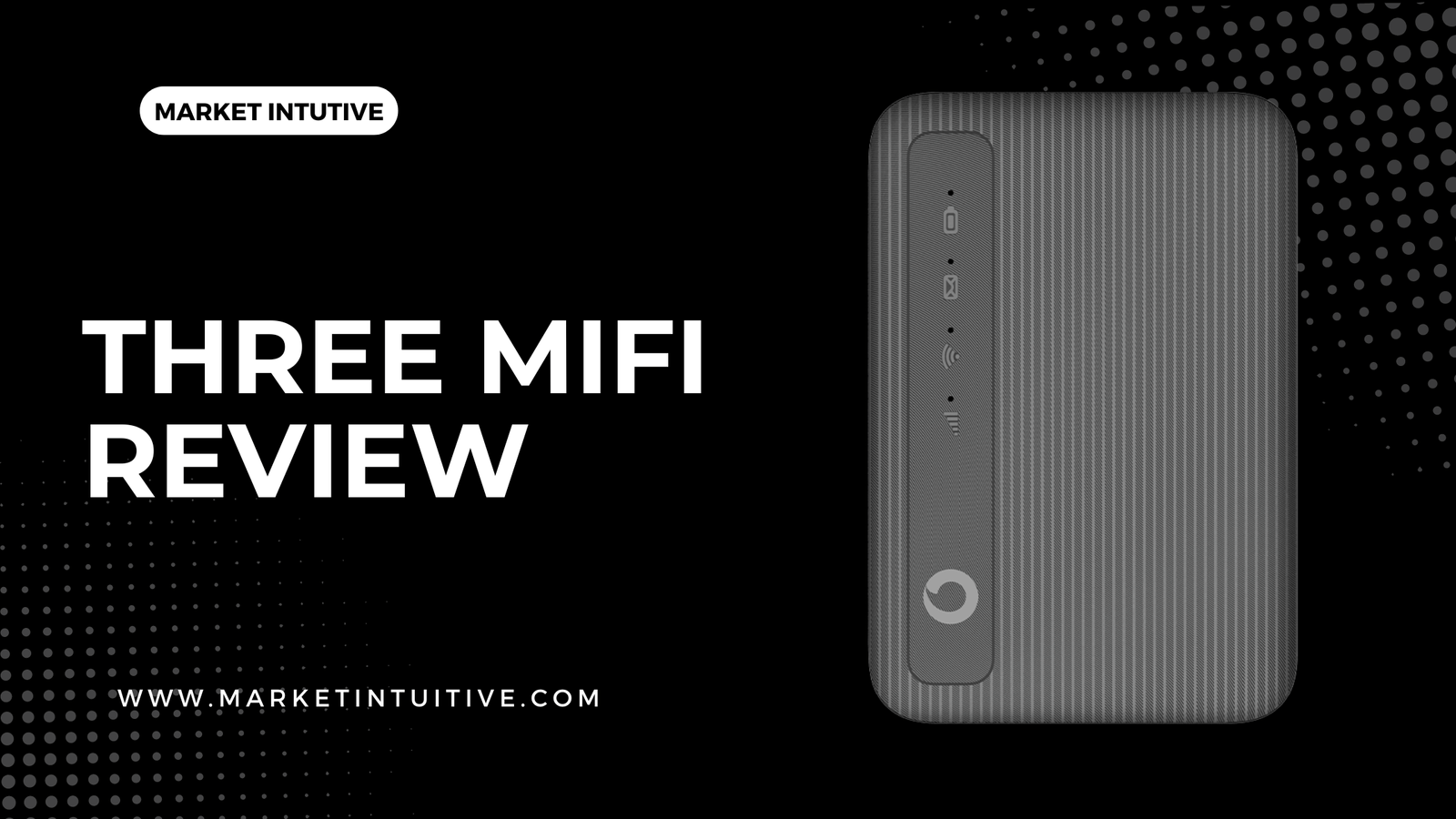 Are you looking for the perfect device to keep you connected while on the go? Look no further than the Three MiFi. This pocket-sized device is a great way to stay connected with friends, family, & colleagues. Whether you need to stay connected for work, streaming music, or gaming, the Three MiFi review has got you covered.
With its high speeds, portability, and affordability, the Three MiFi is the perfect device for anyone who needs reliable and fast internet access while on the move. Read this Three MiFi review to see what other features this device offers and why it is one of the best MiFis on the market.
FAQs (Frequently Asked Questions) On Three MiFi Review
1. How fast is three 4G MiFi?
Three offers 4G broadband for £20 a month with the initial 3 months free. It's the most common option with a typical download rate of 50-100 Mbps. In certain regions, downloads could be as fast as 600 Mbps.
2. Are MiFi any good?
MiFi is not meant to be a permanent solution because it has a much lower speed than WiFi. It is suitable for jobs like working and streaming but not for activities requiring quick and large data transfer, such as gaming. You can only get internet speeds up to 70 Mbps while using 4G WiFi devices.
3. Is 3 Homefi any good?
HomeFi offers substantial coverage for entire homes or businesses regarding high-speed data access, yet an extra modem is essential for connecting to the web. If you possess a modem/router combination device, you can dedicate it to the modem while utilising a mesh network to take charge of the WiFi.
What You'll Need
You will need an Internet Service Provider (ISP) and a router to access the internet from your residence. In many cases, ISPs will include a router with their service. This ensures that multiple devices in your home can simultaneously utilise the broadband connection.
Three MiFi Review Overview
Here is the overview of the Three MiFi review:
Download speeds: 15-50Mbps, depending on 4G coverage in your area
Data plans: 10GB, 40GB, or unlimited data
Contract lengths: Monthly. 12 months or 24 months
Three currently offers the Huawei E5783B 4G Plus Mobile WiFi device and multiple data SIM package options.
This item is similar to a small WiFi router, except that it runs on batteries. Instead of gaining internet access utilising a landline, this device uses the 4G network, just like your cell phone.
It creates a WiFi network that multiple phones, computers, and tablets can access simultaneously. Currently, Three does not have a 5G MiFi device or any mobile broadband dongles that can be plugged straight into a computer. Three's only MiFi router or dongle is the Huawei 4G Plus.
Huawei E5783B 4G Plus MiFi Specifications
Here are the specifications of the Huawei E5783B 4G Plus MiFi:
Battery: 3.8V, 1500mAh, up to 6 hours
Maximum download speed: 300Mbps
Maximum upload speed: 100Mbps
WiFi frequency bands: 2.4GHz and 5GHz
Maximum concurrent devices connected: 10
WiFi range: 10 metres (approximately)
Three MiFi Review: Unboxing And Setup
Generally, the Three MiFi device will reach you the day you place the order, excluding orders made in the evening. It will be delivered in a compact package. This box consists of the following:
Removable battery
Micro USB charging cable
Warranty card
Keepsake card with WiFi login details
MiFi device
Three SIM card
Quick start guide
Welcome card
It is easy to set up this mobile broadband gadget.
Here are the steps to install the SIM card:
You must take off the back casing of the MiFi device. Several plastic fasteners are attached to the device's body, which can be along the outer rim.
You can unscrew the cover by inserting a tool in the small space in one of the corners.
Place the SIM card in its slot.
Take the SIM card out of its covering and push it out of its holder. You need the micro SIM, which is the green one (the second-largest size).
Lift the tiny metal flap located on the SIM card slot to insert the SIM card.
Place the SIM card in its slot, ensuring the notched corner faces the lower right corner. Additionally, there is an indicator on the device to show the correct direction to insert the SIM card.
It is important to remember that the SIM card does not need to be pressed into place. Instead, the metal flap should be moved downwards to keep it in place. If the metal flap is not moving smoothly, then the SIM card needs adjustment slightly.
Now comes the simple task of inserting the battery.
Align it with the four gold pieces on the upper right and put it in position.
Now, you can reattach the lid to the 4G Plus MiFi router. It should fit perfectly – press it around the edges until you hear it click shut.
Make sure you are positioning the cover back correctly. If it does not fit easily, try rotating the cover by 180 degrees.
Connect Your Devices To The WiFi Hotspot
Now, it's time to connect the device to the WiFi hotspot. For that, follow these steps:
Once the SIM card and battery have been inserted, you can activate the MiFi device. This device generally comes with some pre-charged power in the battery, so charging it before using the device is unnecessary.
The initial step is to press and hold the large power button at the top until the three LED indicators turn green.
If the 4G network indicator on the left side of the device does not turn on initially, it could imply that the 4G signal strength is currently not strong.
If you look for a fresh WiFi connection on your computer or cell phone, you will come across the Three MiFi device, which will appear as a network beginning with "3MobileWiFi".
After that, you'll have to enter the security code displayed on the inner side of the gadget or the WiFi keepsake card.
As an alternative, you can utilise your phone to quickly connect to the WiFi network by scanning the QR code on the keepsake card.
Three MiFi Review: Pros
Here are the pros of Three MiFi:
With Three MiFi, you can link 10 gadgets simultaneously, which is ample for most households.
Three MiFi takes less time to charge and has a long battery life that lasts around 5-6 hours. This is adequate for any situation when someone needs to use a portable WiFi connection, for instance, on a journey.
It is easy to set up the Three MiFi. Connecting to the internet is a three-step approach that takes only 10 minutes. The most challenging aspect is securing the SIM card properly. However, it can be done quickly if you follow the right approach (put the SIM flat with the right orientation, press down the metallic cover, and move it downward).
The WiFi signal coverage area is impressive, especially for a compact product like this. It operates on the 2.4 GHz frequency, which ensures superior connection even at a distance. In addition, the 5Ghz frequency gives faster performance when the device is at a close range.
All products from Three, including the Huawei 4G Plus, are not locked and are free to be used with any other SIM card.
Three MiFi Review: Cons
Here are the cons of Three MiFi:
You can make 10 connections to your WiFi at once, but if you simultaneously use several of them for data-heavy activities, your connection might slow down. It can't handle a high number of users simultaneously.
Three MiFi doesn't support 5G. You can get only 3G or 4G speeds.
The only thing that comes in the package is a cable for charging. This cable has a micro USB port for connecting to the MiFi device and a USB port on the other. Thus, you will require a wall adapter with a USB port, or a computer with a USB port, to power up the device. You can buy an adapter on eBay or Amazon for a few pounds.
If you live in a big home, the WiFi connection Three provides needs improvement. In this situation, you must purchase a dependable WiFi router since Three has no WiFi range extenders that can be used with this product. You can consider the Three 4G Hub to get a good WiFi signal.
Three MiFi Review: Best Deals
After giving a brief overview of the 4G Plus MiFi router, I will now discuss the options for purchasing the device from Three and their various available MiFi deals.
Data Plans And Contracts
Three companies are currently providing their MiFi device with various mobile broadband data plans on different contract lengths.
The contract duration for Three MiFi can be either 1-month pay-as-you-go, 12 months, or 24 months.
The Three MiFi offers three different monthly data options – 10GB, 40GB, or limitless – per month, depending on the user's preferences.
You have the choice of multiple combinations of contracts and data deals. For instance, you can opt for a pay-as-you-go 1-month contract with unlimited data. Alternatively, you can pick a 24-month pay monthly contract with a 40 GB data allowance.
It would be beneficial to have more options for data bundles. For instance, if someone believes they require 100GB of data, they have to settle for an unlimited package as there is currently no 100GB plan.
Pricing
The Three MiFi device usually ranges from £13 to £26 per month, depending on the data amount and the agreement duration. Delivery is provided free of charge with each offer.
Three has an initial fee for some of their prepaid MiFi offers. Generally, their month-to-month contracts have no advance cost, but you may need to pay up to £39 in advance for a prepaid deal.
It is essential to know that your bill will rise by 4.5% every year, no matter which agreement you select. Consequently, if you sign up for a 12 or 24-month contract, some of your future payments will be more than what you are paying now.
Three's pricing estimates assume you will use either direct debit or any other recurring payment method. If you opt out of this, the cost will be an extra £5 per month.
Every so often, Three provides a special offer on their MiFi device plans. Customers can receive 6 months at half the cost when they sign up for a 24-month or 12-month agreement.
Go to their website to check out Three's selection of MiFi plans and associated costs.
Three MiFi Review: Speed
Before purchasing Three's cellular WiFi router, you may be curious about what download rates you will access with the tool.
It is wise to consult Three's coverage map to discover the device's speed.
If you want to know your area's network coverage via Three's website, enter your postcode and press the "4G" button.
Ensure that you have indoor and outdoor 4G connectivity at your location. You should expect to receive a data rate ranging from 15-50 Mbps if the 4G signal is adequate, depending on the proximity of the cell tower.
You can still use Three mobile WiFi if you live in an area with only 3G coverage. Unfortunately, you can only expect download speeds of between 3-5Mbps, which needs improvement.
Three MiFi Review: Can You Use Three MiFi Abroad?
If you think mobile broadband is an excellent internet access option, it is probably because you would like to take the device when traveling.
It is possible to utilise the Three Huawei MiFi devices in most international countries. But you will be required to configure roaming before you can use it. To do so, follow these steps:
Connect to the mobile WiFi device
Type 192.168.1.1 into the address bar on the web browser
Login using the password "admin" or a custom password if you changed it
Enable data roaming.
It's essential to remember that your data plan behaves differently outside the UK compared to when you are in the UK.
When you visit any of the 70 countries included in the Three Go Roam scheme, you can use up to 12GB of your monthly data quota following their Fair Use policy.
If you go to a place not part of the Go Roam plan, you will need to pay roaming fees, or you can also purchase a Data Passport to get unlimited data for a daily price of £5.
The mobile network is structured distinctly in a few nations, so your MiFi machine will not be operational. However, this only applies to a small number of countries.
It is essential to remember that if you are a user of the pay-as-you-go service, add more money to your account to access the internet before going abroad. This action is not required when using the monthly payment contract.
If you want to save money on accessing the internet abroad, you can purchase a separate SIM card for roaming.
Three MiFi Review: My Verdict
If you desire a convenient and portable way to access 4G mobile broadband, the Three 4G Plus MiFi device is an excellent choice. This device is beneficial if you don't have a regular broadband connection or use the internet while on the move.
I have talked to individuals who have adeptly utilised this MiFi device:
This MiFi device offers a surprisingly low cost for monthly access. It is possible to reduce expenses using MiFi online rather than relying on traditional residential internet service. It is possible to pay a much lower price for web access by signing a month-by-month agreement. Remember that all internet packages for residential use in the UK provide unlimited data. Nevertheless, acquiring MiFi deals with unrestricted downloads in the United Kingdom may be costly.
You can use the internet from a caravan or campervan.
Enhance your home internet speed to an incredible rate. This device can provide a velocity of 30-40Mbps, which is a massive improvement if your traditional broadband speed is only 5-10Mbps.
People should go online when their internet connection lags or cuts off, especially in rural locations.
When travelling, accessing the internet without tethering your mobile phone is possible.
This MiFi router has its own set of boundaries. You can use it with a limited number of gadgets connected simultaneously. Moreover, the WiFi signal range is limited, reaching only 10 metres.
Before purchasing this item, ensure you have a reliable 3 mobile broadband connection at your residence, even inside. If the 4G signal is not satisfactory where you live, the internet speed could be as low as 5Mbps, which is incredibly sluggish.
After considering its speed, WiFi access, and cost, I am giving this MiFi device a rating of 4.3 out of 5.
Three MiFi Review: Alternatives
If you want to access the internet through mobile broadband, consider other options besides the Three Huawei 4G Plus.
1. EE 4GEE WiFi Mini
EE offers the widest coverage of any UK mobile network provider, making their mobile WiFi device an excellent option for people living in remote locations.
The 4GEE MiFi device is an impressive piece of technology. It can provide a WiFi connection over a distance of 30 metres, and you can use it with 64 devices – much higher than the capacity of Three's device.
Nevertheless, the cost is fairly high. A variety of offers and plans are available, but they are more expensive than most other MiFi devices.
2. Three 4G Hub/5G Hub Router
If you primarily plan to use 4G internet in your home, consider investing in the Three 4G Hub or 5G Hub router.
These devices are similar to MiFi devices because they generate a WiFi connection. However, unlike the battery-powered MiFi device, these devices must be plugged into the wall, decreasing their portability.
These routers are much larger than the traditional ones, allowing them to accommodate up to 64 connections simultaneously.
The 5G Hub is slightly more expensive than the Three 4G Hub but offers much higher data transfer rates. Enter your zip code on the Three website to check if you can use the 5G Hub at your location.
3. Vodafone R219 MiFi device
Vodafone MiFi is quite like the Three's MiFi gadget. It is nearly the same size and mass, provides comparable rates, and can link to 10 devices simultaneously.
The cost of Vodafone's MiFi plans is slightly greater than other providers. However, it is still the best option for current Vodafone customers, especially if they know their location provides good 4G coverage.
Similar Tutorials Types to Check Out
Why Does My Internet Speed Fluctuate?: Don't worry if you're trying to figure out why does my internet speed fluctuate. I've got you covered. You can solve the issue whether you're using WiFi or an Ethernet cable
The Best Types Of Ethernet Cables In 2023: Ethernet cables are enclosed wires transmitting data between your computer and your router or modem. In this article, we'll look at the types of ethernet cables and help you decide on the most suitable one for your requirements
What Is A Good Upload Speed For Gaming?: Upload speed measures how fast your internet connection can send data. If gaming is your main reason for getting fast internet, what is a good upload speed for gaming
Summary: Three MiFi Review
The Three MiFi is a pocket-sized device that allows internet access to 10 connected devices simultaneously. This device is ideal for people needing internet access daily, whether at home or in the office. The product has several advantages over other mobile hotspots, including speed and price.
However, it has a downside: it only works in cities with 4G coverage. In rural areas, you will need to rely on a landline.
This is a viable option for people who need fast internet access but also want to avoid using their monthly data allowance. The Three MiFi is an excellent option if you live in a city with 4G coverage.
I hope this article on the Three MiFi review sounds helpful! Feel free to comment down your opinions!