Eero 6 vs Eero Pro 6E: Ultimate Mesh Wi-Fi Comparison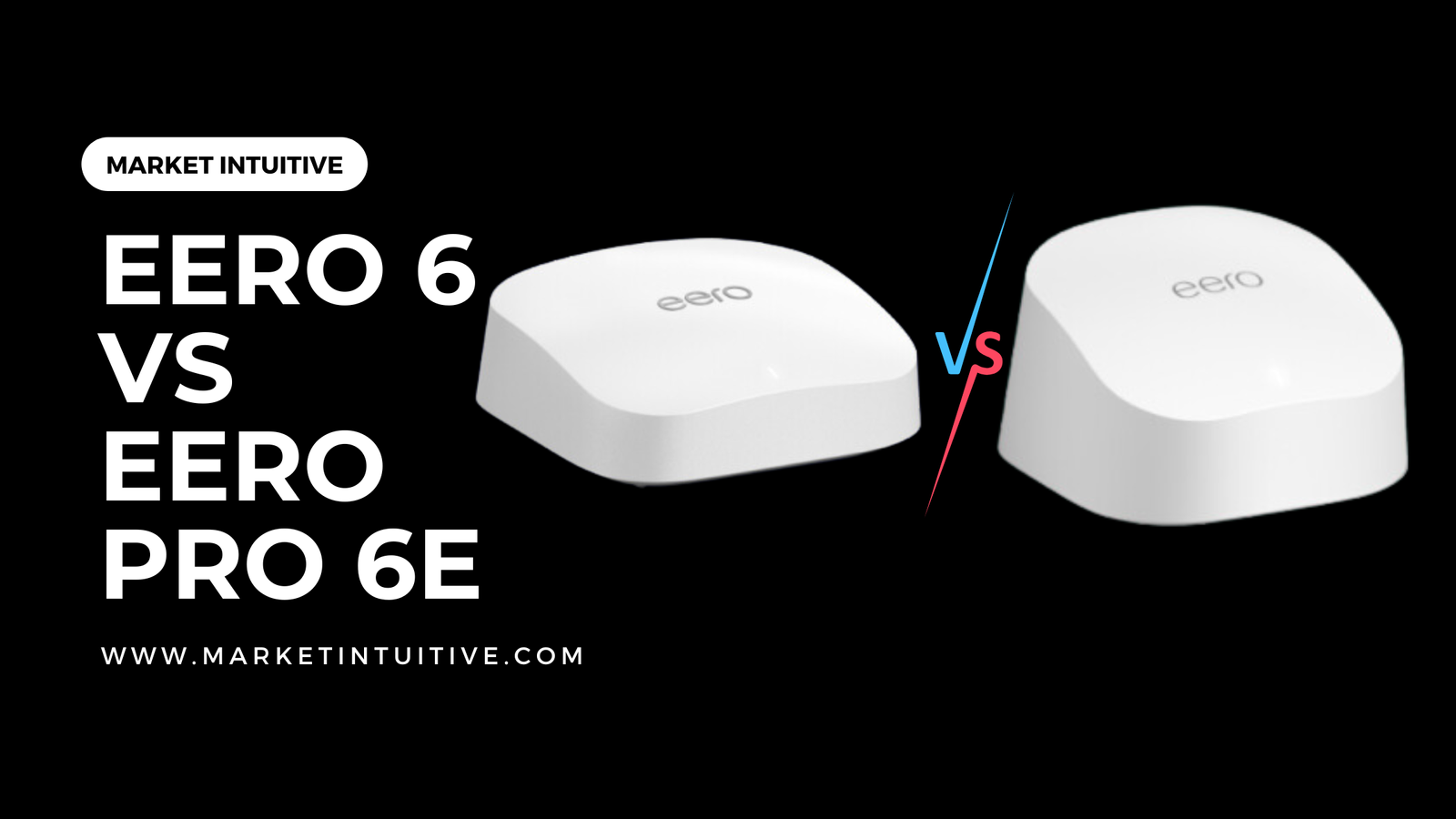 In recent years, mesh WiFi systems have gained popularity for their ability to provide seamless and reliable internet coverage throughout our homes. One of the most highly-regarded brands in this space is eero, and their latest offerings—the eero 6 and eero Pro 6E—cater to different users with varying requirements. This article will dive into the details of these two mesh routers, comparing their specifications, features, and performance to help you decide which one is the perfect fit for your home and internet needs.
The eero 6 is a Wi-Fi 6 router that supports speeds up to 900 Mbps and provides coverage of up to 1,500 square feet per device. It's designed to accommodate work, play, video conferencing, and streaming across your home. On the other hand, the eero Pro 6E is a more powerful tri-band router, incorporating the advancements of Wi-Fi 6E technology. It supports an ultra-wide 6GHz band, faster radios, superior range, and can handle up to 100 clients.
Both routers come with easy setup processes, automatic updates, built-in smart home hubs, and more. Having said that, the eero Pro 6E edges out the eero 6 when it comes to raw power and maximum throughput. As we explore the key differences and advantages of each model, you will gain a better understanding of which eero mesh router best suits your specific requirements and preferences. Stay tuned to discover which device emerges as the ideal connectivity solution for your home environment.
Eero 6 vs Eero Pro 6E: Key Differences
Tri-Band and Dual-Band Routers
The primary distinction between the Eero 6 and Eero Pro 6E lies in their Wi-Fi channels. The Eero 6 is a dual-band router, while the Eero Pro 6E is a tri-band router. The Pro 6E has a 6GHz band and a 5GHz band instead of two 5GHz bands, as the Pro 6 does. The 6GHz band is part of the new Wi-Fi 6E standard, which allows for less congestion and faster speeds when 6GHz compatible devices are connected.
Wi-Fi 6 and Wi-Fi 6E
Both Eero 6 and Eero Pro 6E support the latest Wi-Fi 6 protocol. However, the Eero Pro 6E also supports Wi-Fi 6E, which brings enhanced capabilities like the aforementioned 6GHz band. This enables faster speeds, reduced latency, and improved network efficiency in comparison to Wi-Fi 6.
Performance and Range
When it comes to performance, the Eero Pro 6E holds the advantage thanks to its superior range and faster radios. It also boasts twice as much RAM as the Eero 6 Plus, further contributing to its enhanced performance. While the Eero 6 is a more affordable option, its performance and range may not be sufficient for those with larger residences or more demanding Wi-Fi needs.
Ethernet Ports and Connectivity
Both the Eero 6 and Eero Pro 6E offer two Ethernet ports, which is essential for starting your network. The use of additional Eero devices, however, does not require Ethernet ports. Keep in mind that some Eero products, like the Eero Beacon, do not have any ports at all.
In conclusion, when choosing between the Eero 6 and Eero Pro 6E, consider your specific needs, budget, and desired performance. The Eero Pro 6E is a more powerful option with tri-band support and faster radios while the Eero 6 is a more budget-friendly dual-band router.
Design and Installation
Size and Aesthetics
The Eero 6 and Eero Pro 6E are both designed with modern aesthetics in mind. Featuring a sleek, minimalistic design, both are compact and have small footprints, making them easy to fit into any home décor. The Eero 6 has dimensions of 3.91 x 3.82 x 2.42 inches, while the Eero Pro 6E slightly larger at 5.3 x 5.3 x 2.1 inches.
When it comes to color, both the Eero 6 and Eero Pro 6E are available in a simple white, maintaining a clean and elegant appearance. The LED status lights on both models are subtle, ensuring they won't cause a distraction in your living space.
Eero App Setup
Setting up both the Eero 6 and Eero Pro 6E is made simple with the Eero App, available for download on both iOS and Android devices. The Eero App provides step-by-step guidance through the entire installation process to make it quick and easy for anyone.
*First, download the Eero App from your app store:
For iOS devices: Download on the App Store
For Android devices: Get it on Google Play
Once the Eero App is installed, follow these steps:
Power on your Eero device by connecting the power adapter.
Connect your Eero device to your modem with the Ethernet cable provided.
Open the Eero App, sign up or log in, and follow the on-screen instructions to set up and configure your network.
During setup, you can customize network settings, create multiple networks, and add additional Eero devices to expand your mesh Wi-Fi network coverage.
Both the Eero 6 and Eero Pro 6E are compatible with Amazon Alexa as well, allowing for voice control and integration with other smart home devices. Connecting your Eero devices to your Amazon account through the Eero App enables you to perform tasks like pause your Wi-Fi or check network status using Alexa voice commands.
Smart Home Compatibility
Zigbee and Thread
Eero 6 and Eero Pro 6E both feature a built-in Zigbee smart home hub, allowing for easy integration with compatible devices like lights, locks, and plugs through Alexa. This eliminates the need for separate smart home hubs for your connected devices. In addition to Zigbee, the Eero 6 series devices also support Thread, an emerging smart home protocol that aims to improve interoperability and reliability.
Matter
Matter (formerly known as Project CHIP) is an upcoming open-source standard that aims to provide seamless integration between smart home devices from different manufacturers. Although Eero 6 and Eero Pro 6E do not currently support Matter, it's a significant development in the smart home space that could shape future compatibility for these devices. Keep an eye out for updates on Matter support from Eero and other smart home technology providers.
Smart Home Integration
Eero mesh routers not only improve your home Wi-Fi connectivity but also enhance your smart home experience. With built-in Zigbee support, Eero 6 and Eero Pro 6E enable easy integration of compatible devices with Alexa. Here are some of the key benefits of using Eero mesh routers with your smart home setup:
Simplified Setup: Connecting your smart home devices to your Eero mesh network is an easy and streamlined process.
Elimination of Additional Hubs: The built-in Zigbee smart home hub eliminates the need for buying extra hubs for your devices, reducing clutter and extra costs.
Wide Range of Compatible Devices: Eero 6 and Eero Pro 6E support a broad array of Zigbee and Thread-enabled devices, ensuring a versatile smart home experience.
In conclusion, Eero 6 and Eero Pro 6E provide a powerful solution for smart home enthusiasts looking for reliable Wi-Fi and seamless integration with their Zigbee and Thread-enabled devices. Keep an eye on future updates for Matter support, which promises to further enhance the Eero's smart home capabilities.
Advanced Features
In this section, we will explore some of the advanced features that both Eero 6 and Eero Pro 6E offer, including parental controls and content filtering, Eero Secure, as well as VPN and encryption.
Parental Controls and Content Filtering
One notable feature that both Eero 6 and Eero Pro 6E provide is the ability to set up parental controls and content filtering. This capability allows parents to manage their children's internet usage and block inappropriate content. To set up these controls, users will need to:
Create profiles for each family member
Assign devices to each profile
Set time limits, pause internet access, or block specific websites
Both models offer family-friendly filtering features to help ensure a safe browsing experience for everyone.
Eero Secure
Eero Secure is a subscription service that provides an extra layer of protection for your network. With Eero Secure, users can access various features that enhance their overall internet security experience. Some of these features include:
Advanced security: Protects devices from malware, phishing, and other cyber threats
Ad blocking: Prevents ads from appearing on connected devices
Eero Secure is available at an additional cost and works with both Eero 6 and Eero Pro 6E devices.
VPN and Encryption
To ensure secure and private data transmission, Eero 6 and Eero Pro 6E support WPA2 and WPA3 encryptions. WPA3 offers enhanced security features compared to its predecessor, WPA2, including:
Stronger encryption algorithms
Improved password security
Simpler setup for devices with limited input options
In addition to WPA2 and WPA3 support, users looking for an extra layer of protection can utilize a VPN service with their Eero network. By setting up a VPN on your Eero devices, you can encrypt your internet connection and hide your online activities from prying eyes. Although Eero does not provide built-in VPN support, they are compatible with various third-party VPN services.
To sum up, both Eero 6 and Eero Pro 6E come equipped with advanced features designed to enhance your internet experience and security. From parental controls to Eero Secure and support for VPN and encryption, these mesh router systems can provide a secure and reliable home networking solution.
Alternatives and Competitors
Netgear Orbi
Netgear Orbi is a popular mesh router system that offers a strong alternative to the Eero 6 and Eero Pro 6E. One of the main strengths of the Netgear Orbi is its performance, as it can provide fast and reliable Wi-Fi coverage throughout your home. The Orbi system is available in various configurations, providing options to suit different needs and budgets.
Performance: Orbi systems can handle multiple devices with ease and maintain a consistent connection quality, especially important for tasks like streaming and gaming.
Easy setup: Setting up an Orbi mesh router system is straightforward, with an intuitive app to guide users through the process.
Design: The Orbi units are larger than the Eero routers but still offer a sleek and modern look.
However, Netgear Orbi systems can be more expensive than Eero 6 and Eero Pro 6E, which could be a deciding factor for budget-conscious buyers.
Eero Beacon
The Eero Beacon is another alternative within the Eero family of products. While it is not a stand-alone router, it can be used in conjunction with Eero routers (such as Eero 6 or Eero Pro 6E) to extend their coverage. The Beacon is a compact, plug-in device that helps eliminate dead zones and strengthen your Wi-Fi signal in larger homes or areas with a weaker connection.
Size and convenience: The Eero Beacon is small and plugs directly into the wall, making it easy to install and blend in with your home décor.
Dual-band: Although not a tri-band system like the Eero Pro 6E, the Beacon supports both 2.4 GHz and 5 GHz bands for solid performance.
Ease of use: Beacons can be easily managed using the Eero app, allowing users to monitor network performance and control access.
Keep in mind that the Eero Beacon does not support the latest Wi-Fi 6E standard like the Eero Pro 6E, but it still remains a strong option for users looking to expand their Eero mesh network coverage.
In conclusion, Netgear Orbi and Eero Beacon offer solid alternatives to those considering the Eero 6 and Eero Pro 6E. Each has its strengths and weaknesses, making it essential for buyers to weigh their options based on their unique needs and requirements.
Conclusion
When comparing the Eero 6 and Eero Pro 6E, both mesh routers offer reliable performance and are suitable for modern smart homes. The Eero 6 is an excellent choice for large homes that require strong Wi-Fi coverage throughout. On the other hand, the Eero Pro 6E stands out with its support for Wi-Fi 6E devices, accessing the new 6GHz band for potentially faster speeds, which the Eero 6 lacks.
It is important to note that the Eero Pro 6E is designed to handle wireless speeds up to 1.3Gbps, so it can manage multigig connections. However, it still has some limitations in terms of range, especially with the 6-GHz frequency. This router can utilize wide 160MHz channels, MUMIMO, and beamforming, supporting up to 100 clients.
Considering all aspects, the Eero 6 is a fantastic choice for homeowners seeking reliable Wi-Fi throughout large homes, while the Eero Pro 6E has its advantages for those with Wi-Fi 6E devices. Both mesh routers offer great gigabit speeds, improving your overall internet experience. The decision ultimately depends on your specific needs and preference in regards to speed, range, and Wi-Fi 6E compatibility.