Is Eero Secure Worth It? A Quick Look at Its Benefits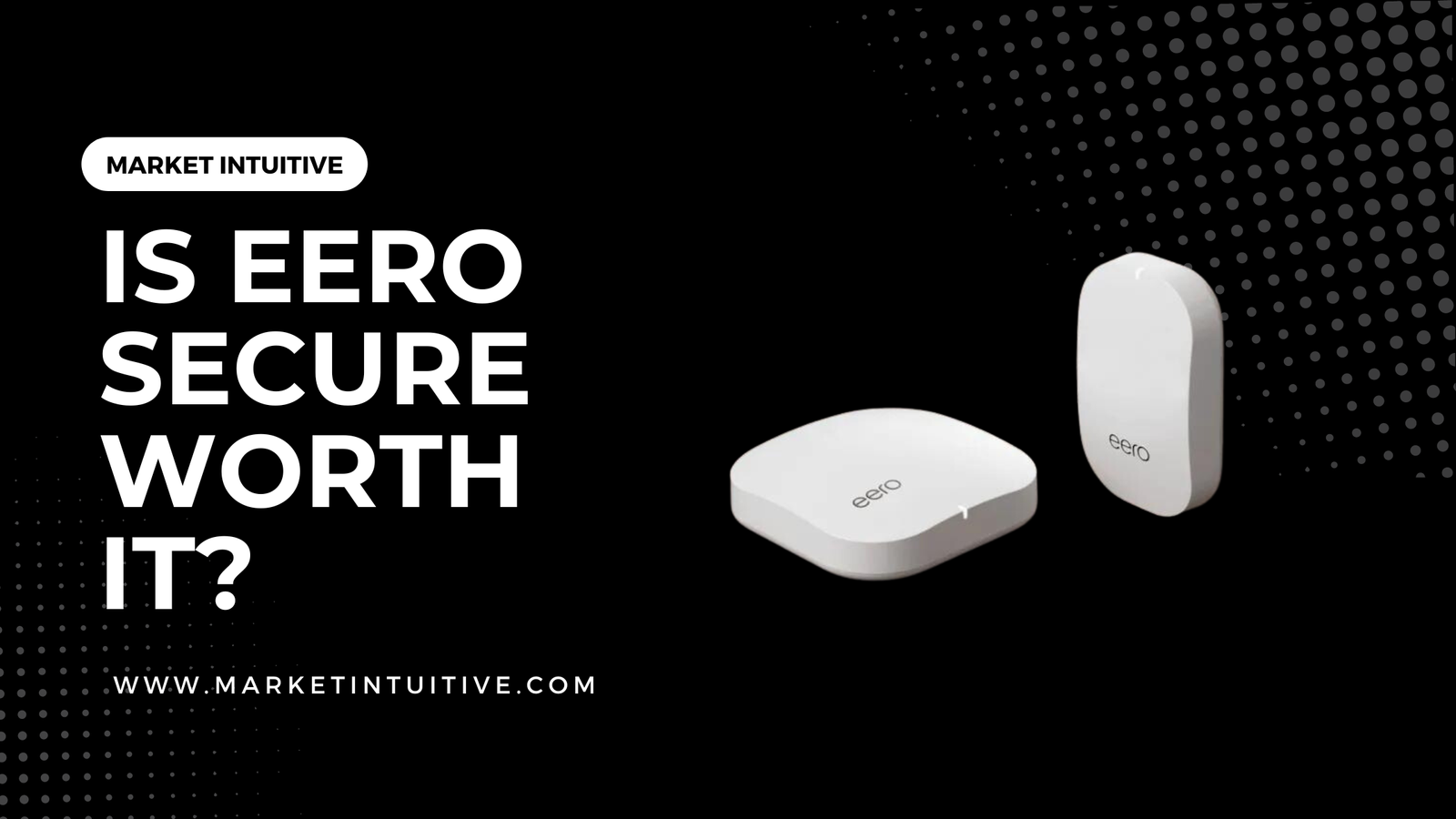 Eero Secure has become a popular subscription service for those who own Eero mesh routers, but the question remains: is Eero secure worth it? With additional security features and parental controls, the service offers two pricing plans. The basic Eero Secure plan costs $2.99 per month or $29.99 per year, while the premium Eero Secure+ plan is priced at $10 per month. Before deciding whether to sign up, it's essential to understand what these plans entail and how they can impact your internet experience.
Compatible with all Eero mesh models, Eero Secure aims to provide an extra layer of protection for your entire network. This includes devices connected via Wi-Fi or ethernet, from the Eero Beacon to the Eero Pro 6. On top of this, Eero Secure offers comprehensive security by checking every DNS request that goes out, effectively blocking rogue sites in the background. Additionally, the service features an ad-blocker that works on a home network level and covers all your connected devices.
With its focus on enhanced security and user-friendly parental controls, Eero Secure appears to be a worthwhile investment for those looking to fortify their home network. Ultimately, the decision will depend on individual needs and priorities in terms of online safety and device management.
Understanding Eero and Eero Secure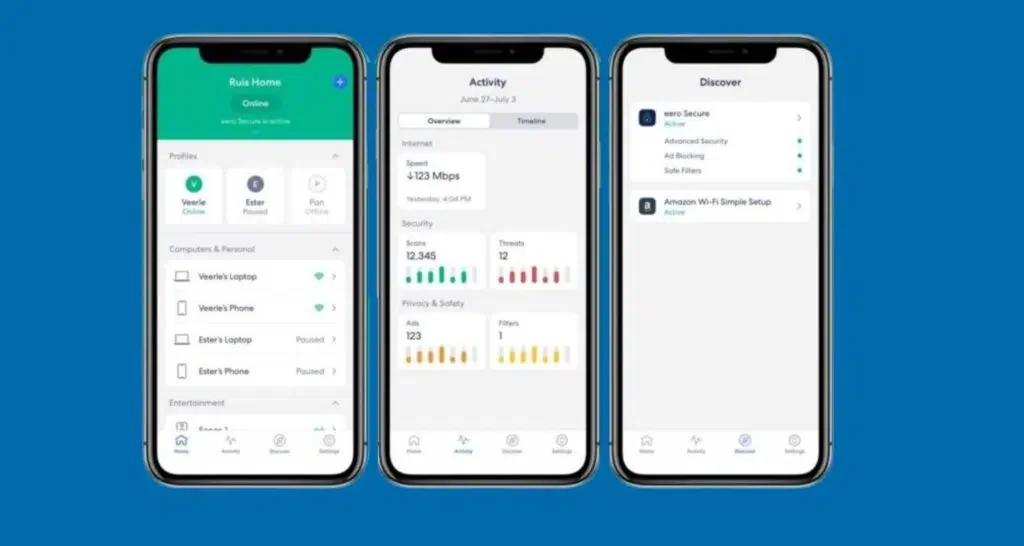 Eero's Mesh Wi-Fi System
Eero is a popular brand that offers mesh Wi-Fi systems designed to provide reliable and fast internet connectivity throughout your home. Their range of mesh routers includes the Eero Beacon and the Eero Pro 6. These devices work together to create a seamless wireless network with excellent speed and coverage.
A key advantage of using Eero's mesh Wi-Fi system is the ease of installation and configuration. The system can be easily set up and managed through a user-friendly mobile app, making it ideal for users of all technical levels.
Eero Secure Features
Eero Secure is a subscription service that augments the security and control features available within the Eero mesh Wi-Fi System. It's compatible with all Eero mesh models, covering all mesh routers and devices connected to the network, whether through Wi-Fi or ethernet. There are two pricing tiers for the service:
Eero Secure Basic: This plan is priced at $2.99 per month or $29.99 per year.
Eero Secure+: This top-tier plan is priced at $10 per month.
Some of the key features that Eero Secure offers include:
Advanced Security: Eero Secure provides network protection against malicious websites, viruses, and cyber threats, keeping your devices and data safe.
Parental Controls: With Eero Secure, you can set up content filtering, limiting access to inappropriate content or specific websites, ensuring a safe browsing experience, especially for children.
SafeSearch: This feature enforces Google SafeSearch, automatically filtering explicit content from search results.
Ad Blocking: Eero Secure includes an in-built ad blocker, which can help enhance your browsing experience by reducing unwanted ads on web pages.
Activity Monitoring: The service allows you to monitor network activity, helping you identify and manage devices on your network effectively.
In conclusion, Eero Secure is a valuable addition to the Eero mesh Wi-Fi system, offering enhanced security and parental control features. While not essential, it can be a worthwhile choice for users who prioritize network protection and customized content management.
Setting Up and Design
Eero Pro 6 Design
The Eero Pro 6 is a compact and sleek mesh router that easily blends in with your home decor. Its design features a white, rectangular body with rounded corners and a minimalistic appearance, making it a stylish addition to any room. The Eero Pro 6 router is small and light, measuring just 5.6 x 5.4 x 1.9 inches and weighing 1.5 pounds.
On the bottom of the device, you'll find the necessary ports for connectivity, including two gigabit Ethernet ports and a USB-C port for power. This simplistic design allows for easy placement of the router in various home settings, and its small size ensures it won't be an eyesore.
Phone-Based Setup
Setting up the Eero Pro 6 is a seamless and hassle-free process, thanks to its intuitive phone-based setup. To get started, you'll need to download the Eero app on your iOS or Android device. The app will guide you through the entire setup process, from connecting your Eero Pro 6 to your modem to configuring your Wi-Fi settings.
First, unplug your modem and connect the Eero Pro 6 using the provided Ethernet cable. Plug the power adapter into a power outlet and your Eero device.
Wait for the LED light on your Eero device to turn solid blue, indicating that it's ready for setup.
Open the Eero app on your phone, create an account or sign in, then follow the prompts to set up your Wi-Fi network.
You can also use the app to add additional Eero devices, such as beacons or extenders, to create a mesh network that covers your entire home.
The phone-based setup process ensures a user-friendly experience, even for those who may not be tech-savvy. Furthermore, the Eero app is more than just a setup tool – it also allows you to monitor your network's performance, set parental controls, and access advanced settings as needed.
Performance and Range
Wi-Fi 6 Support
Eero Pro 6 is one of the latest Eero models featuring Wi-Fi 6 technology, providing better performance and range compared to its previous versions. Wi-Fi 6 allows for more devices to connect simultaneously without affecting the speed, making it perfect for busy households with multiple users.
Eero Pro 6's range is impressive, covering up to 2,000 square feet per unit. For larger homes, adding extra Eero Pro 6 devices can create a seamless mesh network, ensuring consistent Wi-Fi performance throughout the property.
Google Nest Wifi vs Eero Pro
When comparing the Eero Pro 6 and Google Nest Wifi, both provide mesh networking capabilities and are relatively easy to set up. However, there are a few key differences.
Performance: Eero Pro 6, with its Wi-Fi 6 support, offers faster speeds than Google Nest Wifi, which uses the older Wi-Fi 5 technology. Moreover, Eero Pro 6's tri-band capabilities allow for better handling of multiple devices and less network congestion.
Range: Eero Pro 6 boasts a range of up to 2,000 square feet per unit, while Google Nest Wifi has a slightly smaller range of 1,500 to 2,200 square feet depending on the specific configuration.
Price: Eero Pro 6 tends to be more expensive than Google Nest Wifi, but it offers superior performance and range due to its more advanced technology.
In summary, the Eero Pro 6 provides better performance and range compared to Google Nest Wifi, particularly when considering its Wi-Fi 6 support. However, it comes at a higher price point. When deciding between the two, weigh the specific needs of your home and the importance of Wi-Fi 6 technology in the overall experience.
Security Features
Eero Secure is a subscription-based service that aims to enhance the security of your home network. With two different pricing tiers, it offers numerous features for better protection and control. Let's dive into the Eero Secure+ package and its key components.
Eero Secure+ Package
The Eero Secure+ package is priced at $10 per month and includes Advanced Threat Protection, SafeSearch, Ad Blocking, Activity Center, and various utility features. This comprehensive suite of security tools helps protect your devices from potential threats and offers parental controls to manage your children's online activity. Some of the major components of Eero Secure+ are 1Password, Encrypt.me, and Malwarebytes.
1Password
1Password is a renowned password manager that offers a secure way to store and manage your passwords, credit card information, and other sensitive data. With the Eero Secure+ subscription, you get access to the 1Password family subscription, which enables you and your family to keep your digital lives safe and organized.
Encrypt.me
Encrypt.me is a user-friendly VPN (Virtual Private Network) service. It helps protect your online browsing and communication by masking your IP address and encrypting your data. As part of the Eero Secure+ package, Encrypt.me provides an additional layer of security, ensuring your privacy and keeping your web-based activities away from prying eyes.
Malwarebytes
Malwarebytes is a well-known antivirus software that detects and removes malware, adware, and other malicious software from your devices. Included in the Eero Secure+ subscription, Malwarebytes adds an extra line of defense to shield your devices against potential threats, such as viruses, ransomware, and phishing attacks.
In summary, the Eero Secure+ package offers a range of security features, including a top-tier password manager, VPN service, and antivirus software, providing comprehensive protection for your home network and devices.
Parental Controls and Content Filters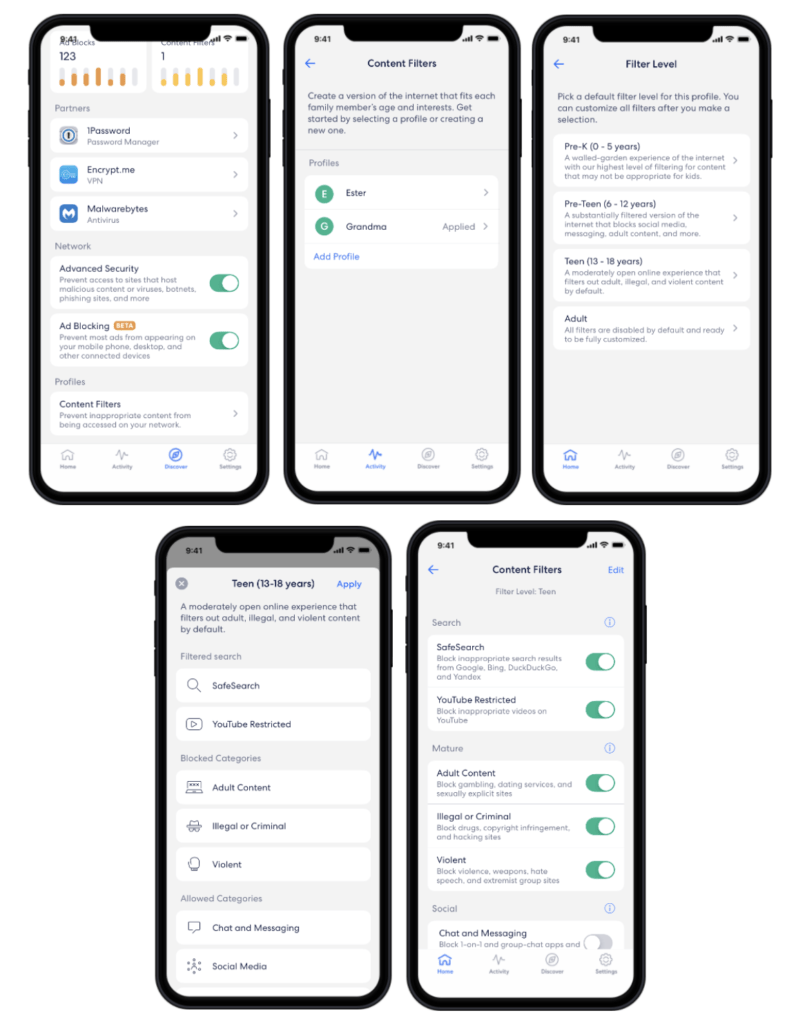 Eero Secure offers a fantastic set of features aimed at helping parents manage their children's online activities, ensuring a safer and more responsible internet experience for the whole family.
Ad Blocking
Eero Secure comes with an efficient ad blocking feature. Enabling ad blocking can provide several benefits:
Reduces the risk of malware from malicious ads
Improves page load times
Enhances user privacy by preventing ad trackers
To activate ad blocking on your Eero router, simply access the Eero app and navigate to the Secure section to enable the feature for a faster, safer browsing experience.
Customizable Content Filtering
An essential aspect of parental controls is content filtering, allowing parents to restrict access to inappropriate websites, apps, and content. Eero Secure's customizable content filtering includes:
Various preset categories to block, such as adult content, illegal activities, or social media
Easy-to-use interface for managing filters
Individual profiles for each family member's devices
To set up custom content filtering, open the Eero app, navigate to the Secure section, and access the Family Profiles feature. Adjust the settings for each family member and enjoy a more secure internet experience.
Overall, Eero Secure's parental controls and content filtering features offer an added layer of security aimed at providing peace of mind to families in today's connected world.
Technical Specifications and Performance
Processor, Storage, and Memory
Eero Secure is compatible with all Eero mesh models, including Eero Beacon and Eero Pro 6. The processor, storage, and memory capabilities may vary depending on the specific Eero device being used. The Eero Pro 6, for example, is equipped with a 1.4 GHz quad-core processor, 512MB of storage, and 1GB of RAM. This ensures smooth performance, with adequate storage and memory to handle the system's tasks.
Beamforming and MU-MIMO
Beamforming and MU-MIMO (Multi-User, Multiple Input, Multiple Output) are essential technologies in the Eero system, which improve Wi-Fi signal strength, range, and overall performance. Beamforming focuses the Wi-Fi signals specifically in the direction of your devices, enhancing the connection, while MU-MIMO allows the router to communicate with multiple devices simultaneously, reducing latency and ensuring faster Wi-Fi speeds.
Ethernet Ports and Reset Button
Eero devices generally come with at least two auto-sensing Gigabit Ethernet ports, with one designed to connect to your modem and the other for expansion or connecting to other wired devices. Eero Pro 6, for instance, features two Gigabit Ethernet ports for internet and LAN connectivity. These ports ensure high-speed communication between router, modem, and devices.
Each Eero device also includes a reset button that allows for easy troubleshooting and resetting the system if needed. This button is usually recessed to prevent accidental resets and can be accessed with a small pin or paper clip.
In summary, Eero Secure provides a robust and reliable performance backed by state-of-the-art processing power, beamforming, MU-MIMO, and Ethernet technology. These features ensure smooth operation, fast Wi-Fi speeds, and enhanced connectivity across all your devices.
Pricing and Comparison with Competitors
When considering the worth of Eero Secure, it's essential to understand the cost and benefits of the service and how it compares to offerings from Amazon and other router manufacturers.
Amazon and Eero
Eero is an Amazon-owned company that offers a range of mesh Wi-Fi routers and accessories. Eero Secure provides additional security features for their devices through a subscription service. The basic Eero Secure plan is priced at $2.99 per month, or $29.99 per year, while the Eero Secure+ plan costs $9.99 per month or $99.00 per year. The Secure+ subscription includes extra features such as a password manager, VPN, antivirus, and DDNS.
Regarding pricing for the Eero routers themselves, the Eero 6 three-pack is available for $279, providing coverage for up to 5,000 square feet, while the Eero 6 extender costs $89 and can cover up to 1,500 square feet.
Router Manufacturers Comparison
To better understand the value of Eero Secure, let's compare it to similar offerings from other router manufacturers:
Netgear Armor

: Powered by Bitdefender, this cybersecurity solution offers antivirus, anti-malware, and additional network security features. Pricing for Netgear Armor is $69.99 per year, with a 30-day free trial available.

Asus AiProtection

: Included with selected Asus routers, AiProtection provides network security, parental controls, and vulnerability protection. AiProtection is a free service, but some advanced features may require an additional subscription to AiProtection Pro.

Linksys Shield: Available for select Linksys Velop routers, Linksys Shield offers parental controls and network security features. The service costs $49.99 per year, with a one-month free trial.
Here is a brief comparison of the services:
| Service | Subscription Cost | Antivirus | VPN | Password Manager | DDNS | Parental Controls |
| --- | --- | --- | --- | --- | --- | --- |
| Eero Secure+ | $99.00 per year | Yes | Yes | Yes | Yes | Yes |
| Netgear Armor | $69.99 per year | Yes | No | No | No | Yes |
| Asus AiProtection | Free (Pro version available) | Yes | No | No | No | Yes |
| Linksys Shield | $49.99 per year | No | No | No | No | Yes |
Considering the added security features and stress-free Wi-Fi management, Eero Secure and Eero Secure+ may offer great value for some users, particularly compared to services provided by other router manufacturers. However, it is important to evaluate your specific needs and requirements before determining if Eero Secure is the right fit for you.
Network and Device Management
Eero Plus
Eero Secure offers two subscription plans: Eero Secure and Eero Secure+. The basic Eero Secure plan, priced at $2.99 per month or $29.99 yearly, provides features for network and device management, including:
Advanced security: Protects the devices connected to your Eero network from phishing and malware attacks.
Parental controls: Allows managing device usage and restricting access to specific content for family members.
Ad blocking: Helps to minimize unwanted advertisements on the web.
VIP Support
Subscribers of Eero Secure and Eero Secure+ receive VIP Support, which gives priority access to Eero's customer support services. This feature ensures faster response times and dedicated assistance for any troubleshooting or network management issues that you may encounter.
DDNS
Eero Secure does not currently offer a built-in dynamic DNS (DDNS) service, although some users have set up their own third-party DDNS solutions, like updating an external DNS server with their Eero router's IP address.
If you require DDNS support, you can consider using other reputable DDNS services or looking into advanced router options that provide this feature. Remember that Eero Secure's primary focus is on enhancing security, parental controls, and network management, with a user-friendly interface and seamless experience across all Eero devices.
In summary, Eero Secure helps manage your network devices and simplifies the overall network management experience. It offers advanced security features, parental controls, and ad blocking, along with VIP Support for subscribers. While it lacks a built-in DDNS service, you can explore third-party options if needed. Eero Secure and Eero Secure+ provide a valuable addition to your Eero mesh system, ensuring your online experience is secure and optimized.