Eero Review: A Quick Look at the Latest Features and Performance
Eero has made a name for itself as a provider of reliable and user-friendly mesh router systems, offering enhanced Wi-Fi coverage to a variety of home setups. With its latest release, the Eero 6 Plus, the company has stepped up its game and delivered a mesh router that combines cutting-edge Wi-Fi 6 capabilities with wider channels for improved speeds and connectivity.
In the competitive world of Wi-Fi technology, the Eero 6 Plus has been receiving rave reviews for both its performance and ease of use. As one of the fastest mesh systems on the market, this router stands out for its exceptional throughput scores, surpassing competitors such as the ZenWiFi and Nest Wifi in several tests. Additionally, the Eero 6 Plus's Qualcomm chipset and quad-core processor pack a powerful punch, providing excellent network coverage for data-hungry households.
For those considering a mesh router system, the Eero 6 Plus offers an enticing combination of top-notch performance, user-friendly setup, and advanced Wi-Fi 6 technology. It's clear that Eero has once again delivered a high-quality product that has resonated with both expert reviewers and everyday users alike.
Eero Design and Hardware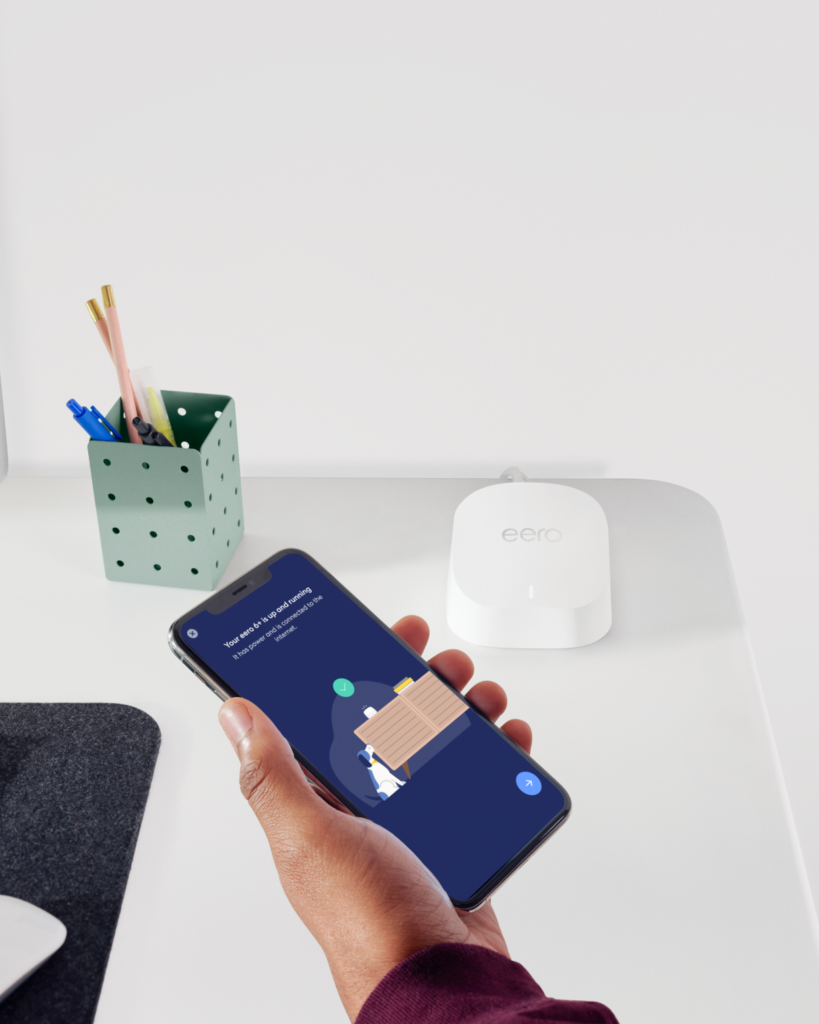 Size and Appearance
Eero routers have a sleek and minimalist design, making them blend seamlessly with any room décor. They have a small footprint and are relatively lightweight with dimensions that allow for easy placement on a shelf or desk.
LEDs
On the front of each Eero device, there's an LED light that indicates the status of the router. A solid white light means it's connected and functioning properly, while a blinking light indicates the device is in setup mode or is experiencing connectivity issues.
Processor and Memory
Eero routers are built on processor and memory configurations that contribute to their efficient performance. They utilize a 700-MHz quad-core processor that offers sufficient speed for most users. The routers also come with a decent amount of memory, ensuring smooth performance even during heavy usage.
To sum up, the Eero Design and Hardware ensure a user-friendly experience with its minimalist design and efficient hardware. With its subtle appearance, easy-to-understand LED system, and powerful processor and memory, the Eero routers provide reliable performance for various Wi-Fi needs.
Wi-Fi 6 and Performance
Wi-Fi 6 Technology
The eero Pro 6 and eero 6+ both support Wi-Fi 6, also known as the 802.11ax standard. This technology offers various benefits to users, including faster network speeds, improved efficiency for multiple devices, and increased overall network capacity. With 160MHz channel support, Wi-Fi 6 enables gigabit-speed connections and decreased latency for smoother performance.
Speed Test and Comparisons
The eero Pro 6 is a tri-band system, offering speeds of 574Mbps over its 2.4GHz band, 1.2Gbps over one 5GHz band, and 2.4Gbps over the other 5GHz band. On the other hand, the eero 6+ has a 7.8Gbps bandwidth capacity for Wi-Fi 6, along with a 2.5Gbps Ethernet port for wired connectivity. Both systems are designed to provide reliable and fast internet connections for various devices in the home.
eero Pro 6: Tri-Band, AX3000 (2.4 GHz: 574 Mbps, 5 GHz: 1.2 Gbps)
eero 6+: Tri-Band, 7.8 Gbps Wi-Fi 6, 2.5 Gbps Ethernet port
Coverage and Range
When it comes to coverage, the eero 6 system is designed to create a seamless and extensive Wi-Fi network for homes of all sizes. The eero Pro 6 three-pack is capable of covering up to 6,000 square feet, while the eero 6+ can provide comprehensive Wi-Fi coverage for larger homes as well. This mesh system creates a reliable and stable internet connection, eliminating dead spots and ensuring smooth performance throughout your home.
In conclusion, the eero systems featuring Wi-Fi 6 provide enhanced network performance, speed, and coverage for the modern smart home. Regardless of the model you choose, you can enjoy a reliable and fast internet connection that meets the demands of today's connected devices.
Eero App and Setup
Compatibility with iOS and Android
The Eero App is available for both iOS and Android devices, providing a user-friendly interface for managing and monitoring your Eero mesh router system. This compatibility ensures that users on both platforms can easily access key features and settings.
Installation and Setup Process
Setting up an Eero mesh router is straightforward and efficient. The app guides you through the process step by step, from connecting your Eero device to your modem to positioning additional Eero units throughout your home for optimal Wi-Fi coverage. During the setup, you'll be prompted to:
Create an Eero account
Pair your Eero device with your modem
Add more Eero units if necessary
Assign a name to your Wi-Fi network
Set a secure Wi-Fi password
After the initial setup, the app enables you to monitor your network's performance, such as running speed tests directly from your mobile app.
Parental Controls and Profiles
Eero App's parental control features allow you to create profiles for different family members or types of devices. You can then apply content filters, pause the internet access, or schedule screen time for each profile. Key features include:
Content filters: Set age-appropriate internet browsing restrictions for kids or block specific websites.
Internet pause: Temporarily disable internet access for specific profiles at any time.
Family profiles: Group devices under individual family members to apply parental control settings easily.
Screen Time schedules: Allocate specific times for internet access, e.g., limiting access during bedtime or homework time.
In summary, the Eero App offers an easy-to-use platform for managing your Eero mesh router system, regardless of whether you have an iOS or Android device. The app's user-friendly interface simplifies the installation process, helps monitor network performance, and provides essential parental control features for a customized, secure home network.
Eero Mesh System
Mesh Router Types
The Eero Mesh System offers various mesh router types suited for different home sizes and requirements. The Eero 6 Plus is a highly capable Wi-Fi 6 router known for better radios and wider channels, delivering faster and more reliable speeds than its predecessors. Another noticeable device in Eero's lineup is the Eero Pro 6, which provides more robust performance with theoretical speeds of up to 2.4Gbps over 5GHz connections.
Eero offers dual-band mesh systems like the Eero 6+ that seamlessly transmit data over 2.4GHz and 5.0GHz frequency bands, relying on intelligent algorithms to choose the best network for your device automatically. The company is also working on introducing the Eero Pro 6E, which will utilize the new Wi-Fi 6E standard, supporting 6GHz data transmissions.
Beamforming and MU-MIMO
The Eero Mesh System optimizes connections in your home by leveraging advanced technologies like beamforming and MU-MIMO. Beamforming helps to focus Wi-Fi signals more directly to your devices, improving signal strength and reducing interference. On the other hand, MU-MIMO (Multi-User, Multiple Input, Multiple Output) allows the router to manage multiple devices simultaneously, ensuring a smooth and uninterrupted connection.
Comparison with Competitors
Let's compare the Eero Mesh System with other popular contenders in the market:
Netgear Orbi: Known for its excellent coverage and performance, the Netgear Orbi offers tri-band mesh Wi-Fi systems with a dedicated backhaul channel for optimal performance. Orbi is often considered pricier than Eero but provides more advanced features and faster speeds.
Nest Wifi: This Google-owned mesh router provides an integrated smart home hub, which enables it to support Google Assistant and other smart devices. Nest Wifi is an excellent option for those heavily invested in the Google ecosystem, but it may lack some advanced features when compared to Eero Mesh routers.
Asus ZenWifi AX

: Asus' offering comes with a feature-rich Wi-Fi 6 mesh router system and advanced controls. The ZenWifi AX boasts impressive coverage and powerful performance but can be more expensive than comparable Eero devices.
The Eero Mesh System aims to provide a user-friendly and efficient home networking solution by combining intelligent software, advanced technologies, and seamless connectivity. The variety of options available ensures that you can find the perfect mesh router to suit your specific needs.
Eero and Amazon Integration
Alexa Voice Commands
Eero routers have a seamless integration with Amazon's Alexa voice assistant. By linking your Eero account to the Alexa app, you can easily manage your Wi-Fi network using voice commands. Some examples of tasks you can perform with Alexa include:
Pause or resume internet access on specific devices
Check the status of your network
Enable or disable guest Wi-Fi
To use these features, simply say, "Alexa, ask Eero to…" followed by your command.
Zigbee Hub
The Eero Pro 6 is not just a high-performing tri-band mesh Wi-Fi system, it also serves as a Zigbee Hub. Zigbee is a popular smart home communication protocol that enables your Eero Pro 6 to directly connect with compatible smart home devices without the need for additional hubs.
With its built-in Zigbee functionality, the Eero Pro 6 can act as a central hub for controlling various Zigbee-enabled smart home devices such as lights, sensors, and locks, making it a convenient all-in-one solution for a connected home.
Smart Home Devices
Eero works seamlessly with a wide range of smart home devices, allowing users to easily manage their connected home ecosystem. This is made possible by the integration of Zigbee, support for Alexa, and compatibility with the Amazon Home app.
To ensure secure connections, Eero also supports the WPA3 encryption protocol, providing enhanced security for your smart home devices and Wi-Fi network.
In summary, while the Eero mesh Wi-Fi system offers impressive coverage and performance, its integration with Amazon's ecosystem, built-in Zigbee hub capabilities, and support for a variety of smart home devices make it an attractive choice for those looking to create a connected home.
Ethernet Ports and Connectivity
Gigabit Ethernet
Eero devices offer different ethernet port options depending on the model. For example, the Eero 6 Plus mesh router comes with dual 1.0 GbE ports for wired gigabit connectivity, whereas the Eero Pro 6E features a 2.5GbE port and a single 1.0GbE ethernet port. These gigabit ethernet ports ensure high-speed internet connections to your wired devices while maintaining smooth network performance with minimal latency.
Wireless Connectivity and Security
Eero routers support the latest Wi-Fi 6 and 6E technology, providing faster and more reliable wireless connectivity to your devices. The Eero 6, for instance, delivers Wi-Fi 6 at an affordable price, making it competitive with other Wi-Fi 6 routers on the market. Eero devices also come equipped with 160MHz channel support and use mesh technology for seamless coverage throughout your home.
In terms of security, Eero routers feature built-in tools such as automatic updates, parental controls, and guest access. Additionally, Eero routers offer optional subscription-based security features with Eero Secure, providing advanced threat protection and content filtering.
USB Ports and Additional Features
Eero devices do not typically include USB ports for external storage or device connections. However, their compact design and app-based controls make them user-friendly and easy to set up. Users can manage their network settings, including NAT settings, directly from the Eero app without the need for additional software or complex configurations.
While Eero devices might lack certain features like USB ports, they make up for it with their excellent wireless performance and seamless mesh networking capabilities. The Eero range of routers provides a user-friendly option for those looking to upgrade their home network with the latest Wi-Fi technology, simple setup, and reliable coverage.
Remember to consult authoritative sources like manufacturer product pages and reputable review websites for accurate information on specific Eero models and features.
Eero Subscription Plans
Eero offers subscription plans to enhance your Wi-Fi experience with additional features and security. One of the notable subscription options is the Secure Plus plan.
Secure Plus Plan
The Secure Plus plan includes enhanced security and parental control features, such as content filtering and anti-malware protection. It also allows users to control and monitor their Wi-Fi network with Alexa voice commands, making it a seamless addition to any smart home ecosystem (Note: Amazon owns Eero). Pricing for this subscription varies, but previous users may be eligible for a 50% discount.
DNS and Ad Blocker
Eero's subscription plans also include built-in DNS and ad-blocking features. These functionalities help improve your browsing experience by blocking ads and providing more secure DNS queries. This reduces the likelihood of encountering malicious content while browsing online.
Supported Features
Here's a breakdown of some key features available in the subscription plan:
Advanced security: Protects your network from malware, phishing, and other cyber threats
Parental controls: Manage the content your family can access
Ad blocker: Block annoying ads on websites
SafeSearch: Filter explicit content from search results
Alexa voice commands: Control your Wi-Fi network with your voice
Hardware Overview
Eero devices are designed with sleek and modern aesthetics. They typically feature a USB-C power port and a reset button for easy setup and maintenance. Eero routers can be used as standalone routers or combined with additional Eero units to create a mesh Wi-Fi network for seamless coverage in larger homes.
Conclusion
The Eero 6 Plus has shown significant improvements in performance compared to its predecessors, thanks to better radios and wider channels. It delivers faster, more reliable speeds than before, making it a strong competitor in the Wi-Fi 6 mesh router market. According to the review by CNET, it is an editor's choice in the Wi-Fi 6 category.
Eero devices, as noted by Tom's Guide, use a 700-MHz quad-core processor-based on Qualcomm's IPQ4019 Wi-Fi chipset, which is half the speed of the Nest Wifi's CPU. However, it still maintains solid performance, making Eero an attractive choice among mesh router systems.
When considering the Eero 6+ model, PCMag has seen impressive results in their testing, with the router node scoring 938Mbps on their close-proximity throughput test. This holds the distinction of being the fastest score they have seen from any Wi-Fi 6 mesh system, even edging out the popular ZenWiFi model.
Eero's setup process is also praised for its ease and simplicity. As Tom's Guide states, the Eero Pro 6 setup procedure is designed to be as quick, easy, and painless as possible, reflecting the company's user-friendly approach evident across their product range.
In summary, the latest Eero models continue to show advancements in performance, speed, and ease of use, earning them a reputable position among consumers seeking reliable mesh router systems. Despite some competition with faster processors, the Eero models remain an attractive option due to their user-friendly setup, strong performance, and aesthetically pleasing design.