Three 5g Hub Review: Is It Worth Your Money?
5G has been rising for the past couple of years, promising to revolutionise your internet use. It's faster, more reliable, and opens up a world of possibilities with higher download and upload speeds. One way to take full advantage of these capabilities is by investing in a 5G Hub. In this article, I will discuss the Three 5g hub review.
The Three 5G Hub is ideal if you want 5G internet service in your house. It may not be particularly distinctive compared to other options, but it is speedy, provides extensive service coverage, and has the necessary ports. Let's dive in and explore Three 5g hub review.
Three 5g Hub Review: How Reliable Is It?
Three 5g Hub Review: Overview
Let's look at the overview of Three 5g hub review:
Brand: Three
Name: 5g hub
Manufacturer name: NR5103E
Manufacturer brand: Zyxel
Dimensions (mm): 132.5 x 134 x 230
Modem: 5G
Speed rating: Cat 22
Colours: White
Ethernet ports: 2
Download speeds: 4.7Gbps
Upload speeds: 2.5Gbps
External antenna sockets: 4 x TS-9 antenna extension ports
Wi-Fi specifications: Dual-band 802.11a/b/g/n/ac/axe (Wi-Fi 6) 4 x 4 MIMO
Maximum connected devices: 64
Power: Mains powered
Rating: 4.7 (out of 5)
Price: Check On Three
The Three 5g Hub is a router that links to the web via 5G data instead of utilising a landline. Similarly to a traditional broadband router, the Three 5g hub creates a Wi-Fi network. You can link it to your computers, cell phones, gaming consoles, and other gadgets.
Instead of connecting to the web through a telephone jack in the wall, the 5g Hub accesses it wirelessly via a 5G connection.
This implies that you don't require a technician to come to your house or delay initiating your connection. Once the 5g Hub is received, you can start surfing the internet right away – it is extremely simple to establish – you can just plug it in and begin.
The 5g Hub can provide faster downloads and uploads than typical broadband connections in certain circumstances. According to the specifications, this router can download at a rate of 1 Gbps (1000 Mbps) on Three's 5G network. In my practical trials, I surpassed the 700 Mbps mark.
The 5g Hub is relatively affordable, with pricing ranging from £18-£24 per month, depending on the contract you select. Therefore, you can enjoy ultrafast broadband for a much lower price than that offered by companies such as Virgin Media or BT.
The Zyxel NR5103E mobile broadband router is marked with three logos, although it is only one device.
You can purchase the Three 5g Hub on a month-to-month basis or for 24 months, with the latter option being much more economical in terms of cost per month.
All the plans provide limitless access to data, so you do not have to concern yourself with any usage or transmission restrictions, just like a regular residential internet connection.
Before making a purchase, you must enter your zip code on the Three websites to see if you are in a spot with a good 5G connection. Additionally, you can use their coverage map to guarantee that you will have fast download speeds when using this 5G router for your broadband.
When you purchase your 5g hub over the internet, it is likely to be delivered to you in 1-2 days – mine got here the day after. If you decide that 5G broadband isn't suitable, you have 30 days to return it after delivery.
Three 5g Hub Review: Features And Software
The Three 5g Hub offers many features, including both 2.4GHz and 5GHz Wi-Fi, Wi-Fi 6, two Ethernet ports, and the ability to attach external antennas to amplify the signal.
The Three 5g Hub can provide internet access to 64 devices simultaneously, which exceeds the requirements of the vast majority of users and is comparable to the 5GEE Router 2021.
This new generation of the Three 5G Hub can manage more than 30 connections compared to the preceding device version.
Three 5g Hub Review: Pros And Cons
Here are the pros and cons of Three 5g hub:
Pros
Connects 64 devices
Simple setup
Incredibly fast
Cons
No battery-powered option
Three 5g Hub Review: Design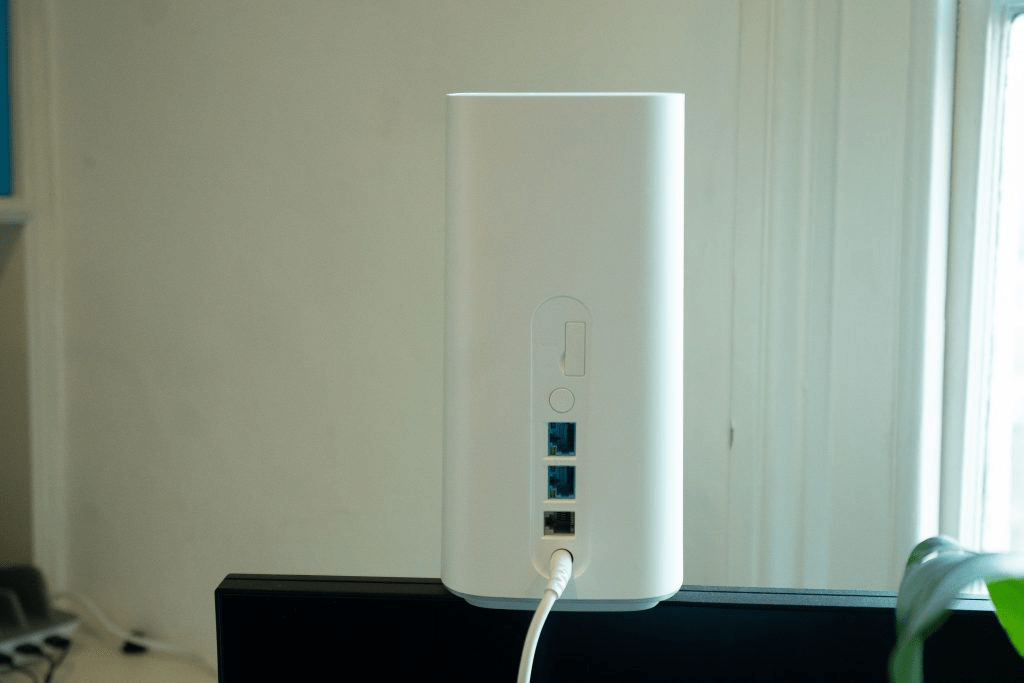 Regarding its full name, the Three 5G Hub is, in fact, the Zyxel NR5103E. It is a tall, curved box, only available in white (with a black top and bottom), and its measurements are 132.5 x 134 x 230mm.
Although Zyxel is the manufacturer of this device, the only visible brand is Three's. This is typical for networks since they usually relabel products from other businesses.
The current Three 5G Hub is one of many of its kind. Before this, Three had a device with the same name, a ZTE MC801A 5G Hub. That version is no longer accessible, and the new one is much faster and holds the capacity to bear multiple connections at the same time.
Aside from a few indicator lights at the top and ports at the back, this router is quite basic and unremarkable, which is typically the case with routers. The design of the 5G router will not likely cause any strong emotional reactions, which is the desired outcome.
Three 5g Hub Review: Performance & Speed
The Three 5g Hub offers data transfer speeds of up to 4.7 Gbps for downloading and up to 2.5 Gbps for uploading.
Although the advertised speeds seem very high, it is unlikely that you will experience such speeds in most situations. The average speed depends on your location; however, you will likely experience roughly 100-200Mbps.
Despite being impressive, the device's performance is still considerably lower than the maximum potential. Three states that its network can only manage a maximum of 1Gbps with this device, which suggests that the hardware can surpass this, but Three's network still needs to provide that.
Consequently, this indicates that the Three 5G Hub comes with the latest technology. Its speeds are significantly more rapid than most 4G home internet connections and even challenge the speed of fibre broadband.
People who select a Virgin Gig1 fibre connection can receive an average speed of 1,130Mbps, although this service is unavailable in most locations.
A fibre broadband connection's normal speed is much slower than you can get with the Three 5G Hub. The most common fibre packages that BT Broadband provides generally have an average speed ranging between 35 Mbps and 73 Mbps.
Three 5g Hub Review: Unboxing
When the 5G Hub is delivered, it comes with a Three-labelled package containing the following items:
A 5g SIM card
An ErP conformity notice
A power cord
The 5g Hub
An Ethernet cable
You'll notice the data manuals and the SIM card when you look at it. You can discover the Zyxel NR5103E router with the Three 5G Hub logo underneath the packaging. It is bulky, and you may not have much space to grasp the router securely when removing it from the box, so be mindful not to drop it.
At the rear side of the router, there are 4 antenna slots, two LAN ports, a USB connector, a switch to turn the device on/off, and a port to supply power. Additionally, the Wi-Fi credentials are in the same area.
This router does not have a telephone socket, which means it cannot link to a landline. The SIM card slot is underneath the router.
Inside the box at the rear, you will find a cardboard envelope that contains the power cord and Ethernet cable. With the Ethernet cable, you can link computers & gaming consoles to the 5G Hub for a reliable internet connection.
The symbols indicating the condition of the router are at the top of the device, but they will only be visible once the router is plugged in.
Three 5g Hub Review: Setup
Configuring the Three 5g Hub router is a straightforward task. All required is to put in the SIM card, attach the router to a power source, and turn the device on.
Step 1: Insert the SIM card
Take the package that Three has sent you, open it, and extract the SIM card that has been pushed out.
It is necessary to take out the second biggest SIM card, which is popularly called the micro SIM. Make sure that you correctly punch out the tiny nano SIM.
Afterwards, hold the 5G Hub, flip it over, and slide the rubber covering of the SIM card slot open. Put the micro SIM card with the Three logos facing downwards until it clicks into place and remains in the slot. Then, shut the rubber door again.
The installation of Three's previous 5G Hub, the ZTE MC801A, was a much more effortless process since the SIM card was pre-installed in the router when it was delivered.
Step 2: Plug in the router
Attach the power cable to an electrical outlet, and then attach the other end to the power entrance on the rear of the 5G Hub. Subsequently, press the power button, which is situated directly above the power port.
It will take approximately 3 minutes for the router to switch on. You'll be able to identify the router's state by looking at the lights on the top – when all of them turn on and become green, you can start using the internet.
If the signal bar on your device is blue, you should not be concerned. However, if it is red, it may affect your internet speed.
Step 3: Connect to Wi-Fi
Despite the instructions in Three's quick-start guide, the Wi-Fi password cannot be on the bottom of the router.
The base contains a QR code that will reveal your password and additional information when scanned. However, I suggest something other than this approach since the QR code is relatively minuscule and hard to use.
Instead of searching for the password, check the side of the router close to the antenna slots. The name of our Wi-Fi network is "Three_424D".
You can now get the Three 5G Broadband mobile application. This app allows you to manage most of the settings in your router's admin panel, including creating a guest Wi-Fi network.
Step 4: Test the router in different positions
It is essential to test the 5G Hub mobile broadband router in different spots throughout the house to determine which area provides the best signal.
If you wish to enhance the speed of your Wi-Fi, start by putting the router on an upper-level windowsill. You could experience an even better connection by attempting a different window within your home.
To ascertain the signal power of your router, you can look at the colour of the signal bar situated at the peak. If it appears green, it suggests that the 5G Hub is in a suitable location, but that does not guarantee you will get the highest download and upload speed.
When I initially tested it, I got a download rate of roughly 400 Mbps. After relocating the router to the windowsill upstairs, the speed was improved to 720 Mbps.
I noticed that the data transmission rate for uploads depended on the router's placement, like the orientation it was placed in. It was possible to rotate the router in a way that resulted in a lower download speed but an improved upload speed.
Three 5g Hub Review: Speed Test
I ran multiple speed tests on the Three 5G Hub through a wireless connection. Here are the results: 
Wi-Fi, same room, best router position – This test was conducted in a prime location to maximise download speeds, a windowsill on the second floor. I discovered that turning the router around improved the speed of my uploads.
Wi-Fi, same room, suboptimal router position – When I initially installed the router, I conducted a test, and it was downstairs close to a window facing the garden. This was on the other side of the house compared to the initial examination.
Wi-Fi, suboptimal router position – The router was in almost the same spot as during the first exam, though slightly shifted, which augmented its upload velocity.
Ethernet, suboptimal router position – When I ran a speed test with the 5G Hub connected via Ethernet, I observed that it was much slower than expected. Still, the upload rate was higher, and the ping was lower. This was because I had to keep the Hub close to my computer for running these tests instead of being able to locate it near a window.
What speeds do you receive with the 5G Hub?
The connection rate you will experience with the 5G Hub could differ significantly depending on the strength of the Three 5G networks in your location.
To get an accurate estimate of the speed of your network, you can use the Three network coverage map. Input your zip code and check if there is good 5G coverage indoors and outdoors.
If the map indicates that you have good 5G reception both inside and outside, you should anticipate speeds of a minimum of 100-200 Mbps, and in some cases, it can reach up to 500-700 Mbps, as our speed tests demonstrated.
If the performance of the 5G Hub is not satisfactory, Three allows it to be returned as long as it has not been damaged.
If the 5G signal in your area is not satisfactory, you can try Three's 4G router, the 4G Hub, as an alternative. This router provides incredible speeds and unlimited mobile broadband data at a competitive monthly price.
It is essential to mention that the recently released Zyxel 5G Hub from Three is significantly quicker than the preceding ZTE 5G Hub. At the exact location, the previous hub only achieved a maximum download speed of approximately 300 Mbps.
Three 5g Hub Review: Gaming Test
I experimented with assessing the performance of the 5G Hub with Rocket League, a multiplayer title for which lag-free gaming is essential. I plugged a PC into the 5G Hub through the Ethernet cable supplied with the product.
While playing Rocket League, my average latency was around 50 milliseconds when connected to the closest game servers. Although this was slightly higher than ideal, I experienced no discernible stuttering or rubberbanding.
Three 5g Hub Review: Value For Money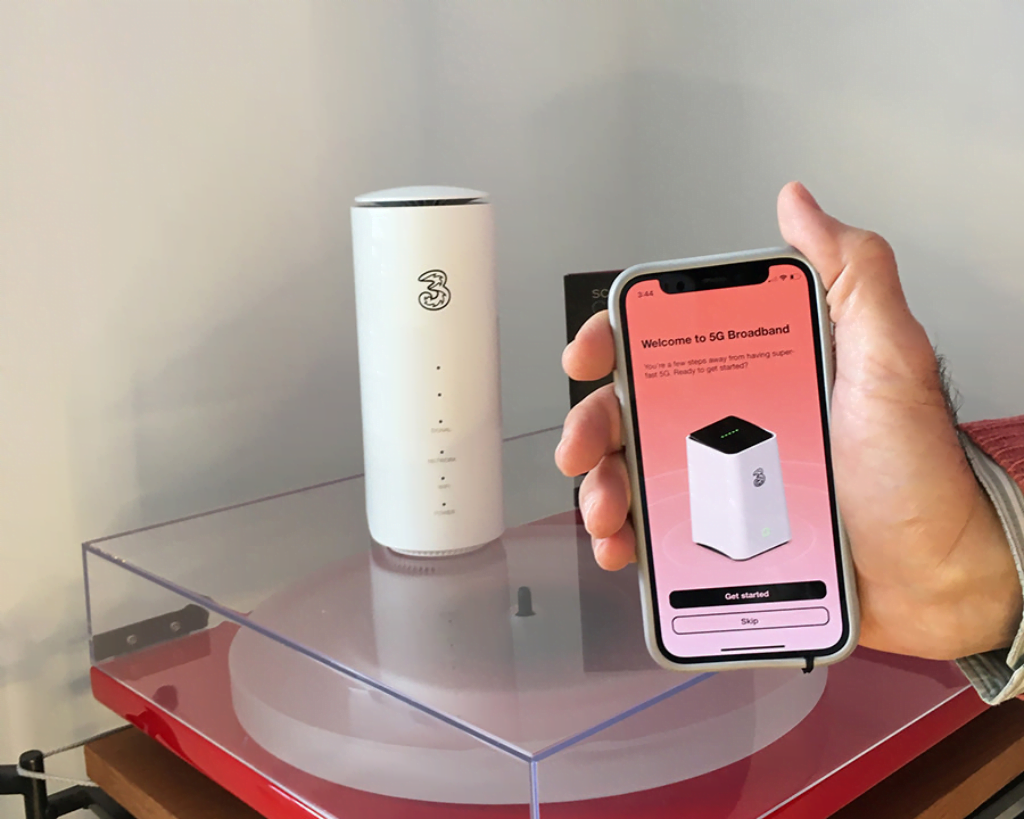 In general, Three 5G home broadband is a great deal in terms of affordability. No other internet service providers offer 500 Mbps+ download speeds for only £20 per month with no initial fees.
Since the velocity of downloading is usually the most imperative characteristic of your broadband connection, the 5G Hub does exceptionally well when considering its cost. The majority of full fibre broadband offers that include these speeds will usually be twice as expensive every month and often carry a very high initial fee.
The 5G Hub is economical regardless of your contract, whether the 24-month or the 1-month plan.
A significant advantage of this router is that you can get available 5G data on a pay-per-use basis. If you wish to terminate the connection, you must return the router to Three, and you can do this at any moment.
Even though I found the upload speeds of this 5G broadband router to be less than impressive, they are still sufficient for the majority of households. The upload speeds you will get are comparable to what most ultra-fast home broadband plans provide.
The only disadvantage to Three 5G home broadband is the latency if you engage in rapidly-paced internet gaming; you can expect your ping time to average between 45-55 milliseconds.
Three home broadband customers benefit from a 30-day return policy to assess the 5G Hub and determine if it meets their needs.
Is Three 5G broadband any good? My Verdict
The Three 5G Hub is an excellent option for obtaining a speedy internet connection at an economical monthly rate.
With this router, you could get download speeds of around 500-700 Mbps or above without paying the full cost of fibre broadband if available in your area.
This 5G router is much simpler to configure than a regular home broadband router. Just put in the SIM card, plug it in, and switch it on. No landline connection is needed, so you don't have to pay for line rental.
Despite its advantages, the Three 5G Hub router does have some drawbacks:
You may experience a slightly slower response time when using this service than you would with a fibre optic broadband connection, which could result in some minor gaming lag. However, I had a very fluid experience while using the cable provided.
The 5G Hub requires a specific placement to provide the optimal download rate.
After considering everything, I rate Three 5G Hub at 4.7 out of 5. I would strongly suggest giving this home broadband service a shot, mainly because of the convenient refund policy that Three provides.
Three 5G Hub Review: Alternatives
If the aesthetics of the Three 5G Hub don't appeal to you, there are a few other options for home broadband routers that are worth taking into consideration. These replacement routers employ either 4G or 5G signals to permit you to access the web.
1. EE 5GEE Router 2021
EE's 5G Router has a higher price tag than Three's. It usually involves a significant initial expense, and not all available packages include unlimited data. The plan that does have unlimited data carries a hefty monthly fee.
Zyxel manufactures this particular router and is being sold with another identifier by company Three.
EE's 5G home broadband router could be a viable option for you to consider due to its larger coverage of 5G networks across the UK. This could lead to faster download speeds, and if you plan on travelling with it, it might have a wider range of areas where it will work.
2. Three 4G Hub
If you are looking to cut costs or do not require the latest 5G technology, the Three 4G Hub would be a more sensible option.
The 4G Hub offers more value than Three's 5G router, particularly when you take out a two-year contract. Additionally, it is possible to purchase the device on a pay-as-you-go basis.
In addition to the advantages, you can get more Ethernet ports with 5G routers such as Three's router and simultaneously attach up to 64 devices. Nevertheless, the Wi-Fi standards employed could be more reliable.
You could think about the 4G Plus Hub – it is just like the ordinary 4G Hub, but it is swifter due to the external antennas.
3. Vodafone GigaCube
You can sign up for 30 days to obtain the Vodafone GigaCube, and its Wi-Fi connection can reach download speeds of up to 2475 Mbps on the 5Ghz band.
The GigaCube has a hefty price tag, whether you buy it on a pay-as-you-go plan or the default 24-month contract. It is significantly more expensive than the 5G Hub.
If you don't pick Vodafone's priciest plan for unlimited data, you're restricted to a month's supply of either 100GB or 200GB of data, which is insufficient for most households nowadays.
Three 5g Hub Review: Plans
Currently, Three provides its 5G hub with the option of either a 1-month or 24-month agreement.
With a two-year plan, you can acquire unlimited access to data for £20 each month (reduced to £10 during the initial six months), and no payment is required at the start. On the other hand, a one-month plan will need you to pay £24 per month and no upfront cost.
I'm a big supporter of simple plans. While some suppliers have multiple plans with various data limits, the truth is that home internet should be unrestricted, making the extra plans unnecessary. Additionally, the rates here are very cost-effective.
Similar Tutorials Types to Check Out
The Best Types Of Ethernet Cables In 2023: Ethernet cables are enclosed wires transmitting data between your computer and your router or modem. In this article, we'll look at the types of ethernet cables and help you decide on the most suitable one for your requirements
What Is A Good Upload Speed For Gaming?: Upload speed measures how fast your internet connection can send data. If gaming is your main reason for getting fast internet, what is a good upload speed for gaming
Summary: Three 5g Hub Review
The Three 5g Hub is an excellent option for saving money on their broadband bills or who want to take advantage of the speedier 5G data speeds. As you have seen in this article, this product can provide 5G data at a rate of 1000 Mbps, which is approximately 150 times faster than most 4G connections.
The 5G Hub also provides astounding download speeds of up to 2.5 Gbps, significantly faster than even the strongest 4G home internet connections.
Regarding performance, the Three 5G Hub is a top-notch device. It is fast compared to 4G home internet connections and even to the potential of 5G. Generally, it can deliver significantly faster transfer rates than a 5G connection, but Five is yet to make its way to the UK.
I hope this article on the Three 5g hub sounds helpful! Feel free to comment down your opinions in the comments section.
FAQs (Frequently Asked Questions) On Three 5g Hub Review:
1. Is three 5G hubs good for gaming?
5G technology provides gamers with a much quicker response time and faster downloads than 4G, so it is a genuine competitor to fibre broadband. The advantage of this type of connection is that it is portable, allowing users to game from any location with wireless service. 
2. What 5G hub do the three use?
The Three 5G Hub and the 5GEE Router 2021 are the same router device – the Zyxel NR5103E – but they are associated with different networks and plans. In contrast, the Vodafone GigaCube 5G has a reduced peak download rate of 2.8Gbps, though it is likely to have similar speeds.
3. Is 5G hub better than broadband?
The benefits of 5G are improved download and upload speeds, increased available bandwidth, and lower latency, allowing it to become an alternative option to a standard home internet connection.